This crab cakes recipe comes recommended to us from Mel Kiper Jr.

[+] Enlarge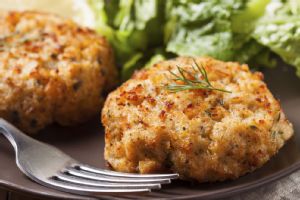 ThinkstockThese crab cakes will please partygoers.
Maryland Crab Cakes
1 lb lump crabmeat
1/2 cup breadcrumbs
2 eggs
1/4 cup mayonnaise (don't use dressing)
1 tsp Old Bay Seasoning
1/4 tsp pepper
2 Tbsp Worcestershire sauce
1 tsp dry mustard

Steps:
1) Mix together eggs, mayonnaise, Old Bay Seasoning, pepper, Worcestershire sauce and mustard until creamy.
2) Add breadcrumbs, mixing evenly.
3) Add in the crabmeat, making sure to mix evenly.
4) Shape into 6 large or 9 medium cakes.
5) Saute with oil in a pan, about 5 minutes per side.
6) Serve with tartar sauce and lemon. Enjoy!

EXPERT PICKS
Greenberg

24-23

Golic

27-23

Cowherd

26-23

Van Pelt

+2.5

Russillo

+2.5

Sedano

24-13

Schlereth

31-17

Coleman

30-21

Nowkhah

24-20

Kiper

29-26

Also: Stugotz from The Dan Le Batard Show says the Broncos will win 31-17.