This sweet tea recipe comes recommended to us from The Freddie Coleman Show.

[+] Enlarge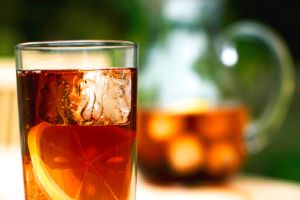 ThinkStockParty attendees of all ages will enjoy this sweet tea.
Alabama Sweet Tea
2 cups sugar
1/2 gallon water
1 tray ice cubes
3 family-size bags orange pekoe tea
3 cups cold water, or as needed
Steps:
1) Pour sugar into a large pitcher. Bring water to a boil in a large pan. When the water begins to boil, remove from heat and place tea bags inside. Let steep for 5-6 minutes.
2) Remove tea bags and return tea to heat. Bring just to a boil, then pour into the pitcher. Stir until the sugar dissolves. Fill the pitcher halfway with ice, stirring until most of the ice melts. Fill the pitcher the rest of the way with cold water and stir until blended. Enjoy!
EXPERT PICKS
Greenberg

24-23

Golic

27-23

Cowherd

26-23

Van Pelt

+2.5

Russillo

+2.5

Sedano

24-13

Schlereth

31-17

Coleman

30-21

Nowkhah

24-20

Kiper

29-26

Also: Stugotz from The Dan Le Batard Show says the Broncos will win 31-17.