Mason Ibas PhotographyKathryn Bertine and Team Colavita will race in their first event in early May at Tour of the Gila in New Mexico.
In February 2007, I entered my first bike race, the Usery Pass Omnium in Arizona. The first stage was a time trial that took less than 20 minutes, but provided plenty of time for me to make four awesome rookie mistakes:
• I pinned my race numbers on upside down.
• I forgot to fill my water bottle.
• I didn't tighten down my clip-on aerobars, which began to dangle in the wind.
• I blocked the finish line by standing around, talking to a friend, incurring screams from the race director (through a megaphone) to get out of the way.
The race director and his militant microphone kept addressing me by number, 252.
"Get off the course, 252!"
I checked my backward, upside-down, block-print number. As far as I knew, I was 525 and very glad not to be 252. I didn't figure it out until he angrily walked toward me. To this day, I can recall him walking away, shaking his head in frustration and mumbling something less than complimentary about Category 4 beginners.
Nine months later, I raced myself into the pro-level rank of Category 1. I was eligible to race with the pros at the highest level, but it didn't guarantee a team would sign me to its professional roster. I had improved greatly, but was still a rookie. I was also 31 years old; not the most helpful age, as international cycling rules call for the majority of riders on a professional women's team to have a racing age of less than 28 years old. I was on the wrong side of that ridiculous age-discriminating bookend, but nonetheless determined to be signed by a pro team.
[+] Enlarge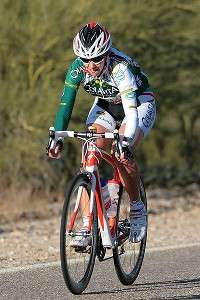 Mason Ibas PhotographyKathryn Bertine officially joined the Colavita team last month.
In 2008, I sent résumés to the best teams in the United States, like Webcor, ValueAct, Cheerwine, TIBCO, Aaron's, PROMAN, Colavita, listing my decent results and metaphorically offering my internal organs for the chance to domestique or, in non-cycling terms, gut myself to help a teammate win.
I heard crickets.
In 2009, I sent résumés to all the aforementioned teams, plus Team Type 1, LipSmacker, Veloforma and Touchstone ...
Again, crickets (crickets faintly snickering).
Same thing for 2010 and 2011. People might think I'd get the hint, but something pushed me on. I was getting stronger in my "old age," not weaker. I made a deal with myself that as long as I kept improving, there was no reason to stop trying, no matter how many teams turned me down.
Rejection has never bothered me, and I don't really believe in failure. I've always believed that even the most resounding "no" is better than the quietest "what if?" I can live with rejection and the misconception of failure, but I can't live with not trying. So I kept applying to pro teams and kept getting "nos" and crickets. In the meantime, I rode with some great regional teams, like Specialized and Trisports, but the goal of racing professionally eluded me.
In late 2011, I almost got a break. A new UCI Dutch team was starting and the owner asked if I wanted to be part of it. Indeed I did, and started a little happy dance around my desk during our Skype call.
My first pro contract, my first pro contract, happy, happy contract ...
But less than a month later, financial woes hit the director and the team folded before it began. The crickets sent their chirpy condolences.
In 2012, I put the pro team dream on the back burner. After all, this is the year I have to get to the Olympic qualifying races for my country, St. Kitts and Nevis, and most of those international events mean getting invited to spring races and being part of various composite teams. I buckled down into my training and readjusted my dreams to my Olympic path.
And then, one day in early 2012, an email surfaced. It was from John Profaci, the head of Colavita Forno D'Asolo, the highest-ranked women's professional cycling team on the NRC (national race calendar) circuit. The team was forced to shut its doors in 2011 when a financial partner pulled out, but Profaci was now looking to rebuild his cycling empire.
"Could you help me?" Profaci asked, referring to the many details it takes to get a team off the ground (marketing, writing, editing, introductions, finding riders and partners, etc.). I gave a resounding "yes" and said I was happy to help bring a new women's team into the sport I love. After all, if I can't be on a pro team, at least I can help one.
And then, Profaci asked this: "Will you ride for us?"
All too weary about the possibility of a new team's failure to launch, I squeaked out a gun-shy "yes," but saved the happy dance. Instead, I asked important questions. Namely, could I still go to my Olympic qualifiers? As it turned out, if the team got going at all, it would get a late start, and my international Olympic qualifiers (which end in May) would not interfere with the team's domestic race schedule. The team might be able to go to a couple qualifiers, which would only help me. Well, OK then! We then started laying the behind-the-scenes ground work for the team to come to fruition.
On Feb. 1, 2012, at age 36, I signed my first pro cycling contract, complete with my first professional happy dance. Team Colavita will race its first event in early May at Tour of the Gila in New Mexico. Readers can follow our team's journey in espnW's newest column, Anatomy of a Cycling Team. Our mission is to write about the team and highlight our competition. By giving more media exposure to the phenomenal racers and organizations within women's cycling, we will move our whole sport forward.
Five years have passed since that first bike race with the upside-down race numbers and that Category 4 beginner who had a professional cycling dream. I still make rookie mistakes, just not as many, and this time I can use my knowledge of what not to do to help younger riders on our team thrive. Looking back, here are four things I know now that I didn't know then:
• Just because a dream doesn't adhere to our preferred timeline doesn't mean it won't come true.
• Thirty-six isn't old, not for a woman in an endurance sport. Or for anything else.
• Try, ask and apply for everything you ever want in life. You may hear crickets, but just remember ...
• ... in some countries, they eat crickets for breakfast, so keep trying.
Kathryn Bertine is the author of two sports memoirs, "All The Sundays Yet To Come" and "As Good As Gold." You can follow her on Twitter @kathrynbertine.