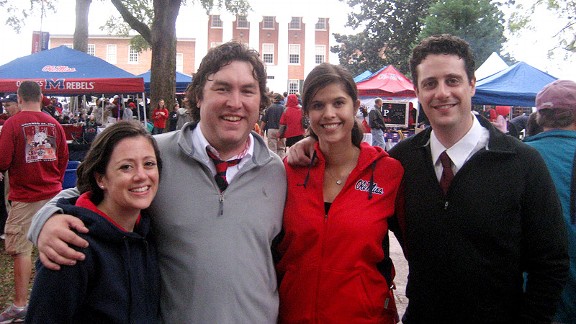 Courtesy of Sonia ThompsonSonia Thompson, left, with her husband and friends before an Ole Miss football game. The Midwesterner in her wears a hoodie, the Southerner in her wears pearls.
I grew up in Missouri, land of jeans, hoodies, Stag beer and fans who consider football a beloved sport instead of a religion. In fact, I never even went to a football game the whole time I lived in Columbia, even after I stayed in my hometown to attend the University of Missouri. (My father is a retired college professor. He thinks football is too violent. Give him baseball, he always said. Now there's a real sport. No padding required.)
So when I married a Mississippi boy and moved with him to Oxford, Miss., I was ill-equipped. My husband grew up a die-hard University of Mississippi fan. It was his daddy's alma mater. The first time he took me to game, I was confused. He mentioned in passing that Ole Miss fans dress up for games, so I had worn baggy capris, a tasteful wrap top and rubber flip flops. It was September in the South, but if it had been cold, I'm sure I would have worn a hoodie and jeans without holes. You know, something nice. Boy, did I misjudge. The Ole Miss co-eds had on silk cocktail dresses and pearls. They wore heels, high ones, and carried Tory Burch and Chanel. At 10 a.m. For a football game. I totally didn't get it. I was even more surprised when we got to my mother-in-law's tailgate, where she had laid out a spread of stuffed eggs, fried chicken, ham biscuits, brownies and lemon bars, arranged neatly on a pretty tablecloth. Granted, I didn't know much about football, but I was pretty sure it was supposed to involve nachos. And where was the Stag?
Southern style
For the first couple years living in my adopted hometown, every day felt like showing up for an Ole Miss game in the wrong outfit. I didn't know I was supposed to address women as ma'am. I was unsure what to take to dinner parties. I got nervous about having to make small talk every time I ran to Walgreens. I had never before owned monogrammed stationery. I didn't know silver-rimmed china was tacky, only gold-rimmed will do. I was unaware that, in some circles, Miracle Whip is not considered mayonnaise.
But I kept going to football games with my husband and his mom. It's what we do on Saturdays. It's what everyone does. In the South, football Saturdays are about family, not just -- to quote "Steel Magnolias" -- "touchdowns and injuries."
I came to realize that while football didn't have to become my religion, I could still go to "church" and sing along and maybe even snag a free doughnut. I was a slow convert. Early on, I would attend family tailgates just to eat lunch, or go into the stadium and leave at halftime. My mother-in-law told me I didn't have to go at all, but I felt like it was rude not to, and I'd learned being rude in the South was somehow worse than not knowing Miracle Whip wasn't mayo. Once, I brought an Us Weekly along to read in the stadium and got dirty looks from all of Section N when I busted it out in the second quarter. My husband laughed. Just wait, he said. In a couple years you're going to be on your feet yelling plays.
Getting there
I don't yell plays yet, and I'm still not sure what an onside kick is, but I don't pack magazines in my purse anymore. I've discovered cotton (not silk, that's still plain crazy) dresses for football games are actually pretty comfortable, maybe even better than hoodies. Sometimes, I tear up a little during the national anthem or catch myself scanning the ticker for the LSU score.
I also contribute to our family tailgate, albeit in small ways. I'm responsible for fixing the pimento cheese and chicken salad sandwiches. I take it seriously, making sure to buy the supplies the Friday night before. I get up early on game days to cut the crusts off and arrange the little thirds of white bread gently in their Tupperware.
Two years ago, when my parents were visiting from Missouri to experience their first SEC game, I could feel my mother watching me help my mother-in-law unpack the tailgate. We did it silently, me arranging the fried chicken platter and her setting out the biscuits.
"You really have this down pat," my mom said.
"Thanks," I said, "I'm learning."