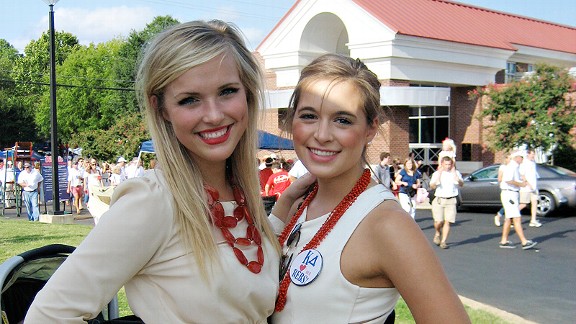 Sonia ThompsonWhite dresses done right at the first Ole Miss game of the season on Sept. 1 -- the last chance to wear white before Labor Day.
The first Ole Miss game marked the beginning of one season and the end of another. Saturday's home opener provided one last chance to wear white before Labor Day. There were little white dresses for miles. White eyelet, white fringe, white lace, white sequins, white ruffles -- it was all there, parading around the Grove with abbreviated hemlines and "Kappa Delta Hearts our Rebs" stickers.
As major sartorial decisions usually are, it was premeditated. A statement from the athletic department about what color to wear was released in May (right around Memorial Day, natch). "Designated colors for fan attire have been determined for Ole Miss' 2012 football season, and a 'white out' is planned for Vaught-Hemingway Stadium for the season opener," it read. The guys in athletics had obviously consulted their calendars carefully to make sure they weren't asking fans to commit a fashion faux pas.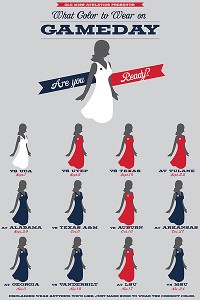 Ole Miss athleticsThe Ole Miss athletic department put out a memo about the appropriate game-day color well in advance of the season opener.
It was a decree not taken lightly. An Ole Miss political science professor who tailgates with us told me about a conversation she'd overheard in one of her classes.
"One of my students was saying how she'd planned to stay home if it rained," the professor said, "because she couldn't possibly wear white in the rain."
Some girls planned poorly and were left scrambling, searching Oxford's shops for a little white dress to impress. My guess is the seriousness of looking good in this particular white dress fell just a shade below life's other two big white-dress moments: your debut and your wedding. That's because, unlike most universities, sorority rush at Ole Miss isn't until late fall, after the last day to drop out of school without penalty. Supposedly, too many girls were dropping out when they didn't get into the "right" house.
Anyway, I think actives must watch the fashion show of potential new members and judge accordingly. I imagine the search for appropriate Grove attire, especially before rush, is conducted with a future hanging in the balance. So understand the frantic search for the perfect white outfit -- in a town now selling fall lines and therefore mostly devoid of perfect white outfits -- must have carried with it the stress of ruining an entire carefully choreographed life plan.
"We had girls come in at the beginning of the week looking for white dresses. We had a lot of phone calls," said Anne-Marie Varnell-Gordon, who owns Cicada, one of Oxford's upscale boutiques. "But by this time of the year, white is not something my designers are doing. We did have a few white blouses, and few things left that were on sale, but you know, they want dresses."
In the stadium waiting for the game to start, I scanned the crowd and saw most everyone had abided by the dress code. Besides college girls in their cute outfits, men wore preppy white button-downs and moms had on tasteful blouses. Even children wore white rompers and teeny polos (which were stained with drips of strawberry juice and mustard by kickoff).
There was one group, though, that stuck out noticeably. Coach Freeze, take note. The players, who have a fashion police pass to break the rules and wear white on the road, even long past Labor Day, apparently didn't get the memo about the first game.
"I was really surprised that our guys were wearing red," Varnell-Gordon said, laughing. "I was like, wait a minute. If we're supposed to wear white, aren't they supposed to wear white?"