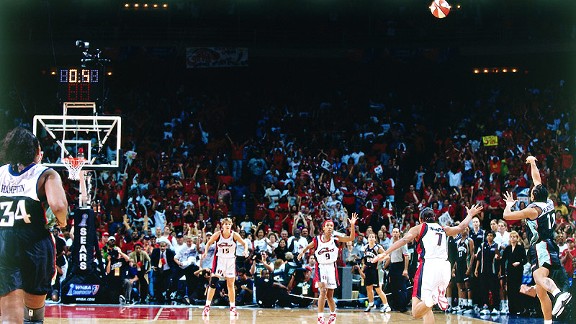 Nathaniel S. Butler/NBAE/Getty ImagesTeresa Weatherspoon's 50-foot 3-pointer kept the Liberty alive and left the Comets and their fans -- who were getting ready to celebrate a championship -- stunned.
Having spent eight seasons in New York, I have a lot of great memories from my time with the Liberty, both on and off the court, but there is definitely one that sticks out. My favorite Liberty memory didn't even take place in New York, but right along I-10 in Houston.
It was Game 2 of the 1999 WNBA Finals at the Compaq Center. The Comets had won Game 1 at our place and we were in Houston for Game 2 of the best-of-three series. We were inbounding the ball and Houston was up 67-65 with about two seconds left in the game. The ball was coming down from the opposite end and I was standing in the deep corner. From underneath the awning which were my bangs at the time, I saw the ball come in to Teresa Weatherspoon, who took a couple of dribbles down the sideline and just let it fly from about 50 feet, banking it off the backboard and in for the winning 3-pointer.
She made that shot and then just sat down. From where I was, I sprinted up to her and started the dogpile that everyone else joined in the next two seconds. As my bangs parted, I remember it being pure chaos. Everyone was stunned. We were all in a dogpile on the floor going crazy and the Comets were standing on the court in disbelief. Confetti was coming down everywhere; fans were out of their seats and running onto the court. Two seconds before, they had been getting ready to celebrate the title. Though Houston went on to beat us in the decisive Game 3, watching that shot go in and starting that dogpile will definitely be a memory I always have with me. (The bangs didn't have the same longevity, though.)