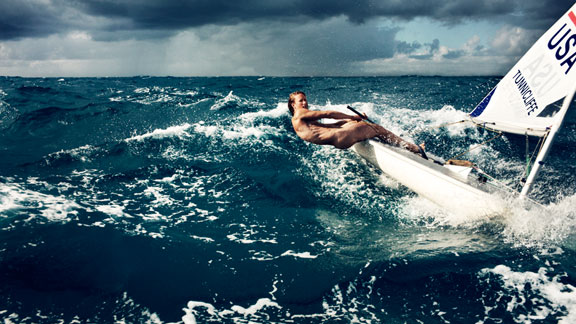 Steven Lippman for ESPN The MagazineFor Tunnicliffe, CrossFit is the perfect workout.
This is an extended interview from the 2012 ESPN The Magazine Body Issue. Subscribe to the Mag today!
Why did you decide to pose for the Body Issue?
AT: I want the world to see sailing as an athletic sport. A lot of people think it's a nice cruise around the bay, cocktail in hand, gentle wind, sunny conditions. But racing is physical and aggressive. And we go out rain or shine.
How do you push the boat with your body?
AT: It's a circular body motion we call torquing. As the boat goes up the wave, you move your weight backward. When you reach the top of the wave, you throw your shoulders forward, and as you go down the wave, you throw your weight back again to keep the front of the boat from hitting the wave. It incorporates all your muscles -- quads, back, core, upper body -- plus endurance.
Why do you want to be the best?
AT: I love what I do, and I'm very lucky to get to do it. I think I should go out and give it everything I've got because there are plenty of other people waiting to take my spot if I don't.
"

You don't have time to think about anything besides what's on the water -- balancing, breathing, making plays. The type of sailing I do now is one-on-one, so you are playing mind tricks.

"
I come from a very competitive family. My brother and I were two years apart growing up. We competed against each other, and neither of us liked to lose. Both of my parents were competitive sailors growing up. My mom has gone on to do marathons and Ironmans, and my dad still competes in sailing. So I think just being the best that you can be is what we strive for as a family.
Describe your history with sailing.
AT: I've been sailing my whole life -- since I was 2 -- but I hated it until I was 12. I learned to sail in England, and I really didn't like the squad that I was on. The intensity was too much. I was on a very good squad, and we had intense practices, but I wasn't very good, so it wasn't very much fun. I didn't think sailing was a great way to spend my weekends, but we moved to America [from Doncaster, England] when I was 12, and I started doing well in the local regattas and started to think, "Huh, maybe I do like this sport." I sort of fell in love with it from there.
What makes Olympic sailing so difficult?
AT: We do two or three races a day over five or six days, so it ends up being a long marathon of an event. Races are about an hour of pushing your body as hard as you can to make your boat go as fast as it can, trying to outsmart your competition while battling what mother nature throws at you. You use all of your muscles. You use your legs to hold your body as a lever against the wind. Your quads are tense, your back is tense, your core is really tight, you use your arms to play the sails -- all while reading the winds and plotting where you're going to put your boat. The only way to make sailing easier is by actually being on the water and doing it. So we spend four to five hours a day on the water and an hour or two in the gym five to six days a week. You put in your time on the water and get as strong as you can in the gym and build your endurance so you can continue to think clearly while your body goes through pain.
How do you train for sailing?
AT: My races are shorter, but I could have eight or nine in a day, so I have to train for 15-minute intervals. CrossFit is the perfect workout for me. It includes weights, sprints, endurance, Olympic lifting, plyometrics, power … it's all about confusing your muscles and keeping going, so basically, it's pure hell.
How do you get an edge on the water?
AT: The trick to sailing is figuring out how to relax as many muscles as you can, any that don't absolutely need to be used at that moment, to conserve energy. You're working hard, and your heart rate is up, but you have to think clearly so you can see what the waves are doing, read the winds and position yourself against your opponent. You try to give your body breaks. You relax your throat so you can breathe more normally, or you put the line in the other hand so your forearm can relax. Sometimes you rotate your legs, but generally you need both legs to make the boat work. But when I say relax, I mean five seconds max.
What goes through your mind when you're in a race?
AT: You don't have time to think about anything besides what's on the water -- balancing, breathing, making plays. You just think about your next play, their next play and how you are going to beat them. The type of sailing I do now is one-on-one, so you are playing mind tricks. You try to trick them into doing something that will make them pay two or three moves down the road, try to set up a play that will ultimately put them in a bad position so you can win.
"

In this sport, weight is leverage against the wind, so the heavier you are, the better you can leverage. I'm supposed to be 147 pounds, and I struggle to gain those last six.

"
Describe your toughest day of training.
AT: A four- or five-hour day in windy conditions is probably the hardest on-the-water training you'll get. It's difficult physically and mentally. The windiest I've sailed in is probably 35 knots; after that, it starts getting silly. The boat is so powerful in that wind that you have to do everything in your power to control it -- or it'll control you.
What is the most unusual training you've ever done?
AT: As a team, we've done Navy SEAL training. That wasn't much fun at all. We had to jump in a lake, fully submerge -- in March in Colorado -- then get out and do push-ups, jump back in the lake, submerge, get out ... it was miserable. I think I made it halfway before I started to get hypothermia and had to drop out. It was really good mental training, mentally really hard. The goal was to prove to yourself that you can push your body further than you think. I didn't make it to the end, but I got the message.
What do you tell yourself when you feel like you can't train any further?
AT: If I'm tired and I feel like I'm not going to get anything out of pushing further, I'll call it a day and rest up for tomorrow's training. If I'm bored, I'll tell my coach, "Mentally, I'm not into it right now" and ask to change the drill. If your body reaches the burnout point, you have to take a bit of time off. If you had a killer day in the gym, and it's been windy all day in the water, and you physically can't jump across the boat anymore, then all right. What are you going to get out of continuing to practice? Not much more than an injury.
Was there any point when you thought this wasn't going to work out?
AT: Yes, my first two years and a half of campaigning for the 2008 Olympics. I was No. 2 in the world and Paige Railey, who was ranked No. 1, just kept winning. I would get third or fourth and never beat her, so I didn't know if I would ever be able to. But I set my mind: "If you want to win the gold medal, you have to beat her." I trained hard every day, even when I didn't want to. The first time I beat her I became a little more confident and motivated. It was like, "All right, my training is paying off. Keep at it, you're doing something right."
What body part do you neglect because it isn't important for sailing?
AT: My calves, but that's because I have big calves already and don't want them to get any bigger. You use calves in sailing to get a bit of explosion when you change direction, but it's not like quads or arms or core.
What challenges do you face with your body?
AT: I struggle to be at the weight I need. In this sport, weight is leverage against the wind, so the heavier you are, the better you can leverage. I'm supposed to be 147 pounds, and I'm usually quite solidly locked into 141, so I struggle to gain those last six. I eat a lot -- I'm on the Paleo diet -- but I think because I'm so active my body doesn't want to put on weight.
Have you ever felt self-conscious about your body?
AT: I'm very self-conscious, especially about my stomach. I have good abs, but I always want to be better. You want to be as fit as you can, and if I see something not perfect, it drives me nuts.
What are you looking forward to most once London is over?
AT: I have other goals for after the Olympics -- some sailing, some not -- so I'm looking forward to switching my focus to a new challenge. Cutting down on my activity level? No. I don't think I'll ever stop.
Follow The Mag on Twitter (@ESPNmag) and like us on Facebook.