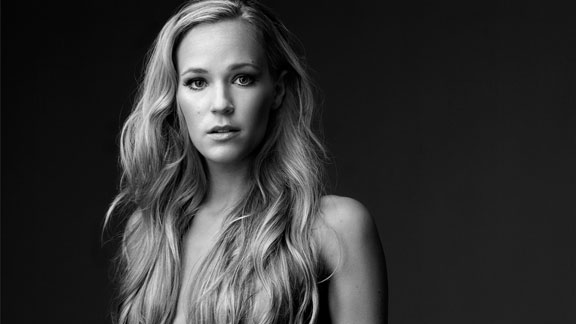 Art Streiber for ESPN The MagazineNellie Spicer says most people don't think of it, but volleyball is a serious physical sport.
This is an extended interview from the 2012 ESPN The Magazine Body Issue. Subscribe to the Mag today!
If you could write the caption for your photo, what would it say?
NS: Well, I guess compared to these girls I'd say, "Small, petite, short." I would like for people to think "an athletic body," but I'm 5-foot-9, so I'm really short compared to my teammates, even though I don't think of myself as petite whatsoever.
What is the one exercise you can't live without?
NS: I would say one-legged box squats. I feel like they stabilize my knee and help me for defense and jumping.
What is the most difficult thing you put your body through?
NS: My conditioning -- a 45-second sprint and a minute walk, 15 times, on this machine that makes it even harder. It's a curved treadmill, and when you run on the front, you move it yourself. So you can't just press "Go Speed No. 9." I have to push with my legs to get it going faster, and the goal is to keep it around 10 [mph] and then walk at 4 [mph]. I'm a setter, and we do a lot of running, so it's important for us to be in good cardio shape.
What do you tell yourself when you feel like you can't train any further?
NS: No one else in the world is doing exactly what I'm doing, so I'm getting myself better. I think our coaches and team hold everyone accountable. In the gym, everyone is working really hard. It's motivating just watching my teammates working hard, and knowing how hard we work boosts us when we get on the court, and knowing what we are going through every day for each other brings us together.
When you hit the wall, how do you move past that point?
NS: I think we do a good job of communicating and being functional, so we try to work around it before it gets to that point -- whether it's changing our technique or focusing on helping each other get better.
Have you ever felt self-conscious about your body?
NS: I think every woman has some type of fear with her body, especially being an athlete and wearing our uniforms. I know I definitely did, especially growing up. I have brothers who always used to pick on me, and I tried not to let it bother me, but I always worked out more if I was feeling unhappy with my body. But it didn't affect me to the point where I changed my eating habits or chose not to play volleyball. Everyone's body is different; I appreciate that the older I get. I had this change three years ago when I started traveling the world. I played in Puerto Rico, and women there will be out on the beach with their families, and everyone is just having a good time. They are not perfect bodies, but it doesn't matter at all. The more you travel and see things and people, the more it proves to you it's not just about what bodies look like. This is a bigger problem in America because we have celebrities everywhere that we compare ourselves to. But when you travel, you see it's not like that everywhere.
What are you looking forward to most once London is over?
NS: I would love to go on a vacation, but I don't think I'm going to be able to because we go play overseas. We don't really get a break, so I can't really enjoy sweets or something crazy. When can I finally take a break? I think maybe next summer. Next summer I'll go on a vacation somewhere tropical. My last vacation was sophomore year of college when I went to Palm Springs, Calif., for spring break and it was just me and my girls, and it was really relaxing, so I would love to do something like that again.
What misconception about women's volleyball do you want to set the record straight on?
NS: When little girls play, it's a lot of bows and spandex, and people don't think it's a serious physical sport, but it truly is. There is a grind we definitely have to go through, and it's not always pretty. Every day you have a new bruise or cut from floor burn. Dislocated pinkies are the most recurring injury, but we don't even consider them injuries anymore; it's just part of our daily lives.
Follow The Mag on Twitter (@ESPNmag) and like us on Facebook.