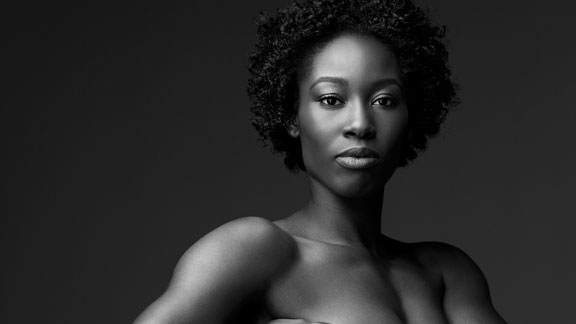 Art Streiber for ESPN The MagazineMegan Hodge is one of the youngest girls on the U.S. volleyball team.
This is an extended interview from the 2012 ESPN The Magazine Body Issue. Subscribe to the Mag today!
Why did you decide to pose for the Body Issue?
MH: I just thought it was a really cool concept. There's nothing wrong with celebrating women in this way. This is something we work hard on every day, and it's nothing to be ashamed of, but something to be proud of.
What is the toughest day of training the volleyball team goes through?
MH: Every day, really. We practice pretty hard in the morning for three to four hours, and we lift afterward for an hour and 15 minutes. People come in for extra training and do stuff on their own. It's all relative to the amount of jumping and running and cutting and moving we do. Everyday practice can be quite taxing, add lifting after, and then if people decide to do conditioning or extra stuff, it can be pretty tiring. We're in the gym from 9 a.m. to 3 in the afternoon.
Which body part do you work out for mostly aesthetic purposes?
MH: I don't think we're that kind of team, but I guess because our uniforms are really short spandex, people would probably say they focus on legs. They are out for the world to see. But our legs get toned during practice and doing weights. I think if it were up to us, we probably wouldn't be wearing the "bun-hugger shorts." It doesn't bother me, but if you walk into practice, you'll rarely see anyone wearing the little spandex. At practice, we wear either basketball or running shorts or knee-length spandex. Some people even wear long sweatpants.
What body part is most important for your sport?
MH: Across the board, it's lower body and core. We make sure our legs are strong, whether it's squats or lunges, because we use them so much. Beyond that, it depends on your position. As a hitter, shoulders and legs are quite important, but if you're a setter or a libero, you don't really spike, so there's no need to have your shoulders super defined.
What about your body would surprise us?
MH: I'm missing one of the muscles in my rotator cuff. So if I'm spiking a lot, that can get tiring because I'm using three muscles to do the work of four. You adjust to it. For some people it's worse than others. In my case, it can get painful and my shoulder gets tired, but I've been playing with it since I was a kid, so it doesn't really affect me. I noticed this my sophomore year of high school. I noticed my arm getting really, really tired, and when I got an X-ray, the doctor noticed that the muscle atrophied and was just kind of dead. The doctor said I would be fine. I just had to strengthen all the muscles around it.
Why does volleyball allow for such a wide range of body types?
MH: I think because the positions are so different. Setters never really swing at balls; their responsibility is to set up the ball. They are not going through hitting lines or anything like that. The middle blockers have a totally different way of approaching or hitting. We do everything specified by your position, so you develop to that. For example, the left calf of one of our middles is bigger than her right because she's always pushing off of that leg. The middles are always going back and forth, back and forth across the net. Liberos also don't attack or serve. They are there to pass and play defense, so they are usually smaller and more explosive because getting to the ball is their job. You have little people, tall people, big, skinny, everything. It's kind of like football in a way.
What problems do volleyball players face with their bodies?
MH: Usually it's shoulders and knees. A lot of torn ACLs, torn meniscus, jammed fingers -- those are the common injuries. Blockers also put their hands out as targets. In blocking the ball, you use your hands to stop all that power coming from the attacker. So if your pinkie is hanging out there and the ball clips the side of your hand, it can end up sideways. Nobody's nervous about putting her hands out there; that's just kind of the risk.
Are you looking forward to anything specific once London is over?
MH: Yes, I would like to take a vacation with my fiance and just not think for two weeks. I haven't decided yet where I want to go. He is supportive and hanging in there with me. I can lean on him for everything, so he's been good. He's done a really good job.
Follow The Mag on Twitter (@ESPNmag) and like us on Facebook.