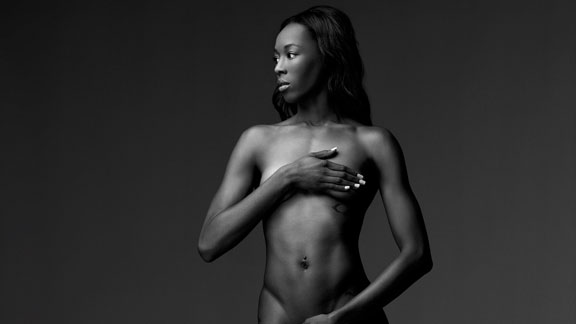 Art Streiber for ESPN The MagazineDestinee Hooker was named the 2011 Express-News Sportswoman of the Year.
This is an extended interview from the 2012 ESPN The Magazine Body Issue. Subscribe to the Mag today!
If you could write the caption for your photo, what would it say?
DH: It would say "lean and muscular." I'm not voluptuous; I'm not curvy. I'm just straight up and down, just built. People say, "Oh, you're very skinny," but if you look at the photos, you see my abs are tight and my hamstrings are flexing.
Why do you want to be the best?
DH: The Olympic Games are huge! They only come once every four years, and you get to represent your country. The men won gold in 2008, but the women have never won a gold medal. So there is determination there to be the best. Seeing different athletes around the world motivates me to get better every day I step into the gym. This is the year we can do it. We can win the gold. We just have to practice hard every day, which we have been doing. And I hate to lose. Even if I feel I'm going to lose, I will play until I win.
What's the most unusual training you've ever done?
DH: I did high jump in college, and it was unusual for me to be running because I was a high jumper. I don't like to run, but they say running helps with core and improves your jump. When I jumped a 6 feet, 6 inches to break the NCAA indoor record, it was very draining mentally and physically. But that mentality was built up for me. At the end of a run, you feel great about it. My mind would tell me, "You can't do it," but once I got it done? Wow, I can do this; what was I complaining about? That really helped me.
Why focus on volleyball instead of track?
DH: In track and field, you're by yourself. You only have one person you can talk to on the field, and that's your coach. But I'm an energetic, outgoing person. I like to give energy, receive energy and motivate. Don't get me wrong, I do miss high jump, but at the end of the day I'm glad I chose volleyball. And it's taken me far.
What do other players make of your jumping ability
DH: It's like, "Girl, can I get some of your height?" or "Can I get some of your legs?" We joke around like that. The girls in the States are used to it, but overseas it's still, "Wow, you jump really high." The highest I ever jumped was 6 feet, 6 inches in 2009, and at the 2008 Olympic trials, if you jumped 6 feet, 3 inches or 6 feet, 4 inches, you would have made the team.
Can you dunk?
DH: Easily. I reach up and touch 11 feet, 2 inches, so I'm more than a foot over a rim. One time my fiance and I were in the gym, and his friends were pumping him up, "Oh, your girl can't dunk." So he tossed the ball up and I two-hand dunked it, and all of his friends went nuts. That was the highlight of my dunking career.
In which Olympic sport would you embarrass yourself?
DH: Boxing. I would get knocked out in the first round. They react so quickly; they know each other's movements; they know how to move their feet in the ring. Me, I'm very tall, so I feel it would take me longer to get out of the way. And if I got hit I'd be like, "Oh my gosh, what is wrong with you? Why are you hitting me that hard?" I'd be trying to talk to them the whole time, trying to calm them down.
What misconception about women's volleyball do you want to set straight?
DH: Volleyball is not as easy as people think. It's not just spandex and pretty girls. Overseas, girls get down like any men's sport in the U.S. We work really hard every day, and I don't think we should be cast aside as a girlie sport with ribbons. There are girls hustling after balls and running into each other. We work just as hard as any other sport, we represent our country like any other sport, and we deserve respect for that. As a team, we know the deal: The U.S. is male dominated when it comes to sports. It is what it is. Volleyball is not going to bring in as much money as MLB or the NFL or the NHL, but at the same time, we want everyone to know that we are here, that we represent our country well. When the NBA lockout was going on, we actually got publicity on ESPN, and we're like, "So it takes a lockout for us to get some love, really?" But we take what we can get. So if it will be like this only every four years, we'll give them a show every four years.
What are you most looking forward to once London is over?
DH: I have wedding planning to do. I've been up to my elbows and stressing out. It's not until next year, but I go back overseas in September, won't be back until April, then get married in July, so it's a lot. But luckily my mom and my fiance's mom know a thing or two about weddings. I've got my dress and location, but it's a roller coaster. Sending invitations, finding a cake, getting my bridesmaids fitted for gowns -- it's stressing me out.
Follow The Mag on Twitter (@ESPNmag) and like us on Facebook.