Discussion
The State of Women's Tennis Amid All These Upsets: Who Knows?
NEW YORK -- Martina Hingis has not been out of the tennis limelight for so long that she didn't see this one coming like a big fat lob.
Is this a good sign or bad sign, she is asked? Is this wealth of success for so many different players in women's tennis a fluke or the future?
The former No. 1 grimaces.
"Every time, if there are the same champions, 'It's boring, there isn't enough depth.' And if there's depth, it's, 'Oh God, there isn't enough consistency,' ...

Read full story
2014 US OPEN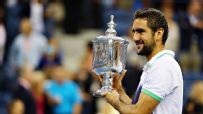 A 100-1 longshot to win the US Open? Someone forgot to tell that to Marin Cilic. Greg Garber »
VIDEO