Discussion
Stillwater feels the loss of Budke, Serna
Memorial is scheduled for Monday afternoon
STILLWATER, Okla. -- There was supposed to be a basketball game on Sunday, the third one of the season, in a gym affectionately known as the rowdiest in America. At the end of the game, coach Kurt Budke was supposed to turn to the stands and wink at his wife Shelley, like he did every time the Oklahoma State Cowgirls played. They were still in love after decades of marriage, still "disgustingly romantic," said Kevin Gum, play-by-play voice of the Cowgirls.
And though he was 50 years ...

Read full story
Oklahoma State Tragedy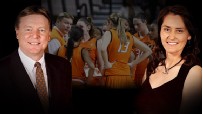 Oklahoma State coach Kurt Budke and assistant Miranda Serna were among four who died the night of Nov. 17 in a small-plane crash in Arkansas while returning from a recruiting trip.
NEWS
COMMENTARY
VIDEO