Discussion
Catchings: 'Pat Summitt is one remarkable woman'
Now the questions have been answered. All this year, people have been asking, "What's Pat gonna do? How is she gonna do it?" and in a span of one day, it feels like this has all been answered.
I think everybody was shocked yesterday when Pat announced she was stepping back as Tennessee basketball head coach and taking the title of head coach emeritus. I know I was. But I'm happy for her. People have been watching her every move, every practice and every game, and now she ...

Read full story
PAT SUMMITT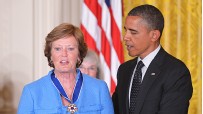 Pat Summitt, who resigned in April after 38 seasons, 1,098 victories and eight NCAA titles, was awarded the Medal of Freedom by President Barack Obama on Tuesday.
COMPLETE COVERAGE
VIDEO AND PODCASTS
BY THE NUMBERS
FROM THE ARCHIVES