Discussion
Defining Danica
The NASCAR star knows exactly what she's doing. You got a problem with that?
Updated:
June 4, 2012, 10:55 AM ET
By
Janet Reitman
| ESPN The Magazine
DANICA PATRICK SHAKES HANDS like a man. It is a wince- inducing, finger-crushing, are-you-seriously-not-a-Marine kind of shake. "Hi [crunch], I'm Danica." Coming from someone who is 5-foot-2, 109 pounds and looks like a brunette Barbie doll, it's kind of like shaking hands with a lightning bolt. It makes you (okay, me) jump back a bit and go, "Ow! F--!," which is the point. There should be no surprise here. The woman drives race cars for a living; of course she has grip.
"So ...

Read full story
ESPN The Magazine: June 11, 2012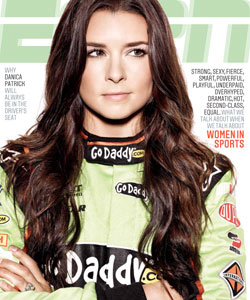 WOMEN IN SPORTS FEATURES

COLUMNS

MORE FROM WOMEN IN SPORTS