Discussion
How far will Latanna Stone go? Time will tell
It is a clichéd question. But just as sure as "My, look how you've grown," it is one no kid can avoid. And though it is easy to forget, Latanna Stone is still a kid.
"So, what do you want to do when you grow up?" she was asked.
"One word. Golf," Stone replied and then, just in case you didn't catch it the first time, "Just one word. I love golf."
There should be little doubt. Just three months past her ...

Read full story
More espnW Headliners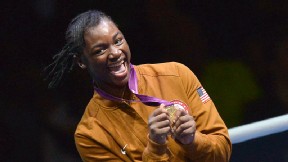 • Claressa Shields: Not giving up fight » | Photos
• Jincy Dunne: Future on ice » | Photos
• Lakey Peterson: Air of greatness » | Photos
• Breanna Stewart: UConn's next star? » | Photos
• Bryane Heaberlin: Keeper perseveres » | Photos
• Mikaela Shiffrin: Slopes' new queen » | Photos
• Sloane Stephens: 'Next' in tennis » | Photos
• Gracie Gold: Skating skills » | Photos
• Sarah Hendrickson: Her run continues » | Photos
• Latanna Stone: How far will she go? » | Photos
• Katie Ledecky: Life after London » | Photos