Discussion
Sarah Hendrickson picking up where she left off
Ski jumper Sarah Hendrickson outwitted gravity on such a consistent basis last season that it only makes sense she might be able to defy a few other laws of sporting physics as well.
Like the rule of thumb that says a young athlete will struggle with confidence after a significant surgery and layoff.
Or the unspoken expectation that a slump is inevitable after a string of great performances.
Or the conventional wisdom that it would be too much to ...

Read full story
More espnW Headliners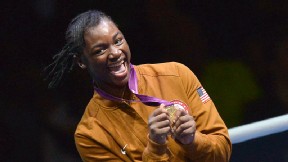 • Claressa Shields: Not giving up fight » | Photos
• Jincy Dunne: Future on ice » | Photos
• Lakey Peterson: Air of greatness » | Photos
• Breanna Stewart: UConn's next star? » | Photos
• Bryane Heaberlin: Keeper perseveres » | Photos
• Mikaela Shiffrin: Slopes' new queen » | Photos
• Sloane Stephens: 'Next' in tennis » | Photos
• Gracie Gold: Skating skills » | Photos
• Sarah Hendrickson: Her run continues » | Photos
• Latanna Stone: How far will she go? » | Photos
• Katie Ledecky: Life after London » | Photos