Discussion
Breanna Stewart exceeding the hype
Compliments from Connecticut coach Geno Auriemma come neither easily nor frequently.
So when he said recently that freshman forward Breanna Stewart "has the opportunity to be a good as anyone we've ever brought here," it was high praise indeed.
When you are the top recruit in the country and choose to join Auriemma's program in Storrs, hype inevitably follows.
"I know when you play here, all eyes are on you," Stewart said. "I knew it wasn't going to be ...

Read full story
More espnW Headliners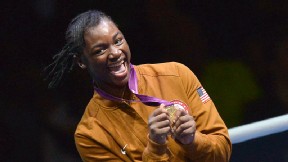 • Claressa Shields: Not giving up fight » | Photos
• Jincy Dunne: Future on ice » | Photos
• Lakey Peterson: Air of greatness » | Photos
• Breanna Stewart: UConn's next star? » | Photos
• Bryane Heaberlin: Keeper perseveres » | Photos
• Mikaela Shiffrin: Slopes' new queen » | Photos
• Sloane Stephens: 'Next' in tennis » | Photos
• Gracie Gold: Skating skills » | Photos
• Sarah Hendrickson: Her run continues » | Photos
• Latanna Stone: How far will she go? » | Photos
• Katie Ledecky: Life after London » | Photos