Discussion
Lakey Peterson emerges as wave of the future
Sue Peterson would watch her teenage daughter surfing in the ocean, slicing effortlessly through the waves, and she thought she was pretty good. Coordinated, agile, strong and determined, Lakey always picked things up quickly.
"That's just Lakey. She gets good at everything really fast," Sue said. "I didn't know how to range it. I don't know surfing that well. I would always think, 'Is she really good?'"
Then Lakey started competing and winning.
And ...

Read full story
More espnW Headliners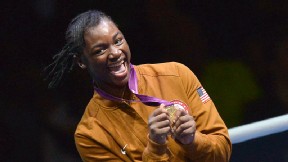 • Claressa Shields: Not giving up fight » | Photos
• Jincy Dunne: Future on ice » | Photos
• Lakey Peterson: Air of greatness » | Photos
• Breanna Stewart: UConn's next star? » | Photos
• Bryane Heaberlin: Keeper perseveres » | Photos
• Mikaela Shiffrin: Slopes' new queen » | Photos
• Sloane Stephens: 'Next' in tennis » | Photos
• Gracie Gold: Skating skills » | Photos
• Sarah Hendrickson: Her run continues » | Photos
• Latanna Stone: How far will she go? » | Photos
• Katie Ledecky: Life after London » | Photos