Discussion
Stacey Cook gains confidence from crash
Updated:
February 12, 2013, 3:22 PM ET
By
Jim Caple
Stacey Cook remembers standing in the starting gate at the 2010 Winter Olympics, waiting for her downhill training run on the Whistler slopes. The next thing she remembers from that day is being in a CAT scan machine "and having no idea where I was."
Cook had suffered a horrendous crash. Skiing down the course in such heavy snow and thick fog that officials would cancel the training session, she lost control on a jump and flew full speed into the safety netting.
"Her ...

Read full story
Out In The Cold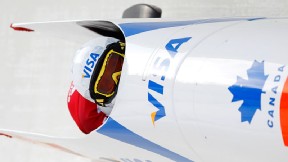 How do top athletes prepare for competition and train in cold temps? espnW asks the experts:
Week 1: Bobsled
• The Athlete: Kaillie Humphries changes direction
• Get-In Gear: Bobsledders' must-haves
• Photos: The world of bobsledding
Week 2: Snowboarding
• The Athlete: Clark still carving out her own path
• Get-In Gear: Snowboarders' must-haves
• Photos: The world of snowboarding
Week 3: Endurance/X-country skiing
• The Athlete: Liz Stephen leading way
• Get-In Gear: X-country skier's must-haves
Week 4: Skiing
• The Athlete: Stacey Cook crashes and learns
• Get-In Gear: Skiers' must-haves
Click To Share