Discussion
W Debate: Serena distracted?
Updated:
June 24, 2013, 3:16 PM ET
espnW.com
Question: Will the backlash from the Rolling Stone article be a distraction for Serena Williams as she tries to defend her Wimbledon title?
Bonnie D. Ford: Bottom line answer is no, but it was a profoundly irritating week for those of us who prefer our drama to unfold on the court. There's been so little suspense in Serena's matches this season that perhaps some external controversy was inevitable.
I have to separate the two flash points in the Rolling Stone story. ...

Read full story
Wimbledon 2013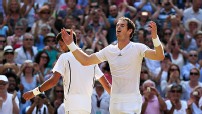 Andy Murray ended a 77-year British nightmare with his long-awaited Wimbledon championship. Greg Garber »
VIDEO