Discussion
Honourable company at Muirfield?
At Muirfield in 2002, Tiger Woods was seeking his third consecutive major championship of the year when he was barraged in a pre-tournament interview with questions about the controversy over the all-male membership at Augusta National Golf Club.
That problem was solved in August 2012, when Condoleezza Rice and Darla Moore were accepted as members at the host course of the Masters.
Now the Open Championship is back at Muirfield for the 16th time, and this all-male club is at the ...

Read full story
THE OPEN CHAMPIONSHIP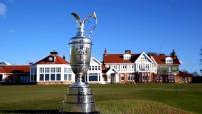 The Open returns to Scotland and Muirfield for the first time since 2002. Who will hold the Claret Jug this time around?
ROUND 4
ROUND 3
ROUND 2