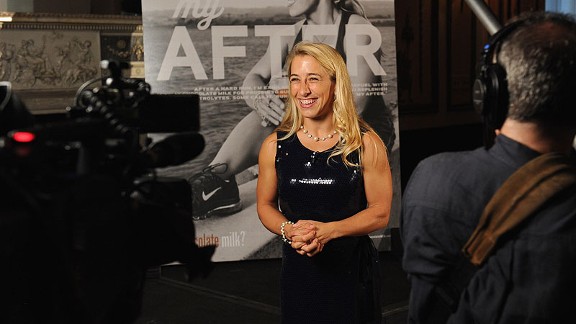 Larry Busacca/Getty Images
Sarah Reinertsen
Sarah Reinertsen
"For me, running has always been about a celebration of my abilities and the body that I have."
The New York City Marathon will be just another training run for Sarah Reinertsen.
The 37-year-old, who in 2005 became the first woman on a prosthetic leg to complete the Ironman Triathlon World Championship in Hawaii, will be running Sunday just days before she competes in the Arizona Ironman on Nov. 18. Reinertsen, who was born with proximal femoral focal deficiency (a bone-growth disorder), had her left leg amputated when she was 7.
The Paralympian, author and motivational speaker who appeared on "The Amazing Race" in 2006, started running when she was 11 after meeting another amputee who had completed the New York City Marathon. By age 13, she broke the 100-meter world record for female above-knee amputees.
Reinertsen uses her platform as a leading amputee athlete to inspire others to become active. She is participating in support of the Challenged Athletes Foundation, a nonprofit organization that helps people with physical challenges pursue sports and active lifestyles.
"Sometimes I look at people with two legs and think, 'What a waste of two legs. You have them and you don't even use them,'" Reinertsen said. "I do have two legs but I only have one real one, and I'm going to use the one I've got. I'm not going to waste it, and I'm always going to celebrate what I have."
-- Amanda Rykoff, espnW