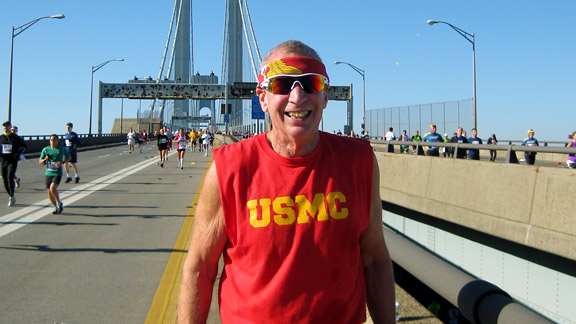 Rick Feinstein
Rick Feinstein
Rick Feinstein
"A million people are out there cheering for you. Where else can you go and have a million people cheering for you to do anything?"
On Sunday, Rick Feinstein will be toeing the line in Staten Island for the 34th time in the past 35 years. The former Marine has missed the New York City Marathon just once since 1978, when, after running 25 straight, he decided to try the Marine Corps Marathon in Washington, D.C., the week before New York.
"When I got out of the Marines, I made a number of vows," Feinstein said. "Among them was that I had worked so hard to get into shape I was never going to allow myself to lose it."
Feinstein had always been active, running mostly to stay in shape for skiing and tennis. But as he got older, running took over.
"I realized I didn't need a partner," he said. "I didn't need daylight, didn't need a membership or even to be at home to run."
Feinstein's wife pinpoints Frank Shorter's marathon gold medal in the 1972 Olympics as the time she knew he would set out to tackle the distance himself. "Wow, wouldn't it be something to run a marathon," he told her in the same way he might have suggested climbing Mount Everest or going to the moon.
The race has gotten bigger over the past 35 years, but the essence of what Feinstein calls a "26-mile block party" hasn't changed.
"It's been interesting to see how certain areas have become yuppified," the 69-year-old Long Island native said.
But what hasn't changed is the spectators.
"It's such a unique experience to run through all the changing neighborhoods and see the changing faces, the different ethnicities and accents, and to view the city from different angles you could never get in any other way," he said. "It would be a shame to miss that because all you saw was the clock. Appreciate the sea of humanity ahead, and if you ever choose to run it again, you can go faster then."
-- Natalie Gingerich, special to espnW