| | | |
| --- | --- | --- |
| | espnW.com: Features & Profiles | |

Wednesday, February 2, 2011
Tara Green plays host to a party of 150,000

---
By Amanda Rykoff


As vice president and COO of the North Texas Super Bowl XLV Host Committee, Tara Green is responsible for all operations involving the Super Bowl, including stadium and training sites, security, transportation, hospitality, accommodations and volunteers. In other words, she's probably the world's busiest woman this week.

Before joining the Super Bowl Host Committee full-time in October 2008, Green served as the vice president of sports marketing for the Dallas Convention and Visitors Bureau, and wrote the bid that secured the biggest of all big games for the North Texas region. A few days before Sunday's game, we caught up with Green by phone, while she traveled from the Super Bowl XLV Host Committee headquarters in Dallas to Cowboys Stadium.

Amanda Rykoff: The Super Bowl brings more than 150,000 visitors to the North Texas region over a four-day period. What has been the biggest challenge of planning such a big, high-profile event?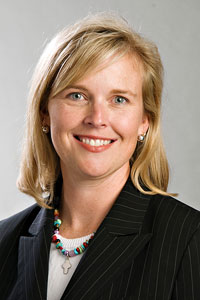 North Texas Super Bowl XLV Host Committee North Texas Super Bowl XLV Host Committee VP and COO Tara Green might be the world's busiest woman this week.
Tara Green: For a host committee, the biggest challenge is figuring out your niche. Where does the NFL start and stop? Where does the host committee need to come in and exist? Local professionals like law enforcement, transportation planners, airport groups -- how do they engage and figure out the right mix? Each host committee is different; each community runs differently. That's why a host committee hires people locally who know the area, and then they learn about the Super Bowl. ... I think our greatest challenge is doing it for the first time, but that's a great opportunity too. We don't have any bad habits, I like to say.
AR: Were you disappointed when it was clear early on in the season that the Cowboys would not fulfill the "dream" of playing in a Super Bowl in their home stadium?
TG: The Cowboys are the only team in the NFL that has season ticket-holders in all 50 states. If they had been the first team to play and host their own Super Bowl, it would have been interesting to see what kind of draw we would have had. The Cowboys have their own gravitational pull and they would draw from all over the U.S. I'm a Cowboys fan, so from that standpoint, I was disappointed. But from a practical business standpoint, the Super Bowl is the Super Bowl, and people are going to come no matter who's playing in it. We're thankful that the event has that much magnitude. We love it that we've got the Steelers and the Packers -- two great teams that also travel really well, two historic teams. My joke today has been we're so hospitable in Texas that we brought the Steelers and Packers their hometown weather just so they would feel at home.
AR: I know building a community service aspect into the game planning was important. Tell me about those elements of the committee's efforts.
TG: Once we started planning the event, we said there's one part missing: it's the kids. So we created SLANT 45 [Service Learning Adventures in North Texas]. We had over 40,000 kids do over 400,000 hours of community service in their area. We hope this has some legs and it too will live on well beyond Super Bowl XLV. The children created their own projects, they saw their projects through to completion. It was everything from park cleanup to helping get pets adopted to cleaning up graffiti around their school. I have a 10-year-old son and his SLANT 45 project was teaching Special Olympians how to play football. The kids did it, and they were empowered to do something unique and creative for their community to make it better, just because a football game is coming. That gave us the reason and the deadline to do what we should have been doing anyway.
AR: What will you be doing on Sunday before and during the game?
TG: [My day] will start very early, probably around 4:30 in the morning out here at Lone Star Park. The host committee has responsibilities to help get all of our volunteers credentialed, checked in and deployed on to their respective shuttles out to the Stadium. We'll assist with the NFL's employee check-in that goes on out here and then hopefully around 11:30 or 12 I can catch up with my family and head out to the stadium and enjoy the afternoon. I'll have my cell phone ready to go just in case there are any last-minute issues that need my attention. But really, it's the NFL's event. They produce it, they handle the field of play. They're excellent at what they do. Our job is done when we get them to that point.
AR: What will you do when you wake up on Monday and there's no Super Bowl to plan?
TG: I will meet up with the rest of our staff at noon that day and we will hopefully have a great staff photo taken somewhere out at the Stadium. We'll go to the office and then we will start our after action reports -- paying the bills, dispersing all the leftover merchandise and materials. For about two to three months after the game, you're not planning; you're shutting down an organization that had a two-year shelf life. That's the unique thing about a host committee. It's a start-up company that will raise and spend -- for us -- about $40 million in two years, and then go away.
AR: What's next for you?
TG: What I hope is that we will have a regional sports commission in place. We'll leave our staff together, and we will become the entity that puts the next Super Bowl bid together, that helps manage the Final Four at Cowboys Stadium in 2014 and keeps these big marquee events coming back to North Texas.
---