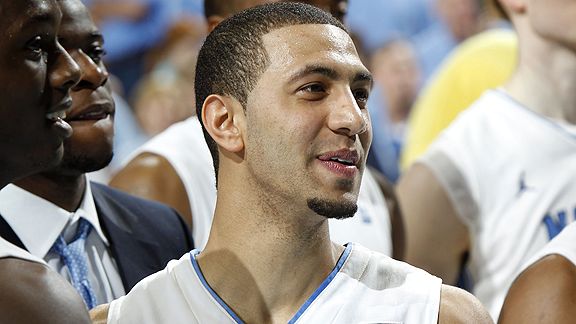 Bob Donnan/US Presswire
In the Pro's Questionnaire, our favorite sports figures take our abridged version of the most famous personality test, the Proust Questionnaire. North Carolina's Kendall Marshall is on deck. The freshman has transformed the Tar Heels since taking over as the starting point guard and led the ACC in assists per game with 6.1. On the eve of the Tar Heels' Sweet 16 game, Marshall talked about his love of crab cakes, his sisters and, most importantly, sneakers.
Your main fault:
Kendall Marshall: I am too sarcastic. It's almost mistaken as being an a-hole sometimes because I'm so sarcastic all the time.
Your idea of happiness:
KM: Butterflies and a Rebecca Black single (laughs). My idea of happiness is playing basketball and watching movies after playing basketball while eating cookies.
Your idea of misery:
KM: Rooming with [UNC sophomore guard] Leslie McDonald, which I've had to do the last two trips. It's pretty bad and awful. A combination of bad and awful.
If not yourself, who would you want to be?
KM: Justin Bieber. He's living the life right now.
Your favorite food/drink:
KM: Crab cakes. My favorite drink depends on the day. I have so many favorites.
Hero/heroine you admire most:
KM: My father. Just with the stuff he's been through, having to raise me being a teenager. I definitely admire my father.
What you hate most:
KM: I hate when people comment on food that I'm eating. Like when they say, "Oh my god, that's gross how do you eat that?" I say, "Well that's why I'm eating it and you're not."
The natural talent you'd like to be gifted with:
KM: I wish I could sing. I feel like it would make my love life so much easier. But I can't sing at all.
Your greatest fear:
KM: My greatest fear is failing. That's one thing I've always been scared of.
Your greatest extravagance:
KM: Without a doubt, shoes. I love shoes. I love sneakers. I dream about them. I sleep with them when I get a new pair of shoes. I love shoes.
Your most treasured possession:
KM: They don't belong to me, but my sisters [ages 10 and 12]. I love them and I can't imagine life without them.
Your present state of mind:
KM: I wish it would be Friday already.