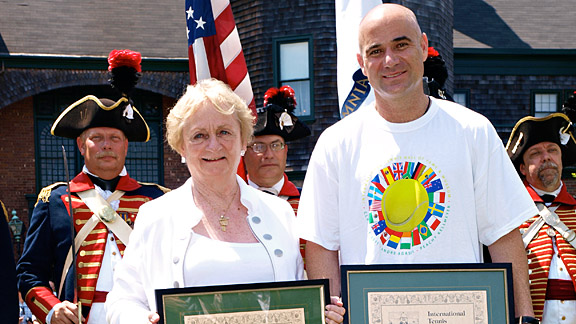 Mike Baz/ITHOF Peachy Kellmeyer and Andre Agassi were inducted into the International Tennis Hall of Fame last month.
Fern Lee "Peachy" Kellmeyer isn't a household name in tennis. But without her, there probably wouldn't be any household names in the women's game -- names like Martina, Steffi, Chrissy, Serena, Venus and Maria. More importantly, thousands of young women who went to college on athletic scholarships in the past 40 years might not have been able to compete without Kellmeyer's efforts. Kellmeyer, 67, is a true pioneer in women's sports, a champion for women's rights at the collegiate and professional level and a critical component of the WTA's growth and success.
Despite having a clubfoot as a child growing up in West Virginia, Kellmeyer excelled on the tennis court. "Peachy" got her nickname because she maintained a sunny disposition even while suffering pain. At age 15, she was invited to compete at the U.S. Open, becoming the youngest player to participate in the event. In the 1960s, Kellmeyer starred at the University of Miami, where she also became the first woman to compete on the men's tennis team.
Though she was a standout athlete in her own right, Kellmeyer's accomplishments away from the tennis court truly impress. When she was the director of physical education at Marymount College in Boca Raton, Fla., Kellmeyer spearheaded a lawsuit that ultimately led to the dismantling of an Association for Intercollegiate Athletics for Women rule that prohibited athletic scholarships from being awarded to female college athletes. The landmark case paved the way for Title IX.
In 1973, Kellmeyer became the first full-time employee hired by WTA founder Gladys Heldman. While with the tour, Kellmeyer organized the first women's tennis event at Madison Square Garden, in 1977, and was a driving force behind the WTA's campaign to achieve equal prize money for women, finally accomplished in 2007.
espnW caught up with Kellmeyer via phone after her induction into the International Tennis Hall of Fame this summer. She is the first woman to be inducted in the contributor division of the Hall in more than 30 years.
espnW: At the University of Miami, you were the first woman to compete on the Division I men's tennis team. How did the men on the team respond to you when you first joined?
Peachy Kellmeyer: Well, it was not all roses, that is for sure. The No. 1 player was Rodney Mandelstam. He was a South African and he had threatened to quit or leave the team if a woman was allowed to play. To be very honest with you, it was a little bit of a publicity stunt. It brought a lot of attention at the time to the University. … I played on the women's team, but for me what was so important was the practice of playing with the men every day helped me to improve. So it was so good for me because of the practice more than anything else. I had no great desire to invade the men's team and bring publicity to it, but that just came with the package.
espnW: You have had many impressive achievements both athletically and as an administrator in college and with the WTA. Which are you most proud of?
PK: Title IX was what I am most proud of by far. Any achievements I have done as an administrator I have done with the support and help of those who I have worked with here at the WTA all these years. You do not do anything alone in this organization, so we have made a lot of advances and it has been a great privilege to work with the people here at the WTA and work with the women players over the years. So yes, equal prize money at the Grand Slam in 2007 was a biggie for us. We knew it was going to come sooner or later, but when it actually happened it was pretty awesome to us who had waited so long and so many years. So when you see it actually happen, it was a great moment. But it has just been a privilege to work in this sport. It has been my life and I love it.
espnW: When you first joined the Virginia Slims tour and the WTA in 1973, what were your goals?
PK: For me I was not so much goal-oriented as it was to survive. We were literally going to tournaments where we were not selling tickets; people did not know we were in town. Reporters did not really want to speak to us. Tennis was not a real popular sport, especially women's tennis at the time. So in the very beginning it was simply survival, getting by week by week on the circuit, and I was sort of a one-man show there. We did not have any trainers; we did not have PR people. It was just us and the players, me and the players, and so we were pretty much a family building something together. We knew we were building something. Billie Jean was the leader, she is the one who had the goals and the vision to see what could come down the road.
espnW: Can you give me your thoughts on the state of the women's game today?
PK: To me it is amazing. We have players dominating the sport from all different countries. I think not too long ago in the top 10, women were from 10 different countries. It is a little disheartening that we do not have more top women players from the United States, but I think the depth of tennis has been phenomenal, the growth there. We were criticized for a very long time about the depth in women's tennis compared to men's tennis, and so I think the young players today are hitting the ball so hard, they are in such great shape, they train really hard and they train really well.
espnW: One remarkable thing is that there is now a Grand Slam champion from China, Li Na. What do you think about that?
PK: That just opens the door over there and it is such a great thing for women's tennis. I mean another thing that is pretty remarkable to me is that we [the WTA] have an office in Beijing. … That is where the growth is and so I am really proud of her and what she has achieved and the future looks great in that part of the world.
espnW: Something that has been in the news lately on the women's game, especially during Wimbledon, was the call to eliminate the grunting and shrieking that has become a trademark of some of the players on tour right now. What is your take on that controversy?
PK: I am all for that, but I think where it has to start is with the junior players and when players first start. I think it is pretty hard to take a player who has played for 10 years and all of a sudden say to them, "Whoops, you cannot grunt anymore." So I think that has to start with players as they start to play and it has to be not allowed.
espnW: In 1971, 300,000 girls were playing high school sports. Data shows that the number is more like 3,000,000 today. When you hear something like that and knowing that you had a part of it, what are your thoughts?
PK: It is mind-blowing. You cannot comprehend what that is. I mean those numbers are so far out there. But I guess what I relate to so much is that when I was in Newport [Rhode Island, for the Hall of Fame induction], how many women and older women and young women who came up to me and said, "Look, I went to college on a scholarship" or "My daughter is in college because of an athletic scholarship." That is what is rewarding to me is when you see it in person and you can experience it and see that people are very appreciative. You feel like if nothing else you have done something to help some others along the way.