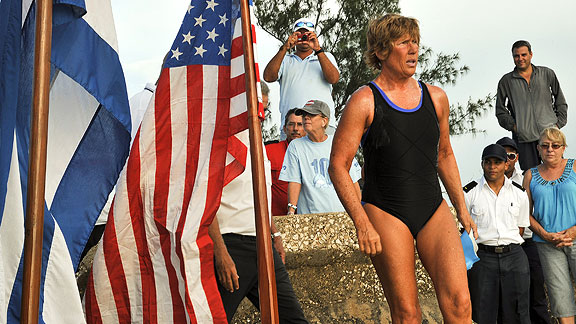 Adalberto Eoque/AFP/Getty ImagesDiana Nyad passes the Cuban and American flags Friday before starting her second attempt to swim the 103-miles from Havana to Key West.
Elaine Lafferty is a former correspondent for Time magazine and editor-in-chief of Ms. magazine. She has known Diana for nearly 20 years.
Sunday 4:30 p.m.
Diana is physically doing really well. She finally fell asleep on the boat returning to Key West. Her arms are marked up badly from the stings, but she's physically fine. She will be back in Key West tonight. Diana will most likely be talking about the swim to her supporters, who she loves so dearly, tomorrow morning.
Sunday 11:40 a.m.
After more than 40 hours of swimming and two Portuguese Man o' War stings, Diana Nyad decided to end her swim today at 11 a.m.
From the water, she called out to her flotilla of four escort boats and addressed each of them in a strong voice. "The medical team said I should not go another two nights in the water and risk additional likely Man o' War stings which could have a long term cumulative effect on my body. But for each of us, isn't life about determining your own finish line? This journey has always been about reaching your own other shore no matter what it is, and that dream continues."
Nyad swam more than 67 nautical miles.
Steve Munatones, the independent observer for the International Swim Federation who is accompanying the expedition, noted that Portuguese Man o' War stings have doomed many a marathon swimmer.
Sunday 10:30 a.m.
It's a little after 10 a.m. and Diana is swimming strongly. We are 67 nautical miles from Cuba. She has a strong heart rate of 85 and is persevering. The challenge will be the prospect of crossing the Gulf Stream to reach land. Every professional aboard the flotilla, whether they be physicians or International Marathon Swimming Hall of Fame representatives, is astounded at this achievement to this point.
The CNN tracker, which will chart Diana's progress through the ocean, should be operational within two hours.
Sunday 10 a.m.
Last night, after Diana was stung in the face by another Portuguese Man o' War, her safety diver, Rob MacDonald, donated his heat cap that he had used when he climbed Mount Rainier. He and other crew members cut eyeholes and a mouth hole out of the cap to create a neoprene mask that was placed over Diana's face to protect her from further stings.
The decorations on Rob's hat?
Tiny sharks.
Diana, wearing a long sleeved pink shirt, black neoprene mask, blue swim cap and transparent goggles, was quite a vision!
Sunday 6:15 a.m.
Diana swam continuously through a pitch-black night as her kayakers counted every stroke and monitored each slap of the water.
A crescent moon rose just after 5 a.m.
Handler Christi Barli replenished Diana's food supply from the Sunluver.
We await the light of dawn.
Sunday 12:20 a.m.
She's back in! At 12:20 a.m., Diana has re-entered the water. She is accompanied by three shark divers and the swim has resumed.
Saturday 11:30 p.m.
According to the independent observer from the International Swim Federation, Diana may continue the swim if she has only been removed from the water for medical treatment.
In other words, not simply to rest.
The swim then becomes something called a "staged swim," meaning that it may occur in stages. Diana's swim will still be record breaking if she decides to continue. As of 11:30 p.m. she is still receiving medical treatment aboard the Voyager.
Saturday 9:40 p.m.
Diana is still aboard Voyager and being treated by two physicians. At this moment it appears that Diana wishes to continue the swim, but there is no final decision yet.
Saturday 9 p.m.
Ten minutes before 8 p.m., Diana was stung by some kind of presumed jellyfish. The crew is trying to determine what kind of sting it is. Her face and eyes and the area around her eyes are affected. She is out of the water and aboard the transom of the Voyager, where she is being treated by doctors. It will be up to Diana to decide whether or not to continue the swim.
We will get more information out as soon as we have it.
Saturday 7 p.m.
The sun is setting low in the sky as Diana continues her epic swim. At 6:30 p.m. we are 49 miles from Havana. Diana has passed the 24-hour mark, despite getting multiple Portuguese man-of-war stings just two hours into the swim.
By some accounts here in the flotilla, one of several major turning points this afternoon came with the administration of Nancy Jordan's chicken soup. Jordan is co-captain of Sunluver, and she made a special concoction that was put into a blender. Diana is continuing all sorts of nutrition every 45 to 90 minutes, but it seems the chicken soup has spurred her spirits.
Tonight, her second night in the open water, may be the most critical. Steve Munatones, who is accompanying the expedition as an independent observer for the International Swim Federation, says that swimmers have a much better chance of success if they can make it through the second night.
So everything is set for this evening. The safety divers are adjusting their shifts -- a special shout out to those who spotted both barracudas and sharks today. Chief handler Bonnie Stoll is ever-present as co-handlers Heidi Horner and Christi Barli share duties. The red LED streamer from the vessel Voyager will light up, illuminating the course for Diana. Onward!
Saturday 3:30 p.m.
This afternoon -- it is stunning to actually witness -- Diana is swimming stronger and stronger. Her strokes are up to 50 per minute, she is eating pasta, gobbling bananas, bits of peanut butter sandwiches, along with high-carb and high-calorie liquid concoctions. Bonnie Stoll has not left her side.
Conditions remain calm beyond expectations. Angie Sollinger, a crew member, said she has lived in the Caribbean for 27 years and has rarely witnessed a period of the doldrums this extensive.
Around 1 p.m. -- and don't everybody get excited here -- an oceanic whitetip shark was spotted near Diana in the midst of the three-boat flotilla. Diana is deeply committed to the safety of these extraordinary animals. Rob MacDonald, one of her talented safety divers, swam towards the shark, where they faced off within 10 feet of one another. "I guess he thought I was more aggressive than him, and he turned in the other direction," said MacDonald. Everyone else, it must be said, breathed a huge sigh of relief.
At 3:15 p.m. today, Diana is now 35 statutory miles from Havana -- about one-third of the way to Florida.
[+] Enlarge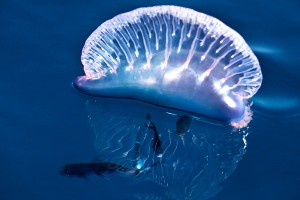 AP Photo/Gerald HerbertDiana Nyad was stung multiple times by the Portuguese Man o' War jellyfish Friday night.
Saturday 9 a.m.
It's been a challenging night and morning. Diana recovered from the multiple Portuguese Man o' War stings enough to swim, but she is struggling right now. Her usual stroke pace, between 52 and 55 strokes per minute, has dropped to 48, but she is able to keep going.
At 5:50 a.m. Diana stopped her freestyle stroke and complained that she couldn't breathe properly -- that she wasn't getting oxygen to her muscles. Two doctors from the University of Miami sped out to the Voyager and administered a prednisone shot along with oxygen and other medications. Diana treaded water between 7 a.m. and 8 a.m. and said she felt better, but still couldn't get enough oxygen to her muscles.
Night turned into day as the dawn broke slowly on the horizon. "You're doing better. I can see it," said Bonnie Stoll, her chief handler. Diana's regular feedings and hydration are continuing. Candace Hogan, who has been on most of Diana's swims since 1978, says Diana can recover and complete this swim.
At 8:57 a.m., the flotilla and Diana are about 25 miles from Cuba.
Friday 10:20 p.m.
A testament to Diana's strength was the two hours following her sting by numerous Portuguese Man o' War tonight. Chief handler Bonnie Stoll said, "Diana was stung along both arms, the side of her body and her face."
Jonathan Rose, a safety diver and EMT, immediately got in the water with Diana to try to free her of the tentacles and stingers. Rose was also stung numerous times. The crew got Diana's swimsuit changed and put a new suit on with a shirt covering her. After an hour and a half of treading water Diana began to rehydrate and swim her freestyle stroke.
Meanwhile, Jonathan, who is OK, returned to the boat and was resting after two ephedrine injections. "It was scary," said Stoll. "But Diana is happy that this happened early while she is still at her strongest."
As of 10:20 p.m. the flotilla is continuing on in warm, calm, windless seas. Onward!
Friday 6:05 p.m.
The swim began at 6:05:08 in utterly calm seas. Water temperature is 90.2 degrees. Diana's flotilla of escort boats -- Voyager, Sunluver and Brenda Bad Girl -- were there as Diana jumped into the water at the Hemingway Marina in Havana. A crowd had gathered along with a boat filled with media who accompanied Diana for the first 30 minutes of the swim.