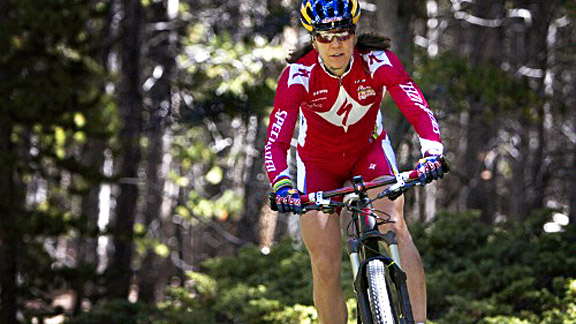 Courtesy of Red Bull Pain can't seem to stop Rebecca Rusch, who is seeking her third straight victory in the Leadville Trail 100.
It was just around this time last year when Rebecca Rusch was on the ground, lying in the dirt, writhing in pain. She was 90 miles deep into a 100-mile bike race, her competition in hot pursuit. But at the final water stop, her calf caught a major cramp, sending her toppling off her bike and into the dirt and rocks … leaving her there, in the dirt, writhing in pain, struggling to get the calf to relax.
"I was tired, hot, thirsty and in so much pain," she said, reliving the moment. "The volunteers were looking at me like I was an alien, but at that point I just didn't care." Instead, she yelled at them to get her a saltshaker. "I just shoved a bunch of salt in my mouth, hoped it would loosen the cramp, forced myself back on the bike and took off," she said. "By Mile 90 in that race, you're just reacting in a primal way. It's all about survival -- you're not thinking like a rational, polite human being."
Twenty minutes later, her animal instincts paid off as she won -- with relative ease -- Colorado's Leadville Trail 100, setting a course record with a time of 7 hours, 47 minutes.
Leadville is no ordinary race. It's known as one of the most grueling mountain biking events in the world, and can humble you in an instant. Rusch, 43, likes it like that. "I take the good days with the bad," she said. "If racing was always wine and roses, it wouldn't be nearly as addicting. You have to be prepared for the times when it's not going your way, and learn to shut off that negative voice that fills your head with doubts."
What she lives for: the magical feeling when the start gun goes off. "The brain shuts off and adrenaline takes over," said Rusch. "I become a different person. Nothing else in life gives me that feeling."
But don't take her for your ordinary thrill-seeker. "I don't bungee jump. I don't skydive," she said. "I take calculated risks." Yes, calculated risks, like competing against women half her age -- and crushing them -- in grueling events such as the 24-Hour Solo Mountain Bike World Championships (which is just what it sounds like: cycling up and down steep, rock-covered, root-littered dirt trails along the ragged edges of mountains for 24 hours without stopping).
Uphill battle
Before staking her claim as the best female mountain biker in the U.S., Rusch was a high school cross-country runner slowed by a bum knee. She turned first to climbing, then kayaking (member of the U.S. Whitewater Rafting national champion team in 2001 and 2002), then skiing (masters cross country skiing world champion in 2008) before finding her niche in cycling. In the offseason, she still coaches masters skiing for adults in her hometown of Ketchum, Idaho, where she is also a member of the volunteer fire department. The woman just doesn't sit still.
As we write this, Rusch is in Colorado to defend her Leadville title. "The first time I did this race was on a whim in 2009," she said. "I'd just finished the 24-Hour race, and 100 miles seemed so short." Maybe that's why she won with ease.
Last year, she arrived with a goal in mind: break the top women's time. She did that, too. It was especially impressive given that the race takes place 12,000 feet above sea level, where most mortals would have difficulty breathing at a standstill, let alone during extreme exercise. "Racing at altitude leaves little margin for error," Rusch said. "Your body just doesn't recover as fast. So any tactical mistake is magnified. Push too hard, too early, or let yourself get a little dehydrated, and you are in a world of trouble."
That's why she arrived two weeks early: to allow her body time to adjust to the lack of oxygen, as well as to the wacky Colorado mountain weather. Though the race is in the dead of summer, it's been known to snow and sleet on the course. "My first year, it kept going from freezing rain to sleet," Rusch said. "There's one point in the race where the trail narrows and the traffic is two-way -- you're passing people going up the mountain as you are coming down. I could barely see anything as I was descending. It was slippery, I couldn't feel my hands gripping the bars. It was pretty sketchy."
No pain, no gain
Sounds like the total opposite of fun. It's probably the key to what makes Rusch such a tough competitor. "I'm not afraid to suffer," she said. "I am ready for the point that comes in any race, when it's time to put your head down and keep pushing." Makes sense coming from a woman whose Twitter handle is Queen of Pain.
Suffering was on display during a recent seven-day race in Morocco's Titan Desert, which Rusch described as both beautiful and brutal. There were golden sands, random camel crossings and small villages of billowing white tents pitched every night as the bikers made their way toward the finish line in Spain. "It felt like I was on a movie set," Rusch said. On the other hand, there were temperatures well above 100 degrees, intense sun and absolutely no shade, and winds whipping the sand in eyes and ears for hours on end. In one day, Rusch managed to get six (yes, six) flat tires. "I hadn't had a flat in over a year, and then in one day I got six. It was almost a joke," she said.
That wasn't the end of her bad luck. "On Day 3 my bike frame broke," she said. "I did not realize it until the finish of the stage, when the mechanic was going through my bike. I ended up having to borrow a bike from another racer for the remaining three days."
Somehow, despite the mishaps, Rusch finished second.
With races so arduous, you'd think that the woman would have thrown in the towel on a few of these things. Of course, you should also consider that Rusch cites quitting as her biggest pet peeve. To date, she has dropped out only once … back in high school. "I will never forget the feeling of shame having to face my coach and teammates afterward," she said. "I never want to have to explain to people why I failed."