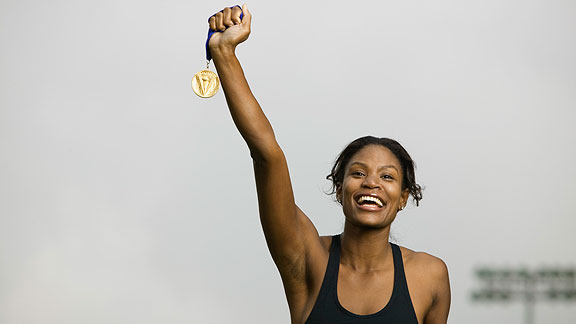 Courtesy of Thinkstockphotos.com
No matter how many W's you've banked or finish lines you've crossed, one shining moment usually stands out in your mind as especially sweet. Here, readers share the accomplishments they cherish the most. Get ready to be inspired!
"I won a Big Ten championship the week after I found out my dad had Lou Gehrig's disease and only two years to live. I could hardly eat or train that week leading up to the meet. I kept the news from my teammates so I wouldn't distract them -- and to avoid their pity-filled glances. My parents and younger brother, Andrew, drove with me to the race in Wisconsin. I made it through 700 meters of the 800-meter race intact. I was drained emotionally and physically, but held on for that final 100 meters -- trust me, it didn't look pretty. I was able to win that race for my dad. Nothing has ever topped that."
-- Rachel Sturtz, 30, Seattle
"A few winters ago, I joined some friends in a skating adventure across Lake Champlain in Vermont. It was a really windy day, but we didn't know any better, so we set off, gliding anyway. Suddenly, winds picked up to 40 mph. It was probably 20 below zero out, but the wind was at our back so we didn't notice anything except the fact that we were flying across the ice. In less than 20 minutes, we'd crossed the lake! Then we had to turn around and face the wind to get home -- and I realized I was in trouble.
"Halfway across the lake, I had to stop. I was convinced that I couldn't go on. It took everything I had to move forward a few inches at a time in the face of the wind. I didn't think I had it in me to skate the two hours it took to get back, but my friends kept things light by cracking jokes about our predicament, and bit by bit, the shoreline became clearer. Later, one of the lake guides told me that he'd never seen winds like that in his 30-plus years on the job. To celebrate, we drove to a local pizza place where we warmed up and entertained everyone with our story of how we conquered the elements."
-- Amelia Harder, 37, Brooklyn, N.Y.
"I've always had an insane fear of CrossFit. I'm a good runner, but when it comes to intense strength training, I'm a weakling. My big sister, Laura, is really into CrossFit, and since I'm staying with her in Las Vegas for a while, I decided to join her in one of the classes. The entire workout was about 45 minutes, but the really intense part happened at the halfway point, when I had to do three rounds of a 400-meter run, 30 wall balls (in which you squat holding a medicine ball and throw the ball again the wall between squats) and 15 headstand push-ups. We did this series three times as fast as possible. I was the last to finish, at 22 minutes. I was really sore afterward, but the sense of accomplishment was amazing. In fact, I've since done two more classes and signed up for a 10-class package. Bonus: It's even helped my running—I shaved 30 seconds off my mile."
-- Alice Oglethorpe, 30, Chicago
"Last year, when I started training for my first half Ironman (Wildflower in California) with Team in Training, my dad was fighting chronic lymphocyte leukemia. He passed away partway through the triathlon season. I thought about giving up, but I stuck it out. The race was one of the hardest things I've ever done (especially since I'd previously only done a sprint tri in 2002!). While there were moments when 'training for the cause' seemed useless because it would no longer help me and my family, it ended up giving me a lot of inspiration and drive, as well as structure, distraction, and an outlet. When I finished the race and found my mom, I just lost it. After five months of training through grief and keeping everything shut inside, my emotions just came pouring out."
-- Evelyn Spence, 35, Seattle
"An editor once called me to ask if I would like to climb Mount Rainier, just outside of Seattle, and write about it. I was living at sea level in Indiana at the time, so scaling 14,411 feet sounded fun to me. I hopped on a plane a few days later and found myself with a group of people who had been training for this adventure for months. I was the fittest I've ever been (I had been riding my bike about 120 miles a week), but the altitude kicked my butt. I summoned every ounce of energy I had and made it to the top of one of the most dangerous volcanoes in the world. I returned home to find out I was six weeks pregnant. I like to think the pregnancy made it harder than it would have been. I can't wait to go back and do the climb with my son, who is now 14, when he graduates from high school."
-- Dana Sullivan Kilroy, 47, Reno, Nev.
"In June 2010, I took a group of teenagers from the high school where I'm a teacher on an educational trip to Costa Rica for nine days. As volunteers with a sea turtle conservation organization called WIDECAST, we spent our nights patrolling four-mile stretches of beach for four-hour rotations from 8 p.m. to 8 a.m. to locate nesting turtles and transfer their eggs to safer locations. Hiking through sand in 90-degree heat in the pitch-blackness of night, wearing long sleeves and pants while supervising a group of exhausted teens, was an enormous challenge. I now know that my limit is far beyond what I reach in a typical workout."
-- Jill M. Ross, 29, Montague, N.J.
"When I was 17, I wasn't the strongest swimmer in my lifeguard course, or the fastest. I constantly came up last in my class and failed the certification test over and over again in front of everyone. Still, I persisted. On the final day, every single person in the program had passed except me and the coach threatened to make me retake the whole course. I somehow reached deep inside myself and tapped into my inner Michael Phelps (who was only 8 years old back then) and completed the last challenge, which involved 'saving' my 'drowning' coach, who thrashed about and attempted to pull me under. I was so proud when I finally passed!"
-- Leslie Goldman, 35, Chicago
"Biking 100 miles this June as part of the Ride to Montauk Century Ride in New York was far more intense for me than many of the running races I've done in the past. For the longest time, I was pretty fearful of learning to ride in clipless pedals. I thought I'd never master it and that there was no way I could perform on a bike the way I did with sneakers on pavement. But recently, I decided it was time to overcome my fear. I put all my focus on cycling and got myself into a great training program. Through the program, I met fabulous people who encouraged me and I started to see myself in a new light on the bike. That led me to register for my very first century (the Montauk ride). I couldn't be happier that I did it. It was my personal victory and I will remember it forever."
-- Valerie Albanese, 31, Marietta, Ga.
"I was a competitive figure skater in my youth, but when I moved from Massachusetts to Jackson Hole, Wyo., three years ago, I found myself surrounded by insanely skilled skiers, and I was intimidated. Feelings of inadequacy flooded my mind every time I set foot on the hill. Would I ever improve? Could I ever feel as confident on the mountain as I do on the ice? I conquered my fears one day this past winter. It had snowed insanely hard the night before, so the runs were superb. I was skiing with some badass chicks and we decided to go exploring. We found a chute that we must have skied past 100 times before. It crossed my mind to skip it and just meet my friends at the bottom. But I didn't. I skied the run -- and it was the fastest, smoothest and most confident I've ever skied. At the end of the run, my heart was racing from exhilaration, not fear. It was a feeling I hadn't felt since my figure skating heyday."
-- Alison Nestel-Patt, 26, Jackson Hole, Wyo.