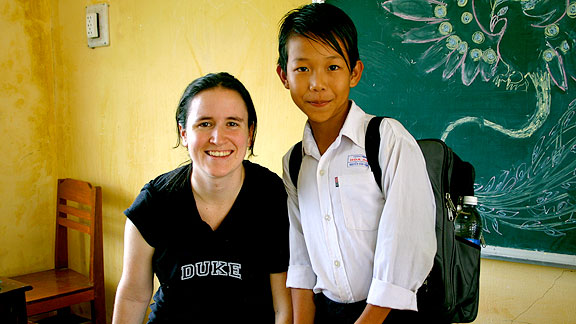 Anna RobertsParker Goyer with one of the rural Vietnamese students she helps through her Coach for College program.
Standing in an abandoned field in the tiny town of Hau Giang, Vietnam, former Duke athlete Parker Goyer watched as barefoot children chased a soccer ball through the dirt, trying to kick it between two sticks to score a goal. Over several weeks, she'd gotten to know these kids -- and their energy and enthusiasm for every new thing tossed their way: math, English, American sports. They'd never had any athletic training. They'd never heard of tennis, much less held a racket. The chance to expose them to new ideas and activities was limited; most would not make it past the sixth grade before following in their parents' footsteps and becoming farmers. As she watched them kick the ball back and forth across the field, Goyer knew this was her chance to expand the opportunities they'd have.
Once ranked 30th in the nation in women's tennis, Goyer thought about little else but her tennis game in college. Like most student-athletes, she trained hard, practicing three to four hours a day, then hitting the gym to lift weights. She spent evenings studying to keep her grades up. "I saw volunteering -- or anything else besides schoolwork and working out -- as a distraction," she said.
But during her senior year, she found herself in a quandary: She wasn't prepared to go full-time pro after graduation, but she didn't exactly have a Plan B. "I was at a loss for what to do," said Goyer, now 26. "I thought about traditional jobs, like being a doctor or lawyer, but that didn't really appeal to me."
"

I wanted to show athletes that sports teaches you intangible life skills you can use to pursue life goals outside of sports.

"

-- Former Duke athlete Parker Goyer
She wasn't alone. "I realized that a lot of athletes didn't know what they wanted to do after graduating. I felt like we needed a meaningful way to use the skills we developed as players -- focus, teamwork, persistence and dedication -- to help others."
Inspired by a professor who had spent time teaching English in Vietnam, Goyer traveled to the Southeast Asian country after graduation to volunteer, teaching rural kids in an area with a high dropout rate. It was during this trip that an idea struck her: What if she could give other collegiate athletes a chance to volunteer as part of a study-abroad program in Vietnam?
"I saw the opportunity to offer academic support and sports training for Vietnamese kids and I thought collegiate athletes would be great role models in those two areas," she said. "It would give rural kids a chance to go farther than they normally do. At the same time, it would expose student-athletes to another career direction."
With the help of Peacework, a volunteer organization that was already building schools in Vietnam, Goyer began raising funds and meeting with government officials and Duke administrators. In the summer of 2008, Coach for College -- an academic and sports training camp run by collegiate athletes -- became a reality. Goyer hosted her first three-week camp in Hau Giang, a province of Vietnam, with 20 student volunteers, 10 from Duke and 10 from the University of North Carolina. The volunteers taught 200 kids volleyball, basketball, soccer and tennis, as well as academic subjects.
This summer, 62 athletes from four U.S. colleges participated, reaching nearly 900 Vietnamese kids in two camps. Through the program, Goyer has also overseen the building of a multisport hard court, where kids can learn to play tennis, volleyball, soccer, basketball and badminton. While the program has grown exponentially in a short time, it's been challenging.
"There are so many obstacles to making this a success," Goyer said. Fundraising is a never-ending job, as is presenting her platform to other universities to get them on board. She is in constant communication with volunteers in Vietnam and America, and spends months organizing and planning the camp with minimal resources and staff.
"Once I start something, I don't like to quit," she said. "It's the competitor mentality I learned in tennis … I like the idea of taking something that doesn't exist or that people think is impossible and showing them it can be done."
Her efforts have paid off. "The dropout rate for the kids is going down, and for the student-athletes, it's a good leadership experience. They come into a culture they're not familiar with and teach in a classroom with kids that don't speak their language," Goyer said. "But because sports is such a universal language and can be taught largely through demonstration, it creates a strong nonverbal bond that carries over into the classroom."
The experience is a confidence-builder for the volunteers, which is exactly what Goyer hoped for. "I wanted to show other athletes that sports teaches you a lot of intangible life skills you can use to pursue life goals outside of sports," she said.
Anna Roberts, a softball player at UNC who graduated last summer, applied for Coach for College after attending a presentation by Goyer. After a summer volunteering in Vietnam, she knew exactly what she wanted to do with her future: Roberts will be entering the Peace Corps in January.
Goyer herself is headed to Harvard this fall to work on a Ph.D. in education, hoping to use the knowledge to further her program even more.
"I see Coach for College as a global initiative because of the power sports has to create positive role models," she said. "It can work not only in Vietnam, but in a lot of different countries."
It's a big goal, but as an elite athlete Goyer is ready for the challenge. "This project has replaced what tennis was for me. I've been able to set goals in the same way," she said. "The difference is I'm using what I learned to give back and help a lot more people. At the end of the day, there's nothing I'd rather do than this."