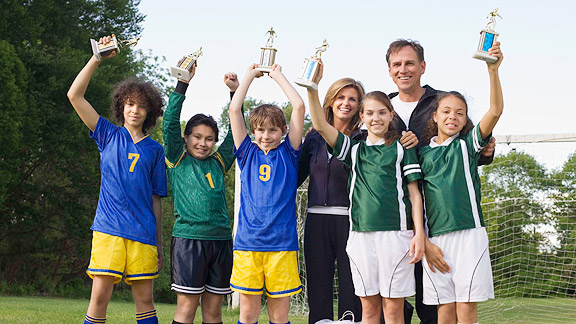 Jupiterimages
Run with the girls!
Girls on the Run is a nonprofit national organization that pairs adult runners with groups of preteen girls to help them develop self-respect and healthy lifestyles through running.
Coach your own team
Want to volunteer to coach a girls' b-ball team or soccer league? The National Alliance for Youth Sports can show you how to get the proper training and certification as a volunteer coach in numerous sports.
Mentor kids in Washington State
The Athlete for Kids program matches children from first to ninth grade who have a range of challenges, from ADHD to autism to family trouble, with adult athlete mentors.
Get kids into sports in Los Angeles
Kids In Sports was founded in 1994 to help underserved youth populations in Los Angeles participate in team sports. The clubs are managed largely by neighborhood volunteer coaches and organizers. In an effort to get more girls involved, the organization has a targeted program, "Girls in Recreation, Leadership and Sports," aimed at building all-girl teams and recruiting female coaches.
Help physically challenged kids exercise in D.C.
KEEN (Kids Enjoy Exercise Now) is a nonprofit, volunteer-led organization helping children with physical disabilities in the greater Washington, D.C., area enjoy the benefits of exercise and sports at no cost to their families.
Check out the YMCA
With a presence in more than 10,000 neighborhoods across the country, your local YMCA is always looking for volunteers to help teach kids to play sports.
Get schooled
Budget cuts and shrinking after-school programs mean that, now more than ever, public schools are in need of volunteers to keep kids' team sports alive. Contact your local school to find out how you can help.