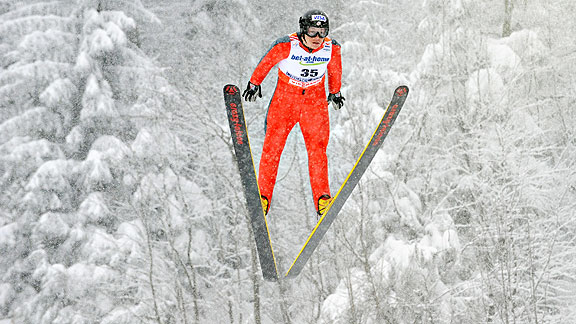 Joe Klamar/AFP/Getty ImagesLindsey Van took up ski jumping at age 7 and estimates she's taken more than 20,000 jumps in her career.
Shoulders slumped, her face already weathered from years of wind and frigid air, Lindsey Van looked exhausted. Defeated, really. She had faced the scrum of reporters before. After all, she is a 13-time U.S. national ski jump champion and accustomed to media attention.
But this time it was different.
Standing outside the British Columbia Court of Appeals on a chilly November day in 2009, Van was not there to expound on her win or by-a-hair loss. She was there to talk about another kind of defeat: Along with 14 other internationally ranked female ski jumpers, Van had tried -- and failed -- to sue the organizers of the Vancouver Olympics to force them to include female ski jumping in the 2010 Games after the International Olympic Committee had ruled several months earlier to once again not include the sport.
It was the only sport in the Olympics, from boxing to figure skating, to not include both genders.
"It was demoralizing and infuriating," Van said, pointing out that ski jumping is one of the original Olympic sports and has a very "macho" reputation. "I think they were scared of girls making an impact on the sport and taking some attention from the guys."
The IOC's official stance -- that women lacked the technical skills to compete -- had to be seen as sheer nonsense. Van held the course record, for both women and men for the Vancouver jump leading up to the 2010 Games. The future for Van's sport seemed bleak.
"It's hard to keep girls in the sport if they know there's no future," she told a New York Times reporter at the time. "Who wants to start a sport if I can have a lot of fun but I can't make any money? I can't get sponsorships and there are absolutely no opportunities -- what's the point? It gives them pretty much no hope."
Fighting on
Her bitterness was justified, but her will to win -- at sports, at politics -- made it impossible for her to accept the court's ruling. After the 2010 Games ended, she reignited the charge to see women's ski jumping included in the 2014 Games.
Following hundreds of hours of politicking, debating and petitioning, this past spring Van finally heard the words she'd been after for the better part of the past decade: Women's ski jumping on the normal hill (i.e., the long-distance jump) will be included for the first time in the 2014 Games in Sochi, Russia.
"I was kind of numb when I heard," Van said. "People expected me to be ecstatic, but I'd been after this for so long, it just didn't sink in at first." Van had been pushing the sport forward for so long, she said, that it often felt like she had gone from a pure athlete to a politician who dabbled in sports. What she really wanted was a chance to return to full-time training and pursuit of that elusive Olympic medal.
There was one problem with Van's back-to-the-hill plan: She will be 29 when the 2014 Games roll around -- not exactly a spring chicken in this grueling sport in which the body takes a pounding and youth means faster recovery times.
"

Up in the air, for a minute it's as if you can fly. It's like nothing else I've ever felt, and as soon as I land, I want to do it again.

"

-- Lindsey Van
Injuries in ski jumping are common and rarely subtle. In 2008, she suffered a major setback after a practice jump went terribly wrong. She took off fine, but the force of the landing jammed her leg bones together and her knee cartilage essentially exploded. Van had knee surgery, followed by five months of intense rehab.
Six months later, she returned to competing, only to injure her knee again. In total, she's had four knee surgeries. A ruptured spleen also sidelined her for four months. "I was so frustrated by how slowly my spleen healed," Van said. "Every time you're injured, it makes you want to get back out there all the more."
Feels like flying
Earlier this month, Van kicked off her 2011-12 season with a competition in Norway, but nerve issues in one of her legs left her unable to properly feel her takeoffs or landings, and the results were lackluster.
"It's been bothering me since July," Van said. "The leg just goes numb." Back home in Utah, she is seeing specialists and going through physical therapy to help shore up her chances for a strong season.
With so many serious injuries, some might wonder what the appeal is of competing in a sport with minimal funding (Van works part-time jobs to make ends meet), blatant gender discrimination and a high probability of ending up in the ER. Van said articulating the rush she gets from ski jumping is nearly impossible.
"The closest I can come is to say it feels like flying," she explained. "You are up the in the air and for a minute it's as if you can fly. It's a feeling like nothing else I've ever felt, and as soon as I land, I just want to go back up to the top and do it again."
Despite the risks, Van said she has never been afraid of jumping, even after her accidents. After all, she's been doing it almost as long as she can remember: At 7 years old, her parents put her in a youth ski program, but Van kept drifting away from the group, seeking out the mini-jumps along the side of the hills. "That just seemed like more fun," she said.
By now, she has done about 20,000 jumps, and the fear of falling has long been supplanted by the exhilaration of soaring through the air. "It's addictive," she said. "I always want more."
Still, the emotional rush can't overcome her physical realities. Van hopes to have medical issues resolved enough to put in a strong showing at the U.S. Ski Jumping Nationals (normal hill) at Fox River Grove, Ill., on Oct. 1, followed by a top-three finish at the world championships later in the season. ("I try to avoid putting expectations on myself and just give it my everything," she said.)
As for the future, Van wrote on her blog, "My only focus now is to be the best ski jumper I can be. I found my passion for the sport again without it being blurred by a political scar. I want to give props to all the women who have stayed in the sport, and my teammates for sticking together through all of the hard times. I am honored to have you all in my life, and I look forward to the future of our sport with you all."
Onward and upward.