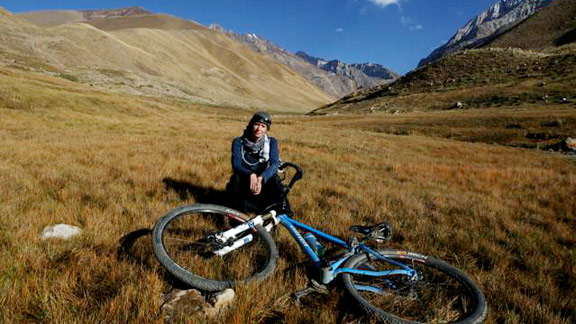 Travis BeardIt took two attempts, but Shannon Galpin finished her journey across the Panjshir Valley and opened the lines of communication with locals in the process.
Two years ago on her 36th birthday, Shannon Galpin was headed out an epic ride -- 100 miles and thousands of feet in steep, rocky inclines. For the former fitness instructor and competitive mountain biker, the distance wasn't the issue. It was the location: Galpin's route was across Afghanistan's Panjshir Valley, a region where women can be punished, even killed, for the simple act of riding a bike.
"I didn't set out to become the first woman to mountain bike in Afghanistan," said Galpin. "It actually started more as a selfish endeavor." As the founder of Mountain2Mountain, a nonprofit organization that provides education and job training to Afghan girls and women, Galpin visited the country several times a year. "On a drive through the valley during one visit, I saw those rolling hills and blooming red flowers and thought, 'Wouldn't that be a beautiful place to explore?'."
"

I couldn't sit on the sidelines. I had this inner rage I had to channel into fighting for the rights of other women.

"

-- Shannon Galpin
Her friends and colleagues discouraged the idea. There were threats of land mines, drug traders and the Taliban. In fact, 10 international aid workers were gunned down in the hills surrounding the valley just a few months before. But after chatting with local villagers, Galpin's determination grew.
"I found out that in Afghanistan, women aren't allowed to ride bikes -- straddling a seat is viewed as vulgar," she said. "I wanted to use my bike ride to challenge people's perceptions of what women can and can't do."
Working to her advantage, Western women are technically exempt from Afghanistan's biking ban, though -- to Galpin's knowledge -- none had tested their freedom on wheels.
Road to Afghanistan
[+] Enlarge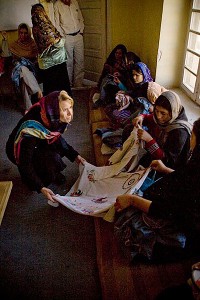 Tony Di ZinnoShannon Galpin's Mountain2Mountain nonprofit aims to provide education and job training to Afghan women.
In many ways, Galpin's ride was years in the making. At age 18, she was raped at knifepoint while walking home through a park in Minneapolis. Nearly a decade later, Galpin's only sister, then in college, was also raped. "Those events shifted my focus and the way I looked at the world," Galpin said. "I couldn't sit on the sidelines anymore. I had this inner rage that I needed to channel into fighting for the rights of other women."
Two years later, Galpin, now the mother of a toddler daughter and a divorcee, decided to sell her home in Breckenridge, Colo., and pour her energy into launching Mountain2Mountain. She was inspired, she said, by Greg Mortenson, the author of "Three Cups of Tea" and an advocate for education in Central Asia.
Over the next five years, Galpin traveled back and forth to Afghanistan to launch a variety of projects aimed at improving the lives of women and children in that region. She worked in girls' schools and a women's prison and created a training program for rural midwives. Thanks to her efforts, the first school for the deaf in the country is currently under construction.
A fresh challenge
Despite knowing her way around Afghanistan, Galpin understood her friends' wariness about her Panjshir Valley ride. "I would be pretty exposed on a mountain bike," she said. "Plus, the road I would bike was mostly a straight line, so cars could double back if someone felt like making trouble or harassing me." Galpin's route would also take her through many villages, where she could be received with admiration or anger. She wouldn't know which one until she was in the middle of the ride.
Considering all of the logistics and legitimate concerns, Galpin decided against going it alone. She opted to bike with three others instead: an Australian friend, an American journalist and an Afghani translator. News of the cyclists and their ride spread, and on her first day on the road, Galpin encountered groups of men and boys waiting for her arrival at every village they passed. Galpin's translator gave her a thumbs-up or -down to signal the mood of the crowd.
And, it turned out, the mood was good.
"I was thrilled with the response, which was mostly curiosity," she said. "The men would ask what we were doing on our bikes, which would lead to a conversation about my work in Afghanistan. That's what I had hoped would happen."
It opened the door for communication, said Galpin, something greatly lacking between Westerners and locals in the country. The women and girls, however, remained out of view when she passed through the villages, a reminder of how much more work still needs to be done for gender equality in the country.
Despite an optimistic start, Galpin's trip came to an abrupt halt at the end of her first day in the saddle. After scaling hills and walking their bikes through loose dirt, Galpin and her crew crossed paths with a goat herder at dusk. Like a scene out of an old Western, he warned them that there was a group of gunrunners about an hour ahead in the hills.
"These guys weren't the Taliban -- they were more like the mafia," she said. It was the same group of outlaws who was responsible for killing the 10 aid workers. As desperately as she wanted to finish the journey, Galpin knew it would be suicidal to ride into the hills unprotected. With her crew, she made the hard decision to cut the 2009 excursion short. "It was disappointing," she said. "But the risk just wasn't worth it. And I knew there would always be a next time."
And there was. Galpin went back home, doubled her commitment, researched the route in more detail and last year she crossed the entire valley without incident after two full days of nearly constant uphill cycling. Burning quads and sun-scorched skin aside, "the gorgeous view -- and the sight of villagers smiling ear-to-ear -- was a worthy reward," she said.
This year, Galpin plans on commemorating her ride stateside in Colorado. She's helmed a series of "Panjshir Tour" rides across the nation, where people can sign up to ride and raise funds for Mountain2Mountain and the women and children of Afghanistan. (Go to mountain2mountain.org or panjshirtour.org for details on cities and dates this fall.) "It's amazing what something as simple as a bicycle can do," she said. "It's helped open the eyes of people in both countries. Who would have thought it could be such a vehicle for social change?"