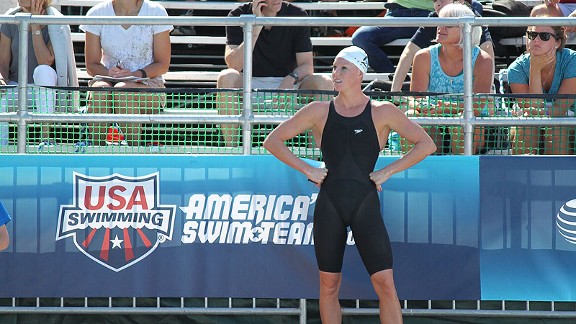 Kevin Erndl At age 33, Erika Erndl is as fit -- and fast -- as ever.
When Erika Erndl's husband, Kevin, told her in 2006 that he'd signed up to coach a Master's swim team, she laughed. "Good luck with that," Erndl told him. Plus, she thought, there was no way she would be getting up at 4 a.m. to join him. Although the two met swimming for the University of North Carolina at Chapel Hill, where Erndl was a standout in the 200-meter individual medley, she had put her swim days firmly behind her. The 33-year-old elementary school teacher had barely stepped foot onto a pool deck since her college graduation five years earlier. "Between life and work, I was so busy that I stopped thinking about swimming altogether," she said.
Back in college, swimming was Erndl's world. An All-American who thrived on competition, she dreamed of swimming for the United States on the Olympic stage. "I wanted to wear that cap with my name printed right beneath the American flag," she said. Although her collegiate times were good enough to send her to the 1996 and 2000 Olympic trials, she fell short of qualifying for the team.
When a broken finger kept her out of the water at the tail end of her senior year in college, she figured that it was time to close the book on her Olympic hopes. "I wasn't ready to be done with swimming, but it felt like this was a sign that it was time to move on to the next chapter of my life," Erndl said. After hanging up her goggles, she earned a graduate degree in education and married Kevin. The couple moved to Naples, Fla., where Erndl began teaching elementary school.
New beginning
Over the next five years, Kevin continued to swim and compete in triathlons. But the desire to race recreationally didn't appeal to Erndl, and she resisted his invitations to join him at the pool. But in 2006, after a few months of rolling over when the alarm buzzed for her husband's Masters swim team practice, curiosity got the better of her, and Erndl decided to join Kevin in the water. If nothing else, it would be a good workout, she thought. Something to balance out her Spin and Pilates classes. Soon she was swimming a few times a week, and even signed up for a regional meet. "My times were pretty slow," Erndl said. But instead of being discouraged, her enthusiasm only grew stronger. "I felt like my body was capable of going so much faster. For the first time in years, I was excited to compete."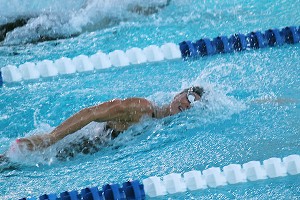 Kevin ErndlErika Erndl's ninth-place finish in the 100-meter freestyle at nationals earned her a spot in the Pan Am Games.
As the weeks went on, Erndl's swim times improved. It wasn't long before her competitive nature took over and she dreamed up an impressive challenge: She would whip herself back into her old college shape, and gun for the 2008 Olympic trials. "I asked Kevin if he thought I was crazy," she said. Of course not, he told her. He knew she could do it. That's all Erndl needed to hear to at least try. "Something inside of me just clicked," she said. "I got bit by the bug again: I wanted to challenge myself."
After setting her sights on the Olympic trials, Erndl threw herself into training. With Kevin as her coach, she spent four to five hours in the pool and weight room daily, six days a week. The ramped up schedule and immense time commitment meant she had to walk away from the classroom. It was a tough decision, but Erndl was buoyed by the support of her friends and family. "They know what kind of person I am," she said. "When I make up my mind and set a goal, I never give up."
The hours of drills and bench presses paid off when Erndl made the trials. Although she didn't advance to the final, she swam fast, shaving seconds off of her college times. Fueled by her success, she kept on training. By then, Kevin had started a local club team. Erndl began swimming with the team and its coach, Paul Yetter, who had previously trained 2008 Olympic medalist Katie Hoff.
Road to the Olympics
"

The Pan-Am Games are the end of a long journey for me. I would never have guessed that I would accomplish my childhood dream at this age.

"

-- Erika Erndl
The following year, at the U.S. Open, Erndl scored a personal best in the 100-meter freestyle, breaking the meet record and earning a spot on the U.S. national team. The satisfaction went beyond making the team -- for Erndl, it was a sign that age was not a deterrent to athletic success. "'You can definitely get faster, stronger and generate more power as you get older," she said. She looked to women like Janet Evans and Dara Torres as perfect "better with age" examples, drawing inspiration from the two moms who returned to the sport as top competitors.
"The thing about being older is that you don't take anything for granted," Erndl said. "Every practice is a chance to improve; every session in the weight room take me one step closer to my goals. I didn't have that attitude in college; athletics came easier then. But I am now much more aware that this opportunity isn't going to come around a third time."
Despite a disappointing performance at the national championships in August, Erndl pulled it together on the last day of the meet for a ninth-place finish in the 100-freestyle final, and a time fast enough to clinch a spot on the U.S. team for the Pan American Games, to be held in Guadalajara, Mexico, this month. While a podium finish is the aim, Erndl has another objective, as well: "I want to savor the whole experience," she said. "The Pan Am Games are the end of a long journey for me. I would never have guessed that I would accomplish my childhood dream at this age."
For those sitting in the stands, Erndl will be easy to spot. Just look for her name…written on her cap, beneath the American flag.