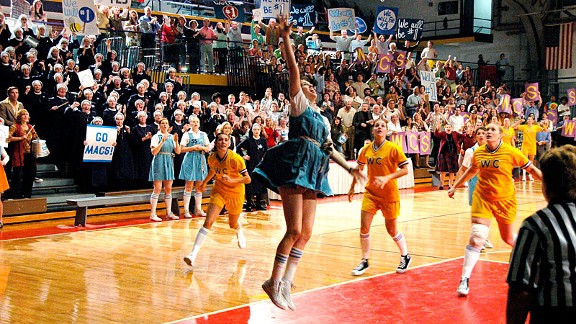 Courtesy of Quaker MediaKatie Hayek sinks the winning basket in a scene from "The Mighty Macs," in theaters this month.
Based on the true story of the women's basketball team at Immaculata College in Pennsylvania in 1971, "The Mighty Macs" focuses on the squad's improbable rise to become the country's first women's national collegiate champions. Their success was due, in large part, to a young coach named Cathy Rush who was determined to take the title for her school.
In the film, Katie Hayek, a former standout basketball player for the University of Miami, plays the role of Mighty Macs guard Trish Sharkey. Getting the part gave Hayek a much-needed dose of good news.
Diagnosed with Hodgkin's lymphoma during auditions, she received her chemo schedule the same day she got the role.
"

My mom told me there was nothing I could do except fight. And that changed my mentality from fear to being a competitor. I had a job and that was to beat cancer.

"

-- Katie Hayek
"I don't know what I would have done without this movie," she said. "It gave me something to look forward to every day when I was going through treatment."
We checked in with Hayek on the eve of her big-screen debut.
espnW: Were you nervous auditioning for this role?
Katie Hayek: I went in with no expectations. I'd never done anything on this scale, this grand. I'd done some student films in college and smaller things like commercials, but this was all new to me.
espnW: How did the auditions go?
KH: I was surprised how long the process took. It started with an open call to come in and play basketball. They wanted actors who could really play. Then there were several rounds of callbacks, and I kept getting invited back. But after that, there was a six-month waiting period, where I was just waiting hear if I'd made the cut.
espnW: Big-screen acting might be new, but basketball is old hat to you. How much did that help?
KH: I've been playing since third grade. Actually, I was just following the lead of my siblings -- I have a twin brother and two older sisters who all played, too. I love everything about the game. I especially love the team aspect -- the thrill of winning as a team. My dad saw that in me and he invested the time needed to help me be a better player. He'd buy shooting videos, work with me on my game and helped me stick with it during tough streaks.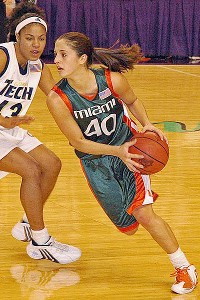 The Hayek familyAs a guard at the University of Miami, Katie Hayek kept her cool in a showdown with Georgia Tech.
espnW: When did acting start creeping into the picture?
KH: I've always loved it. I would put on little plays as a kid for the family. But all through high school, sports took precedence. I couldn't do school plays or try out for the musical because I was always at ballgames or at practice. It wasn't until college that I really got into it. I was obsessed with the idea of moving to Hollywood and getting a role on the big screen. I knew after college, I would let go of basketball in order to pursue my acting dream.
espnW: When you found out you'd landed the role, you had other news you were grappling with as well, right?
KH: I'd had a rash on my body that just wouldn't go away. My dermatologist sent me to get a chest X-ray, which is how I found out I had cancer. The day I got the call that I got the role of Trish Sharkey in the movie was also the day I got my schedule for chemo treatments.
But this was my dream, to get this role. There was no way I was giving it up. I think that's where being an athlete my whole life really helped me. I just wasn't going to quit. I gave it my all during filming, and I fought my way through chemo.
espnW: How challenging was juggling treatment and working on set?
KH: I did four months of chemo, no radiation. I feel very fortunate that was it, because I honestly didn't think I could handle anything more. It was physically exhausting. Mentally it was hard, too. I'd just landed the biggest acting role of my life, but I was also 22 years old and facing cancer. My mom really turned my perspective around. She said, "Look, there's no way to get through this except to fight. You are going to fight this." And that changed my mentality from fear to being a competitor. OK, I had a job and that was to beat cancer.
I had chemo once every two weeks. I sat there and they injected me with four different drugs. That day I felt OK, but the next two days I would feel ill -- nauseous, exhausted, jittery, icky. Fortunately we were able to work most of the shoots around those days. Even when I wasn't feeling well, though, I wanted to be on set. It gave me something to look forward to, something positive to focus on.
espnW: As a former guard for the University of Miami, what was it like playing the part of a basketball player?
KH: It was actually a little awkward at times. There are shots in the movie that Trish was supposed to miss, but it had to look like she really tried to make the point. It's very hard to tell an athlete to intentionally mess up while appearing to be really focused on making the shot. It's counterintuitive to all my training.
espnW: Your new sport is triathlon -- how did you get hooked on that?
KH: Through my dad. When I got sick, he felt so helpless and wanted to do something positive. He joined Team in Training's triathlon group to raise money for the Leukemia & Lymphoma Society. To date, he's raised $90,000. I trained for a race with him and found I loved being challenged in a totally new way.
espnW: Any big races coming up?
KH: Nothing is set yet. Right now, I'm totally focused on "The Mighty Macs." It's a big opportunity to take my acting career to the next level, and I want to make the most of it.