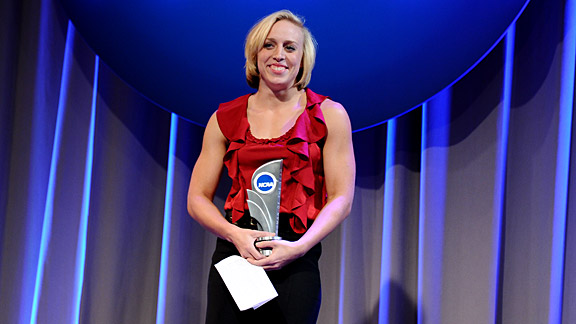 Stephen Nowland/NCAA Photos Laura Barito won NCAA titles in both swimming and track at Stevens Institute of Technology.
Laura Barito is used to doing things that are unexpected. The NCAA-champion swimmer in the 50-yard freestyle became a champion 400-meter hurdler because track was something she did in the offseason.
She also was among just a handful of women who majored in mechanical engineering in her 2011 graduating class at Stevens Institute of Technology.
This week, Barito was named the NCAA Woman of the Year, an award that recognizes achievement in academics, athletics, leadership and community service. Considering that only one other Division III student-athlete has won in the 21 years of the award, Barito found the honor unexpected. There were other reasons, as well.
"I came from a small town in Arkansas, and I really didn't have a lot of opportunities and things like that to excel with limited resources," she said. "People really didn't expect a lot of me. ... It has been proving myself after proving myself."
Stevens Tech, in urban Hoboken, N.J., across the Hudson River from New York City, might have been an unlikely place for someone from Arkadelphia, Ark., a town with a population of slightly more than 11,000. When Barito wasn't recruited to swim by any Division I programs, she set her sights on finding a Division III school that was the right fit athletically and academically so she could follow her father and older brother into engineering. It was Stevens Tech coach Trevor Miele who gave her the chance she wanted.
"He sees people he can make something out of," Barito said. "I was one of those people who not a lot of other coaches saw that in me."
Barito says she has never shied away from challenges, and being an underdog is a role she has often accepted. So it's not surprising that Barito, now a Ph.D. candidate at the University of Delaware, is aiming for nationals in December and a spot at the Olympic swimming trials next year.
"I've always had this core belief in what I wanted to do and where I wanted to go, and I don't know how, but I never let people talk me down from it,'' she said. "I've had to ignore a lot of negative feedback over the years to get where I wanted to be."
Growing up, Barito tried a variety of sports, from basketball to softball to volleyball. Like her two brothers she also swam, and that's what she focused on when it came to choosing a college. Stevens Tech, a member of the Empire 8 Conference, became the proving ground for her belief in her athletic ability.
During her four-year collegiate career, Barito was named an All-American 22 times combined in swimming and track and won NCAA titles in the 50-yard freestyle as well the 400-meter hurdles, an event she was assigned to because she was 5-foot-10. She also was the Empire 8 Swimmer of the Year in 2011 and holds eight conference records in several swimming events.
"She led by example. She would swim a set and then lay on the deck like she was dead and then she would get back up and do it again,'' Miele said. "She had the ability and drive. She mentored the younger kids when she was an upperclassman, and the kids really looked up to her and understood where she was coming from."
Even her senior design project at Stevens Tech involved water, as her team built a six-foot autonomous (robotic) boat that was tested in the college's famous speed-towing tank, once used by America's Cup competitors. The team also tested the boat in a lake, and it was the NCAA-champion swimmer who was in the water doing the guiding.
Now her involvement in sports has led Barito to the field of biomechanics, which she plans to focus on in her Ph.D. studies.
"I think I've decided that sports is a science, and it's just mechanics but it's the mechanics of the human body," she said. "I decided if I love it this much, I should do something with it."
These days, in addition to being a volunteer assistant coach for the Delaware swim team, Barito also can be found doing research on cow cartilage. She laughs about her own cartilage and probably being a prime candidate for a knee replacement down the road.
A positive attitude and a good dose of analytical thinking have helped Barito when it comes to her life and to helping others. From her many experiences -- including tutoring underprivileged children, church work and filling many athletic and academic leadership roles -- Barito knows that in the future she wants a role where she interacts with people. To that end, she expects to become a college professor and a coach.