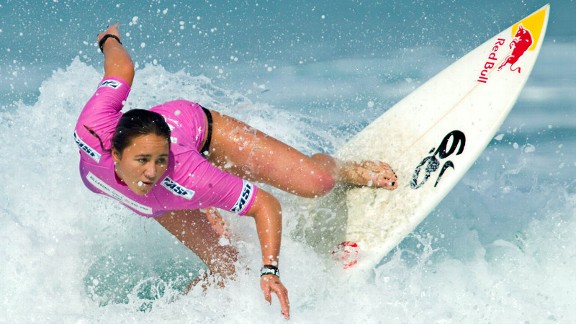 AP Photo/Victor R. CaivanoCarissa Moore, shown at the Billabong Rio Pro surfing championship in Rio de Janeiro, will get to compete against the men in her home state in the Vans Triple Crown.
Digging her toes into the sandy beach on the coast of France, Carissa Moore tried to block out everything and focus on one task: catching the perfect wave. It was July, at the Roxy Pro Biarritz surf tournament, and the stakes were high. After all, a world title would be decided, and she was determined not to let nerves get the better of her. "Cool" and "collected" were fast becoming Moore's trademarks. The now-19-year-old Honolulu-born surfer had been cleaning up at the podiums in the first half of 2011, with three wins and three runner-up finishes. Only one other competitor, Australia's 20-year-old Sally Fitzgibbons, had accrued enough points to give Moore a run for the title.
"The whole season I was really comfortable. I wasn't nervous or over-thinking things," Moore said. "But when I got to France and I knew that winning the competition meant I could possibly clinch the world title, that's when the nerves started to creep in."
The pressure was distracting, and Moore lost points in the first two rounds for less-than-perfect form on the board, forcing her to go through two additional elimination rounds, where the lowest-scoring surfers were cut. "It was really nerve-wracking. I started focusing on what Sally was doing," Moore said.
But as the rounds went on, her confidence kicked in. "I slowed everything down in my head and just took each wave, one by one," she said. Then, the focus set in. Bending deep and pumping her long arms as she whipped her board up onto the lip of the wave, Moore maneuvered her way right into the finals.
Back on the beach, Moore held her breath as Fitzgibbons -- right behind her in points -- took to the water. Because winning the world title is based on a point system, Moore could nab it right then if Fitzgibbons made a mistake or couldn't catch a wave. From the shore, she kept her eyes feverishly trained on Fitzgibbons, who was still waiting for her big break. The clock ran out. The wave never came.
Suddenly the Hawaiian flag was thrust into Moore's hands and digital cameras let off rapid clicks all around her. Peers and friends charged her, cheering and hugging in celebration. The newly crowned world champ was not only the youngest in surf history but also Hawaii's first in 30 years. "I was so proud to represent where I come from, where I grew up," she said. "It was kind of surreal, standing on the beach and watching it all unfold."
Water baby
Growing up in Honolulu, surfing was just what people did. Moore caught the bug and her first waves at the age of 5. Her dad, Chris, who'd won several open-water swim competitions as a young adult and had even trained with Olympic coaches, encouraged her enthusiasm for the sport. Together, Moore and her father hit the beach before school, and again after. When her parents divorced and 10-year-old Moore began the dance between two households, her passion for the water drew her closer to her dad, who lived near the ocean while her mother's home was landlocked. She wrote her father letters: "I'd say, 'I can't wait to see you and go surfing again,'" she recalled.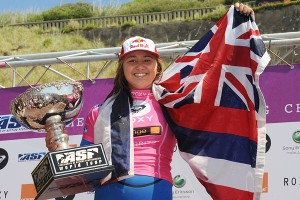 Gaizka Iroz/AFP/Getty ImagesCarissa Moore proudly displays the Hawaiian flag as she celebrates becoming the youngest-ever ASP women's world champion in July, at 18.
The thing with Moore was, the more she surfed, the better she got; the better she got, the more she craved surfing. Soon the hobby she shared with her dad evolved into a more serious activity. She won a few local competitions, then moved on to bigger events, winning those as well. At 11, she became the second surfer to claim three titles in a single year at the Nationals Triple Crown. At age 12, she scored a three-peat at nationals, breaking the record for the most career national titles. She continued to win -- even in boys' divisions -- all the way through to her junior year at Punahou School (the same high school President Barack Obama attended), when she qualified for the World Junior Tour.
Her senior year she moved from Junior to the Women's Tour. Balancing homework, training and travel for competitions was difficult, and though she graduated high school on time in June 2010, Moore decided to postpone college and pursue going pro (she plans to return to school and become an elementary school teacher one day). The move paid off: In February 2011, she won the ASP rookie of the year award.
Complete commitment
Fast-forward five months, and Moore had checked "world champ" off her list of lifelong ambitions. An achievement that should have left her on top of the world also left her a little bit at a loss. "It's all I'd been working toward and dreaming about," she said. "I hadn't really thought about what I would do once I accomplished it."
"

Actually, I perform better under pressure. My plan is to have a good time and put on a good show that says the girls deserve to surf with the guys on the North Shore.

"

-- Carissa Moore
When she received an invitation to compete in the men's Triple Crown event this month, it renewed her drive and focus. Vans Triple Crown is considered one of the most prestigious competitions in surfing, with three distinct stages at different breaks along Oahu's North Shore. In some ways, it's a marathon event, rewarding the surfer with the endurance and ability to adapt to varying surf conditions.
Although in the past there were women's and men's divisions, the women's contest was canceled this year due to lack of sponsor interest. Instead, this year features 200 of the world's best male surfers, including the likes of Kelly Slater, 39, who just claimed his 11th ASP world title. Thanks to a special invitation from the organizers, Moore will be competing with the boys.
"Hopefully I can bring attention to the women's side of surfing by competing here," Moore said. "With the age and experience that these guys have, I may not make a heat, but I'm hoping that I can at least give myself half a chance."
In the months leading up to the competition, Moore pulled out all the stops in her training. "I've been working out at home with a few coaches who specialize in the unique challenges of surfing Oahu's North Shore," she explained, noting that the location of the Triple Crown usually generates some serious waves this time of year. "I need to be in top physical shape."
Every day starts and ends with surfing. In between, she hits the gym for plyometrics, squats and stability work (necessary to execute more innovative aerial moves, her current performance goal). The rest of her waking hours are reserved for eating right, resting, hitting the mall with her little sister, Kaila, and catching up on email. (She is, after all, an American teen.) Will her intense efforts be rewarded? She'll know soon enough when she hits the waters off Hawaii to kick-start her Triple Crown challenge on Nov. 12.
As for the pressure to represent her fellow female surfers on the big stage, "I'm trying not to think about it," Moore said. "Actually, I perform better under pressure. My plan is to have a good time and put on a good show that says the girls deserve to surf with the guys on the North Shore."
All bets are on her.