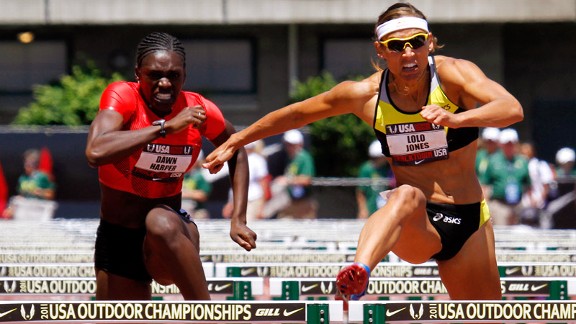 AP Photo/Don RyanLolo Jones has recovered from surgery and is training for the indoor world championships in March.
Say this about Lolo Jones: The woman has a backbone of steel. And of stitches, after microsurgery in August to repair a "tethered spinal cord," which Jones says was as painful as it sounds. The condition, which Jones has likely had since birth, is caused by tissue attachments that pull on the spinal cord at the base of the spinal canal. This limits the movement of the cord within the spinal column, leading to pain and progressive loss of function. Since her surgery, Jones has been hell-bent on getting back into shape to defend her title in the 60-meter hurdles at the world indoor championships in March. Yes, London is calling, but Jones has some unfinished business to take care of first. espnW caught up with Jones, 29, last week when she was in New York City for the marathon. (No breaking news here -- she was spectating, not running.)
espnW: It's been one month since you've been able to start training again. How are you feeling?
Lolo Jones: I feel good. It's been such a relief to run without pain.
espnW: People probably don't realize exactly how badly you were hurting.
LJ: I was miserable. It was awful. At first, it was just when I was running, but then it was when I was walking. And sitting. And sleeping. I couldn't sit longer than 40 minutes without being in pain. I remember being on a date -- a hot date! -- this past summer. We went to watch the "Transformers" movie, which has to be the longest film ever. And I kept squirming in my seat because it hurt too much to sit still. I had to keep getting up and stretching my back every 30 minutes. It kind of ruined the date, I have to say.
espnW: And it was obviously interfering with your ability to perform on the track. [Editor's note: Jones failed to advance out of the semifinals of the 100-meter hurdles at the U.S. championships in June, and therefore did not qualify for the outdoor world championships held in South Korea in early September.]
LJ: I went through three meets where I hit a hurdle in each one. That's not supposed to happen. I can count on one hand the number of hurdles I hit in a year, including practices. So there was clearly something going on that I had to address.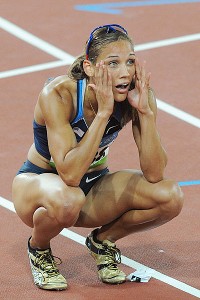 William West/AFP/Getty ImagesOlympic disappointment: Lolo Jones was the gold-medal favorite at the 2008 Games, but clipped the penultimate hurdle in the final and finished seventh.
espnW: Were you scared to get the surgery? Your spine isn't something you want to mess around with.
LJ: I was, but I was also like, I either do this or I stop running. I mean, I was lying in bed with an ice pack on my back. I couldn't even walk down my driveway without so much pain that I thought I was going to pass out. All I could think was, I can barely get out of bed, but somehow I'm going to compete in the Olympics in a year? I didn't really have a choice, so in some ways that made the decision easier for me. But I refused to Google "tethered spinal cord" until the surgery was done. I knew I'd just freak myself out if I read too much about it.
espnW: Who did your surgery?
LJ: Dr. [Robert] Bray at L.A.'s D.I.S.C. Sports and Spine Center. He was great; he's worked on a lot of athletes. And celebrities! He got Jennifer Grey back to dirty dancing. So, you know, he's good. It was a 45-minute procedure and I went home that night.
espnW: You were told not to run for a month afterward. Did that drive you crazy?
LJ: It wasn't too bad. We normally have a break at the end of the season anyway, so it felt like I was taking that break. The hard part was just not being able to finish my season the way I'd imagined it.
espnW: Did you watch any of worlds?
LJ: I didn't. It wasn't like I was avoiding it, but the coverage was so bad that by the time it was on TV, I already knew who'd won, and then it's like, what's the point of watching? But it wasn't like some other times when I've struggled and felt bitter about it. I had peace in knowing there was nothing I could do about my situation. I needed this surgery and I accepted it, and told myself it would only make me stronger in the long run.
espnW: How has the training been going?
LJ: I'm pretty much back to a full schedule. I do a running workout in the morning, then a second session of Pilates or rehab work in the afternoon. Right now, it's all running, no hurdles. That's true for everyone [in my training group], not just me with my injury.
espnW: What are some of the key workouts you do to prepare for the indoor season?
LJ: One of the big ones is a stairs workout in Death Valley [the nickname for the Louisiana State University football stadium]. We sprint up and down and up and down -- single, double, triple [stairs skipped while sprinting]. It makes you physically ill. It's brutal. Even though I'm a huge LSU Tigers fan, I can't watch games in that stadium. I'll just be like, 'Oh look, there's the seat I threw up on in last week's workout!'
espnW: Great to take advantage of their facilities however you can …
LJ: I'll actually do my first race of the season in January at one of the LSU meets with the college kids, just to get a sense of where I'm at with my training. It's a little stressful for me because the college system is about a month ahead in training from the pros. So they're in better race shape. And if I don't win, it's like, OMG, I just got beat by college kids!
espnW: Any other important workouts that help you prepare for the indoor season?
LJ: We do a sort of in-house pentathlon competition. We compete in a 30-meter sprint, standing long jump, standing triple jump and two versions of shot-put throws. It's both LSU athletes and pros. It's a lot of fun.
espnW: Are you doing anything different in your training this season?
LJ: One thing is that I'm training with the guys right now. We're in the endurance-building phase -- longer runs, just working on stamina -- and my coach and I thought it would be a good way for me to push myself by training with them.
espnW: How's that going?
LJ: Well, the conversations are different, that's for sure! I'm able to beat some of them during the workouts, which I'm sure is disheartening for them but it's an adrenaline rush for me. Mainly, it's just a great way to push myself to work harder.
espnW: Who do you consider to be your biggest threat in defending your world indoor title this year?
LJ: Honestly, the biggest threat is me and my head. I'm coming off of one of the worst years I've had in my career. It can either really hurt your confidence or it can add fuel to the fire. So I am working hard to use it in a positive way, to motivate myself.
espnW: Do you work with a sports psychologist on that?
LJ: Yeah, I just recently started working with one. I got to the point where I was dealing with so many things I'd never had to think about before -- my injury, rehab, the last Olympics. Things I didn't have any prior experience to draw on, for how to react. The last Olympics will follow me for the rest of my life. [Editor's note: Jones, the gold-medal favorite, hit the penultimate hurdle in the 100-meter hurdles and finished seventh.] Everyone wants to talk about what happened. And I don't want to have to hide from it or avoid those questions. But I needed help knowing the right way to handle it.
espnW: What kinds of things does your sports psychologist tell you?
LJ: We do a lot of visualization exercises. When I was dealing with the back pain, I did visualization exercises that focused on being healed. I learned deep-breathing exercises that helped me deal with anxiety after the surgery, when I was trying to imagine how I was going to get from lying in bed to winning a gold in London in the space of 12 months.
espnW: And it's paying off?
LJ: It's making me a much more confident athlete. And that's one of the most important steps toward winning.