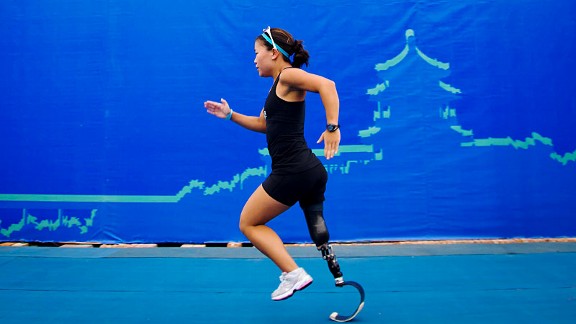 Eugene NgSports helped Scout Bassett turn her life around, and now she gives back by mentoring youngsters with similar disabilities.
When Susi and Joe Bassett first laid eyes on the sweet 6-year-old brunette eating a snack in China's Nanjing government orphanage, they had no way of knowing she'd one day grow up to be a competitive triathlete.
They also had no idea that little Zhu Fughi , sitting behind a table, was missing most of her right leg -- the result of a chemical fire that occurred before she turned a year old -- and had been abandoned on the orphanage's steps. But they knew, staring at her photo, that this was their daughter. Ten months later, the newly renamed Scout Bassett made the 6,600-mile journey to her new home in Harbor Springs, Mich.
"When I came home in September of 1995, my parents wanted to fit me with a prosthesis," Scout Bassett recalled. (The orphanage, which had put the young amputee to work mopping floors and feeding babies, had fashioned her a leg out of belt straps and masking tape.) Following revisionary surgery in the U.S. -- Bassett needed skin grafts and had to have a large bone growth and her left big toe removed -- a University of Michigan orthopedist fit her with a proper prosthesis that enabled her to walk.
Gaining her mobility triggered an instant desire in Bassett to be in motion, all the time. "Right away in first or second grade, I realized I wanted to participate in sports," she said. "All my classmates were playing softball or soccer. I couldn't speak the language and I didn't really understand American culture yet, but sports transcended all of those barriers."
But while the pint-sized dynamo (even today, she stands 4-foot-8 and weighs 80 pounds) was welcome to practice with the teams, she wasn't always welcome to compete. "Sports magnified my disability and shaped how I saw myself -- my teammates and coaches didn't think I was good enough to play," said Bassett, who admitted that being a benchwarmer during games chipped away at her self-esteem. "Out of bitterness and anger, I wanted to prove them wrong."
A second chance
At 12, Bassett found her opportunity to even the playing field when she went with her parents to meet Orlando-based prosthetist Stan Patterson. Patterson, known for his cutting-edge designs and his commitment to getting amputee individuals involved with sports, told Bassett about the International Paralympic Committee Track and Field World Championships. "I said, 'Stan, I've never run track before in my life!'" Bassett remembered. "And he said, 'Don't worry, I'll make you a leg.'"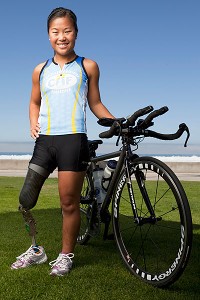 Luis GarciaFor Paralympian Scout Bassett, mastering the triathlon also meant learning to use a special prosthesis made exclusively for cycling.
With a new prosthesis especially designed for running, Bassett was able to improve her coordination and speed. She entered the IPC event the following year, and although she came in dead last in both the 100 and 200 meters, the experience of competing changed her life. "I don't know if anything compares to that exhilarating feeling of being able to move," she said. "It wasn't about being first, it was about seeing what was possible."
But while the teenager was thriving on the track, she continued to struggle in mainstream team sports. Her high school didn't offer track and field or cross country, so Bassett tried basketball and softball -- where she remained benched. Despite the morale beating, she was adamant about sticking with the teams, explaining, "To me, it was better than sitting at home and doing nothing."
A breakthrough of sorts came during her senior year of high school, when her family relocated to Southern California. There, Bassett connected with the Challenged Athletes Foundation and began attending its running clinics and working as a mentor with young amputees. She also met and formed a long-lasting friendship with Sarah Reinertsen, a five-time amputee world-record holder and the first woman with a prosthetic leg to finish the Ironman World Championships. Seeing what Reinertsen had accomplished was eye-opening -- suddenly, the possibilities for athletic achievement seemed limitless. The CAF suggested Bassett compete in its annual San Diego Triathlon Challenge (a 1-mile swim, 40-mile bike and 10-mile run), offering her a training grant to learn how to swim and ride a bike. For the girl who'd been relegated to the role of cheerleader for her high school teammates, it was a dream come true.
"That's really when I got serious about running -- and biking and swimming," Bassett recalled. She reached out to Patterson, who hooked her up with four new legs: one for cycling, one for sprinting, one for long distance and a souped-up everyday leg. Her first triathlon with CAF was the UCLA IronBruin (a half-mile swim, 13-mile bike and 4-mile run). She finished in the middle of the pack in 2 hours, 17 minutes.
"

I don't know if anything compares to that exhilarating feeling of being able to move. It wasn't about being first, it was about seeing what was possible.

"

-- Scout Bassett
Bassett's San Diego tri was all it took to hook her on the sport. After competing in several more CAF events, she became a spokesperson for the organization. "I grew up without a mentor or the resources to be competitive," she said. "I want kids to be able to grow up right away knowing they can compete, that they don't have to spend all those years sitting on the sidelines."
Besides speaking at schools and corporations, she teaches running and cycling clinics and mentors kids one on one. It's a full load for Bassett, who is also a senior cultural anthropology and sociology major at UCLA, but the opportunity is too important to pass up. "I want to change their lives like Reinertsen changed mine," she said.
Patterson remains in awe of her ability to persevere. "Scout could give 1,000 excuses not to compete -- she's too short, she's missing several toes, she's got burn injuries," he said. "People with two legs are often finding reasons not to succeed, claiming they're too tired, too out of shape, don't have enough time. But a lot of times the people with limb deficiencies are just trying to find reasons to succeed. They know if they can overcome the devastation of a limb loss, they can do a marathon or a triathlon, no problem."
Bassett trains about 20 hours per week, plus does yoga and Pilates and has twice-weekly conditioning sessions with a trainer. Hard work has paid off for the 23-year-old, who won silver in the above-knee physically challenged division of the International Triathlon Union World Triathlon Championships in 2007, 2008 and 2010. She was recently awarded the Challenged Athletes Foundation's prestigious Challenged Athlete of the Year award.
Temporarily derailed this summer by shin splints and a stress fracture (Paralympians sustain more physical injuries than other athletes), Bassett was elated to return to China in September 2011 for the ITU Paratriathlon World Championships -- her first time back in the country since being adopted 16 years earlier. "I was nervous," she admitted. "I have many painful memories of China, but it was therapeutic to go back. Without those struggles, I wouldn't have the courage and strength to do what I do today."
Charging down the finishing chute, Bassett said she "just lost it. I could not believe where I had started and where I was now. I couldn't have written a better script for my life -- going from abandoned orphan to world-class athlete. Sports saved my life and made me whole. The tears weren't sadness; just happiness and pride."
Look for Bassett next in the Rock 'N' Roll Miami Half Marathon on Dec. 11, as she runs to celebrate her winter graduation from UCLA.