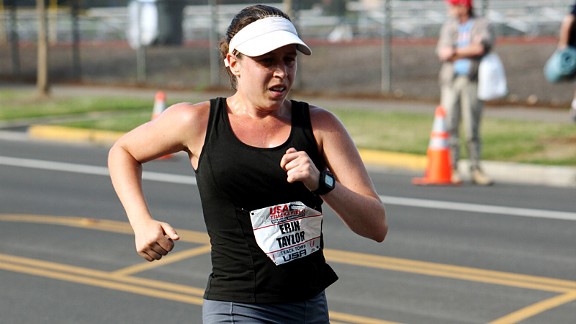 Jeff Salvage for racewalk.com Erin Taylor-Talcott won her first race-walking title as a teenager.
On a blustery January morning, Erin Taylor-Talcott steps outside her home in Owego, N.Y., and into the light of the new day. With her waist-length hair tied up and tucked into a stocking cap, the wind whips around her face and stings her eyes.
The two-lane road stretching out before her is a familiar route; it's one she walks almost daily, for hours at a time. Inhaling the frigid air, she starts walking, placing one sneakered foot in front of the other in rapid succession, her arms swinging rhythmically and her hips sashaying from right to left.
She will continue this wiggling stride for the next 90 minutes -- her eyes focused on the asphalt below her as she powers through her sleepy town at a 9-minute-mile clip.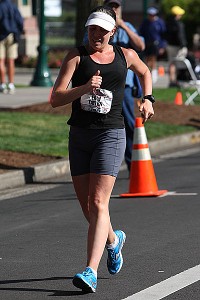 Jeff Salvage for racewalk.comErin Taylor-Talcott will race against her husband, Dave Talcott, and the rest of the men's field at the Olympic trials.
As one of the most decorated elite race walkers in the country, Taylor-Talcott, 33, has been a major name in the sport since claiming her first junior national championship as a teenager from Clackamas, Ore. She has earned podium finishes at many major events ranging in distances from the 1,500-meter to 50-kilometer and holds the American record for 35K (3 hours, 13 minutes, 17 seconds). And she beats many of the men she races -- including, at times, her own husband, Dave Talcott, also an elite race walker.
Yet despite her illustrious career and array of accomplishments, Taylor-Talcott remains unfulfilled. You see, when she toes the line of this weekend's 2012 Olympic trials in the 50K race walk in Santee, Calif., she'll be doing so without even a dash of hope of qualifying for the team. After all, there is no 50K event for women in the Olympics, just a 20K. The 50K trials have always been exclusive to men. But after a two-month fight to be included in the race after meeting the qualifying time by four minutes, Taylor-Talcott likely will become the first woman to race a men's track and field event at the Olympic trials.
Taylor-Talcott cannot make the Olympic squad in her preferred distance, because of the agreement she made with USATF to be included in the men's trials, but she'll still race fast from the gun. She's been training hard, and she has a point to prove.
Much like running pioneers Kathrine Switzer and Nina Kuscsik -- who demonstrated in the late 1960s and early 1970s that yes, indeed, a woman can complete a marathon -- Taylor-Talcott is hoping to highlight this vast inequity of her sport.
"There's no reason [women] shouldn't have two events at the Olympics, just like the men," she said. "Women have incredible endurance. We're good at handling pain. The [drop-out] rate for men at 50K is so much higher than the women's. We're the ones finishing these races."
In the decidedly glamorous sport of track and field, the race-walking event tends to play the ugly-duckling role. Rarely is media attention given to the athletes in the U.S., although the sport is wildly popular in Europe and South America. The races (typically ranging from 5K to 20K on the track) are long and often arduous. And the unique style -- resulting from the discipline's steadfast rules of striking the ground heel first with a locked knee while keeping one foot in contact with the ground at all times -- reduces a runner's graceful stride to a walker's choppy shuffle.
"

There's no reason [women] shouldn't have two events at the Olympics, just like the men. Women have incredible endurance. We're good at handling pain.

"

-- Erin Taylor-Talcott
Yet, those who have mastered these movements often are faster than most recreational runners. The women's world record in the mile is 6:16, and last year's top 10K performance in the world was 42:40; a 6:51-per-mile pace. Taylor-Talcott's 50K best of 4:41:36 is on par with a sub-4-hour marathon.
Although Taylor-Talcott excels at the 50K, many other competitive race walkers eschew the daunting distance. As a result, she has been told repeatedly that there's just not enough interest from women to constitute consideration of an addition to the Olympic lineup. Case in point: Including Taylor-Talcott, who won the 2011 U.S. national championships, just four women finished last year's 50K event, and just one woman raced the distance at the 2009 championships.
But Taylor-Talcott asserts that she sees potential for major race-walking growth around the world. "When news broke that I'd be racing the men's trials, I had women contacting me from South Africa, New Zealand, Sweden ... everywhere. They are all ecstatic and with me 100 percent," she said. "There are many women who just do better at the longer distances and want their chance to race in the Olympics."
For her recent efforts, Taylor-Talcott has received significant pushback from fellow members of the insular race-walking community.
"There are many old-school thinkers in the sport. Instead of looking at this as, 'Wow, look what this girl can do,' they see this as a negative and an embarrassment," she said. "Their way of thinking is, 'This standard is so easy that even a woman can do it.' But isn't that incredibly insulting to the men who qualify, too?"
Still, Taylor-Talcott remains optimistic the 50K event will be added to the Olympics and hopes her persistence will pay off at some point during her professional career. In the meantime, she'll keep up the mega-mileage while eyeing an Olympic berth in the 20K event at the USATF trials this summer. And if that doesn't work out, there's always 2016 to look forward to -- and beyond.
"That's what is so incredible about race walking. It doesn't take as much of a toll on your body, so you can keep competing really well as a Masters athlete," she said. "So if I'm still loving it, I'll be out there. There are records to be broken, even when you're 88."