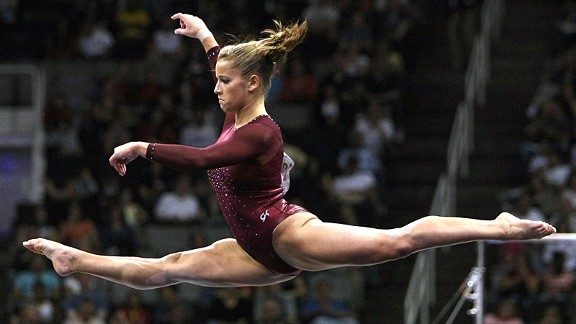 Jed Jacobsohn/Getty ImagesAlicia Sacramone blamed herself for the Americans' second-place finish at the 2008 Beijing Games and says she is eager to earn another shot at Olympic gold.
Most recently, Alicia Sacramone graced the pages of ESPN The Magazine's Body Issue (yes, she's the one doing an upside-down split, while balancing her chin on a balance beam, wearing exactly nothing).
Before that, she was busy winning 10 (count 'em!) world medals since joining the U.S. national team in 2003, more than any other U.S. gymnast in history.
But perhaps the most lasting images of the 24-year-old come from the 2008 Beijing Olympics, where her falls on beam and floor exercise contributed to the U.S. team's second-place finish to China. Though the Chinese gymnasts had the higher scoring potential going in, the Americans were reigning world champions, and Sacramone piled the blame on her shoulders. She told the U.S. media immediately after, "We would have loved to have that gold, and because of my mistakes, we missed out."
Her post-Games retirement from the sport was no surprise -- she'd had a decorated career that included the world title on floor and three consecutive vault world medals. More surprising to some was her re-entry to competition two years later. Many gymnastics comebacks never make it to the international stage, but Sacramone had a banner year in 2010, becoming world champion on vault and helping the team to a silver medal.
She appeared poised to lead the U.S. squad again at worlds in Tokyo last fall, but the team captain was unable to compete after suffering a heartbreaking Achilles injury days before the meet began. "I'd been dealing with some Achilles pain for a while," she said. "That morning, I was practicing, going through the second pass of my floor routine, and I heard something splinter. I actually thought I'd broken the floor during my jump, because it sounded like plywood breaking." It was her Achilles tendon rupturing. "My foot just went limp," she said. "I knew there was an issue brewing there, I'd just hoped it would hang on a little longer through worlds."
Sacramone returned to the U.S. for surgery and treatment. Despite her long career and the severity of the injury, Sacramone said she never considered quitting. "I cried for about 15 minutes after it happened. It was obviously not ideal. But my first thoughts were not about ending gymnastics; they were about what a pain this was going to be to rehab."
Suddenly sidelined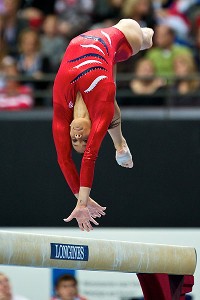 John Cheng/USA GymnasticsAlicia Sacramone is rehabbing an Achilles injury and hoping to resume full-time training in early February.
Since October, Sacramone has been on the comeback trail. She is currently in Colorado -- boyfriend Brady Quinn is a backup quarterback for the Denver Broncos -- receiving treatment and physical therapy daily from a team of sports-medicine specialists. "I'm still in touch with the Brestyans," she said, referring to her coaches Mihai and Silvia Brestyan, who have trained Sacramone for her entire career at Brestyan's Gymnastics in Burlington, Mass. "I've been back to Massachusetts a few times. Hopefully I'll be back there training soon."
Rehab has gone better than expected, and Sacramone is ahead of schedule for her return to full-time practice, which she expects to resume at the beginning of February. When she does, she'll follow a slightly unorthodox plan, which she has adhered to since her 2010 comeback: Rather than six hours of daily gymnastics -- the norm for many elite gymnasts -- Sacramone spends 2½-3 hours in the gym, followed by yoga, Pilates or a cardio session. "I've found mixing in yoga and Pilates helps me lengthen while strengthening my muscles," she said. "It's helped my gymnastics a lot."
Also a consideration: Creating a solid strength base to avoid another setback before the London Games. "Gymnastics is very intense in terms of the amount of pounding your muscles and bones take," she said. "You try and build enough strength to avoid getting injured, but you can't always predict what will happen. Your training could be going great and suddenly an injury just bites you in the butt."
Though the physical aspects of rehab have been largely problem-free, every injured athlete has mental demons to conquer as well. On days when she longs to be training with her teammates, Sacramone has learned to channel her emotions into positive energy for her recovery.
"I tell myself to think about all the hard work I've done to get healthy, all the years of training I have in my past," she said. "When I start to worry that I won't be back in shape in time, I remind myself I have 15 years of competitive gymnastics to draw on. That doesn't just disappear because you've been sidelined for a few months."
Keeping a lid on her emotions is something Sacramone has learned with age. "When I'm upset, it shows on my face -- everyone can see it," she said. "I'm surrounded by younger athletes in the sport all day. I don't want to set a bad example for them -- oh, this is how you act when you're facing a setback." So, she's perfected her poker face, and she keeps her focus on the future. London, after all, is a mere six months away.
Looking to London
"

I tell myself to think about all the hard work I've done to get healthy; all the years of training I have in my past. When I start to worry that I won't be back in shape in time, I remind myself I have 15 years of competitive gymnastics to draw on.

"

-- Alicia Sacramone
Though a deep pool of talent means making the five-member U.S. Olympic team will be a battle, Sacramone believes she's got what it takes for the two events she's focusing on this time: vault and beam. And rather than distance herself from young gymnasts eyeing a coveted spot, she embraces the chance to mentor them. "I've been around so long, I've seen a lot of these girls grow up," she said. "I care a lot about them, and they feel comfortable coming to me when they're having problems. Gymnastics is like being part of a family."
Despite the intense competition for an Olympic spot, Sacramone says the vibe among national team members isn't spiteful, even if it's sometimes portrayed that way by the media. "A lot of these girls are too young to be catty," she joked. "More than anything, watching them improve motivates me to work harder." She relishes the leadership role in part because it's a chance to offer younger athletes the support she wishes she'd had as she rose through the ranks. "I didn't really have someone fill that role for me," she said. "It feels good to give that to others."
When it comes time for the national championships in St. Louis in June, though, it's going to be every woman for herself. The meet will determine which gymnasts are sent to the Olympic trials later that month, and it will likely be the first competition for Sacramone since her injury. "I'm just keeping my fingers crossed that things keep progressing as well as they have," she said. "My goal isn't just to get back in time to compete in the Olympics, it's to help this team take the gold."