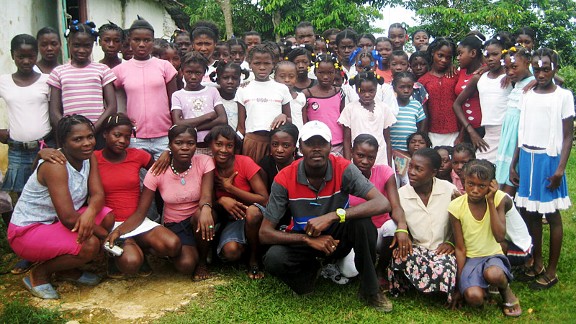 Anthony Federico The Haitian Health Foundation's Responsible Sexuality & Soccer program has given many girls their first chance to play soccer with organized teams and uniforms. Teams gather for a league photo.
Ten-year-old Anise is playing soccer in the middle of a grassy runway alongside the one-room airport in Jeremie, Haiti. She is wearing her only pair of shoes and flashing a smile as she kicks the circular glob of faded leather.
An onlooker takes a pass and returns it. Back and forth. Anise's smile grows brighter. Other children see and race to join. The contest pauses briefly so a herd of cattle can cross the grass and dirt of the Jeremie runway. Then the game resumes.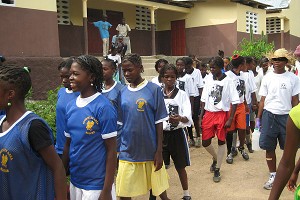 Anthony Federico Teams march to the field for a game.
Anise's world may seem bleak to some. Haiti is dealing with the devastation of the January 2010 earthquake, the instability of its government, a cholera outbreak, the return of a deposed dictator and poverty. Anise seems oblivious to the challenges of the world she inhabits. Right now, all she wants to talk about is soccer.
Last year, Anise played soccer with a chadek, or grapefruit. She broke all her toenails trying to kick the makeshift ball with her bare feet. This year, she is playing with a regulation ball on a field, with a uniform and cleats, all for the first time, thanks to a program established by the Haitian Health Foundation called Responsible Sexuality & Soccer.
Created by a Connecticut orthodontist, Jeremiah Lowney, in 1982, HHF provides health services, including the region's only X-ray and sonogram machines. Its outpatient clinic cares for Jeremie's 40,000 residents, as well as those in surrounding rural towns. Villagers walk dozens of miles down rocky mountainsides to see a doctor or medical worker because in this area, where the average annual income is $90, HHF is the only option. Once they arrive, people wait for hours in the heat to be treated. Locals have nicknamed the clinic Klinik Pep Bondye-a, "a hospital for the people of God."
For an area ravaged by an improbable string of disasters and devastation, the Haitian Health Foundation provides hope. Haiti was the poorest country in the Western hemisphere before the 2010 earthquake and cholera epidemic. Under public health director Bette Gebrian, HHF combines education with outreach, teaching Haitians skills that enable them to provide for themselves, while encouraging them to take ownership of their economic problems and the accompanying solutions.
From soccer to sex ed
A few weeks after the impromptu soccer match at the airport, Anise is back at it -- this time taking the field with teammates dressed in red and blue uniforms, the colors of the Haitian flag. Every player wears a ribbon in her hair.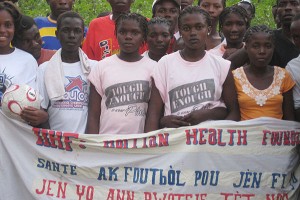 Anthony Federico The program provides sex education in addition to athletics. At a community rally, girls held a banner reading, "Health And Soccer For Girls. Youth -- Let's Protect Ourselves!"
Hundreds of people have gathered to watch the girls play. These matches have become part of the local cultural fabric, an occasion to gather and celebrate something positive in their community. Locals stand and cheer as the teams take to the patchy field. For Anise, playing an organized sport for the first time is eye-opening, as women here are not regularly applauded. She feels powerful -- this is something to be proud of. Two-a-day practices in the heat have been worth it. She smiles at the crowd.
Since 2006, more than 6,000 rural Haitian children have benefited from HHF's Responsible Sexuality & Soccer program. The hybrid curriculum combines sports and basic sex education in an effort to improve the quality of life for girls, from preteen years to age 19. Along with an introduction to the fundamentals of soccer and daily coaching and practice, a simultaneous classroom component provides life-changing instruction on sexual health, anatomy, STDs, hygiene, pregnancy and healthy coed interaction.
The program has taught Anise and her friends far more than how to dribble or properly play a header. The knowledge they've gained in the classroom has begun to change the outlook on life in Jeremie. Equipped with information on how to make healthy decisions about their bodies and lives, graduates of the program share what they've learned with friends and family.
Former HHF program coordinator Callie Kaplan, an American who spent two years working with residents of Jeremie, was instrumental in developing the module.
"Our soccer program empowers young women," Kaplan explained. "Through sex education, consistent health screenings and an all-female soccer league, girls build strong friendships and increase their self-confidence. They become leaders in their schools and communities."
Kaplan hopes the program's successes will spawn more positive news coverage of the country's response to its challenges. "I would like to see stories about the resiliency of the people here -- like with this soccer program," she said. "These girls can change the future of Haiti."
The sports team also provides a safe space for girls to talk openly.
"After practice, the coaches and health agents sit with the players and discuss different health concerns," Kaplan said. "The soccer field is a place where the girls feel comfortable talking about real issues they face on a daily basis."
So far, the effects of the program are promising -- one recent study found lower pregnancy rates among participants, a critical step forward in a country where 680 Haitian women out of every 100,000 die in childbirth, according to the United Nations. By comparison, that number in the United States is 24.
Common ground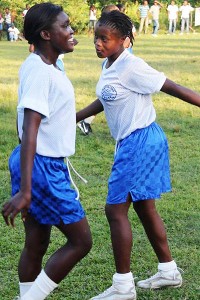 Anthony Federico Getting to be the ones on the playing field is new reason for girls in Haiti to smile.
Out on the field, Anise is absorbed in the action. She is the fastest player and her dribbling skills are sharp. The simplicity of the sport provides children and grown-ups alike with a physical and emotional escape. Vendors hawk coconuts to onlookers and spectators dressed in first-world hand-me-downs ("Elm Street Tavern" reads one T-shirt; "2005 Freshman Orientation" reads another) yell and cheer as if this were a professional league game. For a short period of time, they focus solely on the moment. The strain of exertion. The passion of the final seconds. The thrill of viktwa and the agony of defet. In sports, some things are universal.
"When I'm playing soccer, people clap for us," said one recent graduate of the program. "When a player dribbles and makes a nice crossing pass, people whistle. It makes me proud of myself because I see the good things I can do."
After the game, Anise sprawls out on the grass, laughing with her teammates. The high sun and rising temperatures do little to dampen their spirits. An HHF staffer makes sure each girl receives a beverage to rehydrate. Anise gets up and jogs over to a spectator.
"Mesi pou vini nan jwet mwen an," she said. "Thank you for coming to my game."
She looks back and motions to her teammates and the people of Jeremie. The slightest breeze briefly cools the day. "Jwet nou."
"Our game."
Anthony Federico is an editor with ESPN Mobile. Follow him on Twitter @AntFeds. For more information on the Responsible Sexuality & Soccer program, visit www.haitianhealthfoundation.org.