Growing up in Wilmington, Del., Khadijah Rushdan was a superstar. She was dominant in high school, leading St. Elizabeth to a state championship her senior year and earning herself the title of McDonald's All-American.
She arrived at Rutgers in the fall of 2007 as one of many talented freshman recruits expected to elevate the team to new heights. But her first season was less than stellar. She made some questionable moves on the court that left her coach, C. Vivian Stringer, wondering whether Rushdan would live up to her hype. After appearing in eight games that season, Rushdan tore the ACL in her right knee, resulting in season-ending surgery that caused her to be sidelined while her teammates advanced into the Elite Eight.
But what could have served as the start to a downward spiral in Rushdan's young career only fueled her fire to improve. Work harder. Play harder. Get back on top. "Being injured is a part of the game, you've got to stay strong and come back from it," Rushdan said. "You can't let it mess with you mentally. I've learned to focus on controlling the things I can control and try to let go of the other stuff."
Inner strength
After her early struggles, Rushdan proved herself an indispensable member of the Scarlet Knights. The fifth-year senior guard stands 5-foot-9 and leads her team with her aggressive style -- and 13.0 points and 3.4 assists per game. "I love to play tough," said Rushdan, who gives partial props to her two brothers, both of whom played football, and also to her experience being one of the only girls in her town to pursue basketball as a kid.
[+] Enlarge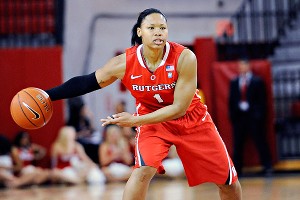 AP Photo/Kathy KmonicekThe oldest member of the Scarlet Knights, Rutgers fifth-year senior Khadijah Rushdan leads the team with 41 steals and 13.0 ppg.
"I remember following my mom to the local Boys & Girls Club, where she worked out, when I was about 5 or 6 years old," Rushdan said. "They had a basketball court there, and I was standing on the sidelines, watching. Somehow I got my hands on a ball, and I started bouncing it along the side of the court. I just thought it was the best thing. Before I knew it, they'd put me on a team."
Her skills improved rapidly, and by age 8 she enrolled in the summer league program, where she was the first girl to be accepted. "Playing with the boys made me work even harder," she said. "As a kid I hated to lose. I wanted to beat them all."
Today, her competitive streak still feeds her work ethic and drive on the court. "I want to win at everything I do," said Rushdan, who found herself sidelined for two games again this season after a dramatic hit during a game with Georgetown gave her a serious concussion. "It doesn't matter whether it's basketball, Monopoly or checkers. I just live to compete."
Along the way, she's learned to tackle the mental aspect of the game, which can be brutal at times. "I've had to work on letting go of the bad games," she admitted. "It's not going to be a great game every time; you're not always going to win. It's being able to move on from the less than perfect games -- seeing what you could do differently and learning from it -- that makes you a better player."
Looking forward
This season, Rushdan has the luxury of devoting all her energy to the pursuit of perfection -- she does not need to carry an academic course load like her teammates, outside of an internship in the athletic department. Her ranking as the oldest member of the Scarlet Knights has given her the natural role of big sister and adviser to the younger players, something she embraces. "They call me Grandma," she said, laughing. "But it's nice to know they'll come to me to talk about whatever's on their mind."
Right now, there's undoubtedly a lot weighing on the minds and shoulders of the No. 20-ranked Scarlet Knights (22-9), who enter the NCAA tournament seeded sixth in their first game against No. 11 seed Gonzaga (26-5) this Saturday. It's been an up-and-down season for the team, and although it is the Scarlet Knights' 10th consecutive appearance in the tournament, they exited in the first and second round the past two years. To make it to the Final Four would be a dream finish to Rushdan's college career.
Though she is 100 percent focused on these next few weeks, Rushdan knows all good things eventually must end. When she graduates from Rutgers this spring with a degree in sports management, she is hoping to stay in the game at the pro level. "I can't speak with teams right now, and I don't want to be distracted from the tournament anyway," she said. "The [WNBA] draft is April 16, so that's when I'll start to know more."
Until then, it's win or go home for Rushdan and the Scarlet Knights. Good thing she hates to lose.