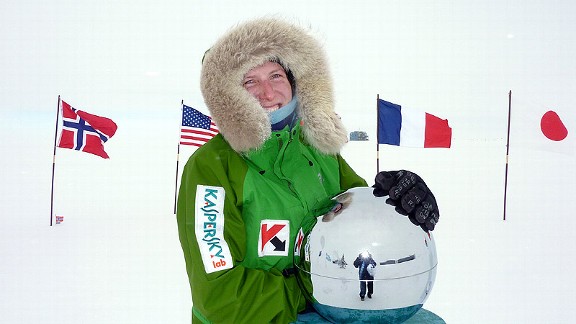 AP Photo/Kaspersky One Trans-antarctic ExpeditionFelicity Aston, posing at a mile marker in the South Pole, faced temperatures near minus-33 Fahrenheit.
The hardest moments of 33-year-old explorer Felicity Aston's trip were the first ones. Standing in the snow, watching the plane that had just dropped her off in the most remote region on earth disappear into the clouds, reality hit hard.
"I have never felt so small," she said. "All around me, as far as I could see, there was no other sign of life. Just me." And miles upon miles of snow-covered land that she would have to ski before reaching her destination on the other rim of the continent, where she would be able to claim her title as the first woman to make such a crossing unassisted.
Beginning last Nov. 25, she towed a sled carrying two boxes of food, carefully rationed to be as light as possible on a journey that would last 59 days. She received two food drops along the way. For fluid, she drank snow melted over a hand-sized burner. She planned for the trip meticulously, from gathering the highest-tech equipment to protect her from the elements to doing endless squats at the gym to strengthen her legs to consulting with a sports psychologist about some of the mental battles she would face.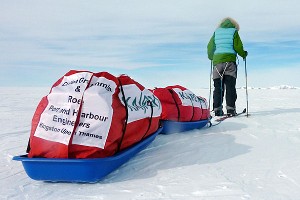 AP Photo/Felicity AstonFelicity Aston pulled all of her food and other supplies behind her for 1,084 miles.
"We focused mainly on being comfortable being alone for that long," Aston said. "In Antarctica, there was no one to rely on but myself. If something were to go wrong, I needed to know I could take care of myself."
Others had little doubt.
"Adventure is in Felicity's blood," said her mentor Eugene Kaspersky, CEO of software maker Kaspersky Lab, which funded her trip. "She is always looking for the next bigger, better, more challenging goal. With her Antarctic crossing, she has set the bar for other explorers."
Facing fears
With temperatures near minus-36 degrees Celsius (-33 Farenheit), proper clothing and equipment were crucial. The challenge, said Aston, was setting up her super-light tent at night with winds whipping all around her.
"It was the wind more than the cold that I was concerned about," she explained. "If the wind lifted up the tent and blew it away before I'd set it, I would be in serious trouble."
Another danger: crevasses. In skiing across the continent, Aston was repeatedly confronted with cracks in the ice that leave gaping holes hundreds of feet deep. In some areas, the crevasses were more than a mile long. Accidentally skiing into one of those most certainly would result in death.
"The likelihood of falling into a crevasse was small, but the danger was always there," she said.
On the positive side, Aston's two months of isolation were spent in Antarctica's version of summer -- still cold, but "the sun never really set," she said. "It was always circling somewhere in the sky."
Addicted to adrenaline
Aston's love of exploring began at University College London, when she was a member of the explorers' club. After graduating with a degree in meteorology, she got a job with the British Antarctic Survey, living for two years at a research station collecting data. Upon her return to the U.K., she decided to make a go of her passion for exploring, searching for sponsors and speaking engagements to help fund expeditions such as a 360-mile race across Arctic Canada in 2005, an expedition to Siberia in 2007 and the 2009 Marathon des Sables, a footrace across the Sahara desert.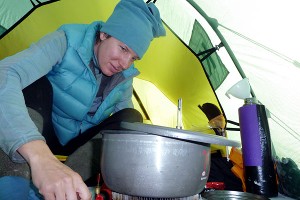 AP Photo/Felicity AstonFelicity Aston melted snow for drinking water. At one point she had trouble with her lighter, without which she would have been in serious danger.
For her solo journey across Antarctica, she teamed up with Kaspersky Lab, which also supplied her equipment. Her only means of communication with the outside world was a satellite phone. Even then, said Aston, a distress call could take more than 24 hours to respond to, depending on the weather conditions and her exact location.
When asked about the best and worst moments of her expedition, Aston admitted they were often one and the same. "I was terrified of the crevasses, and yet because I was able to successfully cross them, they were also some of the highlights of the journey for me," she said. "The ability to face your fears and conquer them is both the toughest and most rewarding aspect of an expedition like this."
Being ready for anything is a hallmark trait for successful explorers, added Kasperksy, something Aston excels at.
"The mental and physical preparation that was required for this expedition is hard to grasp, but it takes an extremely strong person to accomplish something of this caliber," he said. "Felicity trekked across 1,084 miles of frozen tundra in 59 days, carrying all of her provisions in a sled behind her and having no way to know what was going happen along the way. She is an incredibly strong-willed woman."
Every day brought new challenges for Aston -- from windstorms that lowered visibility to less than 100 meters, to struggling with her lighter at one point.
"I was painfully aware that without my lighter, I could not get the stove going, and without the stove, there would be no food and no water," she said. But she didn't panic. "When it's just you out there, the most important thing is to remain emotionally in control. You need to be able to think things through in a calm and rational manner."
The distance Aston covered each day varied based on the terrain. Despite popular belief, Antarctica is not one big flat sheet of ice and snow. Aston skied through the continent's mountains, which reach elevations of 9,000 feet above sea level, adding the additional challenge of thin air and less oxygen.
"I covered anywhere from 25 nautical miles on a good day to less than three nautical miles when the snow was deep," she said. "I tried not to set mileage goals, just take whatever I was given in terms of conditions each day and do my best."
On Jan. 22, Aston reached her destination at Hercules Inlet, completing a trip that will go down in the record book. ("There are places she crossed during her expedition where she was the first human ever to set down tracks," Kaspersky said.) For her, though, the real mark of success is knowing she is mentally strong enough to spend nearly two months in isolation without succumbing to fear.
"I proved to myself how tough I am," she said. "That, to me, is the triumph."