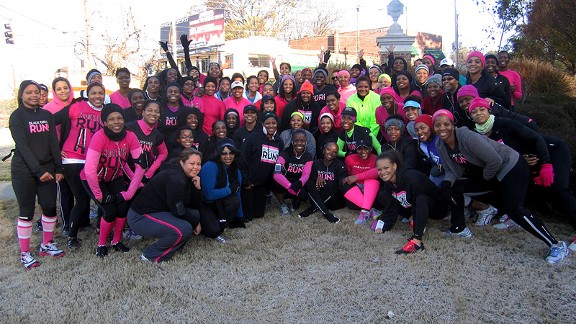 Adena Andrews/espnW Black Girls RUN! has inspired thousands of its members to run and improve their health.
Kattina Byse was diagnosed with Type II diabetes and hypertension because of weight gain at 28 years old. On one occasion, Byse had to leave work because of skyrocketing blood pressure.
"I'm too young for all this," Byse said. "My doctor advised me working out is a way to cure these issues and to drop a significant amount of weight. That's why I joined Black Girls RUN!"
Black Girls RUN! has a simple mission: Encouraging black women to make fitness and healthy living a priority. After four months in the program, Byse has lost 10 pounds and one pants size. Her doctor said that with progress, she should be able to get off her diabetes medicine soon.
Alpha Kappa Alpha sorority sisters Toni Carey and Ashley Hicks started Black Girls RUN! as a blog for women like Byse in March 2009. Since then, it has become a nationwide movement in 30 states, with 71 running groups and thousands of members.
Seventy-eight percent of African-American women are overweight or obese, according to the U.S. Department of Health and Human Services. The BGR! movement is working to lower that percentage and, in turn, lower the number of women with chronic health problems associated with an unhealthy diet and a sedentary lifestyle. And, despite the group's name, it welcomes women of all races.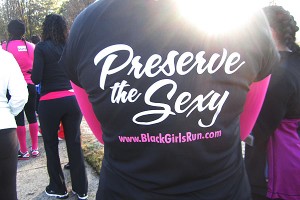 Adena Andrews/espnWFor BGR! members, preserving the sexy means overcoming stereotypes and dire health statistics.
The Black Girls RUN! movement is carried out through social media outlets such as Twitter and Facebook, where daily runs are organized. The group's Facebook page has 12,000 likes. Members use the forum to trade running tips, talk about gear and share inspirational stories. BGR! also sells its own gear, including a T-shirt that reads "Preserve the Sexy."
"I have met some motivated and inspirational divas out here, and I just love all of them," said Stacie Brewer of BGR! Atlanta, the largest group in the network with close to 5,000 members.
Preserving the sexy can be a challenge. Black women are 35 percent more likely to die of heart disease than white women, according to the National Coalition for Women with Heart Disease. The fact that 25 percent of black women live in poverty and 72 percent of black babies are born to unwed mothers, according to government statistics, may offer some explanation for the higher incidence of heart disease. The bottom line may be that exercise is not a top priority for black women.
But not the BGR! woman.
"The majority of black women will take care of their kids, other people's kids and family members," said Janelle Alexander, BGR! Atlanta member. "We are the last ones to be taken care of. BGR! allows me to take care of myself."
Alexander has lost 40 pounds since joining BGR! in July 2010. She, like most members of the groups, runs 3 to 5 miles during the week. Sunday runs are longer, 5 to 12 miles, for those training for a half-marathon.
Helping women like Alexander lose weight and be confident in their body image is part of the BGR! mission. But the group also tries to dispel the myth in African-American culture that women with large butts, hips and breasts are to be worshipped. This belief may be killing black women who are content to live an unhealthy lifestyle. Black Girls RUN! includes women of all sizes intent on taking control of their health.
"Having hips and a nice butt means nothing if they are filled with stretch marks and cellulite, wiggling all over the place and coupled with underlying health issues," Byse said.
Beyond dealing with body image, managing naturally curly black hair is another roadblock to breaking a sweat for some.
"My girlfriends will say, 'Girl, I'm not going to sweat out my hair, running with you. I got to look good,'" said Theresa Coles of BGR! Atlanta. "I tell them, 'Well, I guess you will look good in your casket with that heart disease and a fresh new hairdo.'"
Harsh, maybe. But an unruly mane or a little junk in the trunk will not stop the growing army of BGR! Black Girls RUN! is eliminating stereotypes and improving the health of the African-American woman, one at a time.