Opinions on whether Danica Patrick is ready for a full-time Sprint Cup debut in 2013 are as divergent inside her camp as out. Not that it matters. After finishing her first complete Nationwide Series schedule this year, it's happening. So her teams are just trying to make sure she looks before she leaps.
Tony Eury Jr., her Nationwide Series crew chief at JR Motorsports, thinks Patrick needs another full season in NASCAR's second-tier series and will be unlikely to finish a Sprint Cup race inside the top 10 next season.
Greg Zipadelli, Patrick's Stewart-Haas Racing strategist for her 10-race Sprint Cup tutorial, agrees that "it will be tough for her" but expects "she's going to have some very good races" despite logging just 58 in Nationwide and 10 in Cup before making the full-time jump to Cup.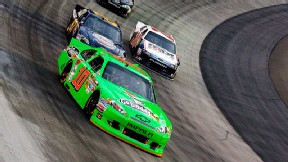 Tyler Barrick/Getty ImagesDanica Patrick's best result in a Sprint Cup race thus far was her 29th at Bristol last weekend.
And oddly, Eury told espnW.com, her relative inexperience may ease her transition into the brutally competitive and unrelenting highest level of NASCAR competition. As has been the case since a sobering beginning of the Nationwide season, emphasis is being placed on mitigating expectation and maximizing education.
"You have to set your own expectations," Eury said. "Everybody [in Sprint Cup] knows it's going to be a big learning curve, so it's not a deal like when you're over here winning five or six races in Nationwide."
Patrick has a pole and two top-10s -- eighth at Texas, ninth at Bristol last week -- in 23 Nationwide races this season, with six DNFs and an average finish of 21st.
As a comparison, Eury used former JR Motorsports prospect Brad Keselowski, who won six times total and finished third in points in his first two full Nationwide seasons in 2008 and 2009. Keselowski managed just two top-10s in his first full Cup season with Penske Racing in 2010 but won his first Nationwide title that year and has become a steady Cup contender.
"When he's won six or seven races over here in the Nationwide series and he goes to Cup, it's, 'All right, let's see how good you really are,'" Eury said. "Expectations are, 'Hey, we need to be winning off the bat,' where in the situation she's in, there is a big learning curve, still a lot to learn, so maybe the expectations of winning a race in Cup the first year out are a little bit further out than they would be on somebody who has already won in Nationwide. It's going to be a steep learning curve, and she still has places she's never seen."
Statistically, work study in Nationwide and truck series matters for most drivers, according to NASCAR research. Five-time Sprint Cup champion Jimmie Johnson ran 72 Nationwide races before producing his first top-10 points finish in Sprint Cup in 2002. Matt Kenseth, the 2003 series champion, ran 132 before doing the same in 2002. Current Cup points leader Greg Biffle ran 144 Nationwide races and 81 in trucks -- winning titles in both series -- before graduating to Cup and placing second in the standings in 2005.
Patrick said, "What needed to happen last year and the year before [during partial Nationwide seasons] is more important than what needs to happen this year," as in finding an interest and an aptitude in stock car racing after a lifetime of preparation for open-wheel racing and seven years in IndyCar. This year, she said, is a chance to "clean up the things I'd learned over the last two years and then really just cram a bunch of experience.
"Once we started the process, it was just a matter of following through on the plan."
Zipadelli agreed that the inevitability of the business plan devised by Patrick and her IMG management and funded by a loyal coterie of monied sponsors de-emphasizes performance in the short term. The balance of marketing and on-track results always has been among the most fevered of debate topics regarding Patrick, and she readily asserts the need to race well to maintain sponsor and fan interest. For now, both parties are sated and eager for the next phase of her career.
"She knows what her future is right now," Zipadelli said. "She's got a Cup deal, sponsorships are behind her. They love what she brings in that part, and let's face it, that's a big part of our world. But you still have to perform and back it up, but she's not worried about that. I think she's worried about performance, running good, but she's not worried about that other part [producing good stats]. She's got a couple years to go out and prove herself, and the rest will all take care of itself."
Patrick will contest six of the final 12 Sprint Cup races this season, making her first trip to Atlanta Motor Speedway this weekend. She has a best finish of 29th, last week in her first Cup race at Bristol Motor Speedway.
Some possible offseason changes to NASCAR's testing policy could help Patrick's development. Teams have not been allowed to test privately at sanctioned NASCAR venues since 2008, but they expect a relaxation of the rule.
Zipadelli said one proposal would grant each organization "three to four" tests, allowing Patrick to work and learn alongside team owner/teammate Tony Stewart, a three-time and defending Sprint Cup champion. That, Zipadelli said, "will really play into her hand."
Patrick has undertaken four Cup tests this season at unsanctioned tracks at New Smyrna Beach (Fla.) and Nashville, and she will pace the No. 10 Chevrolet on Tuesday and Wednesday at Milwaukee Mile with Stewart. Zipadelli altered his test schedule to be at Milwaukee the same time as Stewart.
"I changed our date so we can go there with the 14 car, look at data, let her talk to Tony and see if that will accelerate her learning curve there," Zipadelli said.
Patrick's first full Nationwide season and Sprint Cup debut have been the expected combination of breakthrough moments, breakdown moments and the droning in between. A spirited late run at Texas and some newfound road course success buoyed the team, but a multitude of crashes -- some not her fault -- led to a recalibration of approach.
Patrick was racing in the top 20 late in her Cup race Saturday at Bristol, "going to finish anywhere from 17th to 20th," Zipadelli said, before being wrecked and finishing 29th. Stewart, who was lapped and following Patrick for part of the race, said he was "real impressed" with her technique and approach.
Still, Eury said another full season in the Nationwide series would benefit Patrick greatly.
"I think she's right at the point of her career where she's learning what she needs to feel in the car and putting races together, understanding how the races are going to fold out," he said. "Biggest problem is the competition is so much greater over on the Cup side that it's going to be tough for her. She's going to have to really concentrate and get up on her game.
"Realistically ... if she finishes in the top 10 in Cup next year, it'll be a blessing, I mean right now. We think it's a little early, but she's ready to challenge it and ready to accept it, so we'll see what she brings up to the table."
Zipadelli agreed another season would refine her skills but said she has adapted to the higher-horsepower Cup car well and has an unmatched zeal for learning. Patrick and her management team are discussing a partial-season return to JR Motorsports, according to vice president Kelley Earnhardt-Miller. Returning would bolster Patrick emotionally as much as mechanically, Eury said.
"She still needs to run a little bit of Nationwide, and it'll keep her sharp," he said. "It's like I told her, when a guy goes Cup and then you're looking at Nationwide, there's a number of things you can look at, if a guy's looking for more reps or if a guy's trying to get his confidence level back up. There's some that go [to Cup] and don't really run that good, and they can come over here and they can win a Nationwide race and it keeps their confidence up, as if to say, 'Hey, I can do this and I deserve to be over there.'"
However she feels, it's happening. Soon.