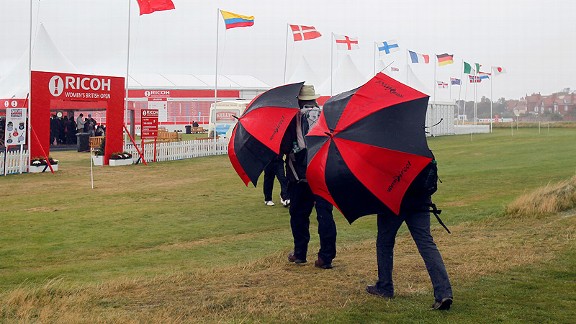 Press Association/AP ImagesAdverse weather conditions seemed an understatement to players, and there was much relief when the round was canceled.
HOYLAKE, England -- The offshore wind turbines were in full swing in the near gale-force conditions Friday, but back on the links of Royal Liverpool, the early starters in the Women's British Open were not in the same happy groove.
At 7 a.m., the conditions were just about manageable, with winds measuring no more than 25 mph. Yet, barely had play started when things went from bad to worse, with gusts up to 60 mph.
Balls and scores soared as one. Cristie Kerr was blown to the ground, and Michelle Wie almost went flying as she attempted a second shot from a side-hill, downhill lie at the 11th.
Felicity Johnson opened with a quintuple bogey 9, and Caroline Masson's opening gambit consisted of three straight 6's.
All told, the 18 players who set out from the first tee were a cumulative 52 over par for the holes they completed on the outward half before play was suspended at 8:18 a.m.
Whipped by the angry elements into old friends, 10 or so of the players huddled together in the parking lot to compare notes. Having agreed among themselves that conditions had been unplayable virtually from the moment they set out, they advanced on the Ladies' Golf Union's headquarters to call for the holes they had completed to be declared null and void.
At 11 a.m., it was announced that the Rules Committee concurred with the players' conclusion.
[+] Enlarge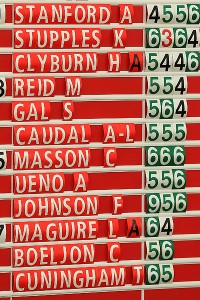 David Cannon/Getty ImagesFor those players who had to go out early, it was ugly; Felicity Johnson put up a quintuple-bogey 9, and Caroline Masson had three straight 6's.
The committee issued a statement reading, "The competitors began their round in extremely adverse weather conditions, and conditions subsequently worsened despite our belief that they would remain stable.
"It would have been unfair to those competitors not to declare play null and void and cancel all scores for the round in question."
When the decision was announced in the players' lounge, there was a round of applause.
"There had been a bit of frustration earlier on, but the players were measured in their remarks," said Susan Simpson, the golf union's tournament director.
At 2 p.m., there was a further statement saying play was abandoned for the day. The second round will now start from scratch at 6:50 a.m. Saturday, with the most likely scenario being that the 65 qualifiers, or 65 and ties, will play 36 holes Sunday. There is the possibility, however, of a Monday finish.
Wie, when she arrived to give her views on the day's events, was against any idea of the tournament being cut to 54 holes. Everyone seemed to agree, with Karen Stupples suggesting they could make do with sandwiches between their Sunday rounds in order to reach completion.
"It will be tough for us but a great day for spectators," the 2004 British Open champion said.
Both Wie and Stupples had been spellbound by the degree to which balls were moving on the greens. At the 12th, the trio in front of Wie called five times for a rules official because the group in front was struggling to complete the hole.
Stupples was a particular victim. She called for a referee at the third when her ball refused to stop oscillating, only to be told to carry on regardless.
"It went against everything I have ever learned," she said. "In my mind, I was telling myself, 'You can't hit a moving ball,' but that's what I had to do."
On the fourth, the Stupples party was told to hurry up. They protested that that was out of the question at a time when they had to mark and re-mark balls. One hole later, they were summoned back to the clubhouse.
It was a long day, and during all the hanging around, tales surfaced of extreme weather conditions of the past.
Stupples mentioned an LPGA event at Williamsburg, Va., where there had been much the same state of affairs.
Hoylake itself had had a preview of Friday's events in the Merseyside International Open of 1990. Then, the players -- including Tony Jacklin and Ian Woosnam -- set off on a fourth round that was later abandoned, leaving the tournament to be decided over the first three rounds.
A scoreboard and fencing have been destroyed at Hoylake this week, but at the 1973 John Player Classic at Turnberry, five out of seven marquees were ripped to shreds, with their remains setting sail across the course.
To this day, Jacklin can remember using a driver, a 1-iron and two 3-irons to reach the green at the 559-yard 17th.
Laura Davies was probably the only player to have felt more than a little miffed at Friday's goings-on.
She hated it in the late 1980s when the higher woods came in and players no longer had to struggle to match what she could do with 1- and 2-irons.
As her rivals' golf balls were taking off into the unknown Friday morning, she was clouting her shots under the elements and duly started out with a par and a birdie.
Had the round gone on, no one doubted Davies would have been light-years better than the rest.