Five on Five
Winter Forecast: Awards predictions
When the season is over, which players will take home the individual awards? Our 5-on-5 crew gives its thoughts on the ESPN Winter Forecast.
---
1. ESPN Forecast: Kevin Durant will win MVP. Agree or disagree?
Henry Abbott, TrueHoop: Agree, but it won't be easy. There's a sleeping giant in Miami. It's LeBron's award if he decides, in the second half, he wants it. But all we can do now is project on the basis of the first half, and my suspicion is the voters would love to find a non-LeBron winner, and with crazy personal production and an elite record even with an injured All-Star teammate, Durant has more than earned it.
J.A. Adande, ESPN.com: Agree. This recent stretch, averaging 38 points and six assists while the Thunder won seven of 10 games, vaults him into the lead. LeBron James is conserving (I prefer that term to coasting) and Paul George's Pacers get contributions from so many places. Durant is capturing people's attention.
Kevin Arnovitz, ESPN.com: Agree. Durant has put together a marginally better offensive portfolio this season, but what's more, his overall defensive performance might be superior to James'. There's no doubt James is the stronger, more intuitive defensive player, but we haven't seen much of it this season. There have been few of those two-places-at-once possessions that are the hallmark of LeBron's D. Meanwhile, Durant has grown into a wing defender who understands how to deploy his crazy length.
Ethan Sherwood Strauss, TrueHoop: Agree. The assumption many had was that it would take voter boredom for LeBron to lose an MVP race. Instead, Kevin Durant is outright winning this. Russell Westbrook's absence gives Durant some narrative push, and his offensive output has been superior. Also -- and this has flown under the radar -- Durant's been better defensively than James this season.
Justin Verrier, ESPN.com: Agree. You can't attribute this one to circumstances -- Durant has objectively been the best player in the NBA this season. A few showcase weeks without Russell Westbrook certainly has helped, as will voter fatigue for LeBron James, but KD's top-flight efficiency, his career scoring and assist numbers and OKC's continued success make him the deserved favorite for the moment.
---
2. ESPN Forecast: Lance Stephenson will win MIP. Agree or disagree?
Abbott: Disagree. The Pacers are awesome and deserve awards, but I have a feeling a young big man will emerge in the second half: Anthony Davis went from a season in which he missed the rookie of the year prize, to being an MVP-type player. What about the hurricane that is Kevin Love? DeMarcus Cousins is on another level now. Andre Drummond could hardly get on the court last season, now he owns the paint. Usually this goes to more fringe players, but the fact is these guys improved mightily.
Adande: Agree. This is one of the factors working against Paul George's MVP campaign (see previous answer). The mere fact Stephenson leads the league in triple-doubles this season deserves some type of award. Most shocking?
Arnovitz: Agree. Indiana will likely finish with the league's best record and voters are going to be looking for reasons to explain the success. Stephenson, who was a pretty brutal offensive player last season, has evolved into a contributor who can attack the rim, pass the ball and shoot a little bit. The triple-doubles help his cause, as well.
Strauss: Disagree. With something as subjective as "most improved," I favor taking the field. Months from now, voters might be inured to Stephenson's improvement. Maybe Cousins makes a late push, or Anthony Davis has an incredible closing month. Lance certainly is the best bet among the options right now, though, given that his team is in the spotlight and his growth as a playmaker is just so fun to behold.
Verrier: Agree. Who knows with this thing. But there aren't many healthy options and Stephenson's profile seems to fit the magic, ultra-specific combination: a low draft pick taking a noticeable leap forward on a relevant team. He's also been pretty good, too, as his across-the-board uptick in production is relegating former franchise face Danny Granger to a supporting part.
---
3. ESPN Forecast: Terry Stotts will win COY. Agree or disagree?
Abbott: Agree. When teams are way better than pundits expected, the mystery is often, in knee-jerk fashion, explained as "coaching" (just as doctors tend to get credit for patients who heal quickly). Sometimes that's sloppy, but this time around it is probably right. Stotts brought an offensive scheme from Dallas designed to make LaMarcus Aldridge effective like Dirk Nowitzki. Good plan! Aldridge and the shooters have by far the best offense in the league.
Adande: Disagree. Unlike player performances, which are unlikely to waver much before the end of the season, the Western Conference standings could shift dramatically and alter our perception of which coach is doing best. What if Portland drops to a lower playoff seed? What if Jeff Hornacek keeps the Suns in postseason contention even without Eric Bledsoe? Or how about if Frank Vogel's Pacers make a run at 70 victories? Stotts is far from a lock at this stage.
Arnovitz: Agree. The award traditionally goes to the coach who presided over the team that most outperformed expectations, which places Stotts at the head of the pack. Jeff Hornacek and Frank Vogel deserve recognition in this respect -- and Gregg Popovich deserves recognition because he's simply the best coach in the game -- but Stotts has crafted the league's best offense based on principles he personally developed and refined in Dallas.
Strauss: Agree. It looks like Phoenix will miss the playoffs on account of this Eric Bledsoe injury, which hurts Jeff Hornacek's chances. That leaves us with Stotts and a Blazers team that should win around 20 games more than prognosticators expected in preseason. Not only are the Blazers impressive, they're just plain fun. It's hard to vote against the coach who runs that beautiful offense.
Verrier: Disagree. With the Suns slipping sans Eric Bledsoe, this is Stotts' award to lose. But how can the best coach in the league preside over the league's fifth worst defense? Expect a correction to the Blazers' gaudy win total over the season's second half, leading to a pittering out of Rip City love on all fronts and Frank Vogel or Gregg Popovich moving into Stotts' spot.
---
4. ESPN Forecast: Roy Hibbert, Manu Ginobili and Michael Carter-Williams will win DPOY, Sixth Man and ROY. Agree or disagree?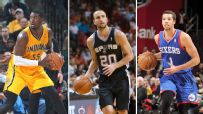 Abbott: Agree. LeBron might have been Hibbert's rival, but he has not been that player on the defensive end in the first half. Manu is no mere legacy pick, and while Carter-Williams might hear the footsteps of Trey Burke or Victor Oladipo behind him, it's his to lose.
Adande: Agree. Even in this increasingly statistical age, Hibbert wins by the eye test. Teams just don't go to the basket the same way when he's in. Reggie Jackson has wound up starting too much to challenge Ginobili for sixth man honors and there aren't enough threats to Michael Carter-Williams to overcome the fact he's missed a fourth of his team's games.
Arnovitz: Agree across the board. As the defensive anchor on the league's best defense, Hibbert is an easy and smart choice. Ginobili has the distinction of being both the correct choice and the Lifetime Achievement winner in this category. Carter-Williams could conceivably get a late push from Trey Burke or Victor Oladipo, but barring injury, he's way ahead of the pack at the halfway point.
Strauss: Agree. All of these make too much sense. Hibbert's the fulcrum of the best defense we've seen in years. Manu Ginobili's sixth man competition was cleared out when teammate Marco Belinelli was promoted to the starting lineup, and Michael Carter-Williams is a budding star in a rookie class that lacks for budding stars.
Verrier: Agree, disagree, agree. DPOY and ROY are locks unless Trey Burke can string together a few of the showy, award-bait performances MCW banked to start the season. Manu, though, is merely the beneficiary of a lack of a clear-cut winner at this point. Reggie Jackson, for instance, may be able to capitalize on the Thunder's Westbrook-less present.
---
5. For which prediction would you like to see a different award winner?
Abbott: For whatever reason, there is an unspoken rule that All-Star type players aren't eligible for the Most Improved award, and I guess I understand it's nice to have something the other players can win. But if the fact is that Davis, Love, Cousins or Drummond won the offseason development game ... well, I say let's honor that work.
Adande: Despite my inherent skepticism of players putting up big numbers on bad teams, I'd like to see Nick Young get the Sixth Man award -- in part because the Lakers ARE a bad team, yet he still continues to accept his reserve role without complaints. He signed on to back up Kobe Bryant, not Jodie Meeks, but it's the Lakers who are getting something unexpected, to the tune of 17 points per game.
Arnovitz: Most Improved Player. MIP is a silly award with no logical criteria other than "unremarkable or disappointing last season, but surprisingly productive this season!" In that spirit, DeMarcus Cousins deserves the edge over Stephenson because he's grown from a temperamental center who took a ton of lousy shots and was disinterested in controlling the defensive glass to a temperamental center who is fifth in the NBA in player efficiency rating (PER), beasts for every rebound and makes smarter decisions with the ball. But Stephenson is a reasonable choice.
Strauss: I'd like to see Paul George win a second consecutive MIP. He made the leap from "talented" to "superstar" and there's even a story behind it. According to George, he changed his whole pregame approach after scoring zero points against the Warriors last season. This season, he's dramatically increased his usage and efficiency. Stephenson's growth has also been impressive, but George's has had more of an impact on this season's best regular-season team.
Verrier: Coach of the Year. If we're going to value two-way players, we should do the same for coaches, no? The gap between the Blazers' potent offense and porous defense grows wider by the week, but Gregg Popovich's Spurs are once again the best in the West thanks to top-four marks on both sides of the ball. For the millionth time: Three of the Spurs' four best players are 37, 36 and 31. This is LeBron-like coaching.