Our top 5 sports moments from 2011
With 2012 just around the corner, we are breaking out our top 5 moments from 2011 (in no particular order because we appreciated them all):
Women's World Cup
Second place isn't normally cause for celebration for a program with a tradition like the U.S. women's soccer team, yet its improbable march to the Women's World Cup gold-medal game was indisputably one of the signature events in women's sports in 2011.
"It's irony at its best, I suppose," striker Abby Wambach told espnW last week on the day she was named Associated Press Female Athlete of the Year. "Everything happened so perfectly and dramatically that I'm not sure we could have written a better script in some ways. Obviously, winning would have been the icing on the cake for us, but I also think it creates a little bit more drama that keeps people excited and interested and involved and engaged for [the Olympics] next year."
The U.S. team looked set for an early trip home after finishing second in group play and drawing Brazil in the first elimination match. It was Wambach's header goal off an impeccable cross off the left foot of midfielder Megan Rapinoe at 120' + 2 (soccer shorthand for the second minute of extra time after 90 minutes of regulation and two 15-minute overtime periods) that sent the quarterfinal to penalty kicks.
"That probably was the turning point for us in terms of the belief," Wambach said. "You never know if you can actually do something against all odds until you actually do it. And I don't think the team up to that point had proven itself in that way."
The Americans prevailed in the shootout, dominated France in the semifinal, then lost the gold to Japan in another tense marathon featuring another overtime goal by Wambach but ultimately decided by penalty kicks. Hope Solo was named goalkeeper of the tournament.
"Our whole team did everything in our power on that specific day," Wambach said. "It just wasn't our day." Yet she and her teammates finally managed to establish their own identity after years of being measured against their pioneering predecessors, and came home to a gratifying reaction from "our nation, from sponsors, from pop culture," she said.
Women's international soccer is getting deeper and more competitive with each passing year, but a third consecutive Olympic gold medal is the only outcome that will satisfy the U.S team, which must still qualify for the 2012 London Games through a regional tournament in Vancouver, B.C., next month.
Wambach on that pressure: "I love it. I love it. I love it. I hope to be in that position." -- Bonnie D. Ford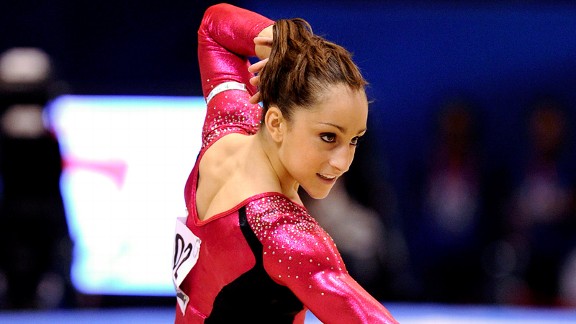 Kazuhiro Nogi/AFP/Getty Images
Jordyn Wieber wins all-around at worlds
The all-around world championship title came down to two gymnasts in October: American Jordyn Wieber and Russia's Viktoria Komova. Wieber made mistakes on uneven bars and the floor exercise, but her degree of difficulty -- a factor that reigns in the post-10-scale world of gymnastics -- pushed her to the gold medal.
"To be able to go into my first world championships and win was great," Wieber told us recently. "The worlds was the biggest competition I've ever competed in; it's high scale and so important, and it was even more so because it shows how strong we are as a team [the U.S. women won the world team title]. I've competed in international events before as a junior ... but this was the biggest international competition for me.
"The team competition was stressful, too. I was personally a part of all four events, and with the three-up, three-count format, it was important to do well. It gave me more motivation. I wanted to do well for myself and also for Team USA."
Now, the pressure is on for Wieber. During the past four decades, only one woman (Lilia Podkopayeva of Ukraine) has won the world all-around title and followed that up with an Olympic all-around gold medal. -- Alyssa Roenigk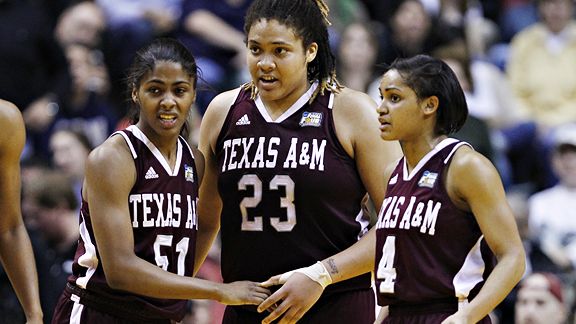 AP Photo/Michael Conroy
Aggies win women's basketball national title
Texas A&M was not the most obvious choice to win the 2011 national title in women's college basketball. Not with Brittney Griner cementing her legend at Baylor; not with Connecticut taking one final shot with Maya Moore and having set the NCAA record for consecutive wins. But there the Aggies were at the very end, using grit and stifling defense to hoist the trophy in Indianapolis.
The Aggies ran to a title with a folksy head coach in Gary Blair, a backcourt with two talented Sydneys (Colson and Carter) and the post play of Danielle Adams, the junior college transfer who rose to become one of the country's best players in just two years.
It was Adams' play in the paint (she chewed up bigger, faster foes in the low block with her physicality and sweet face-up game) that propelled A&M to its first women's national championship in any sport. Adams was also named most outstanding player in the Final Four.
"I had a little voice in my head that said, 'Don't let this team down,'" Adams said in the moments after her team won the title. "And my teammates, every time we would get down, we would tell each other, 'We're not going to lose this game.'" -- Michelle Smith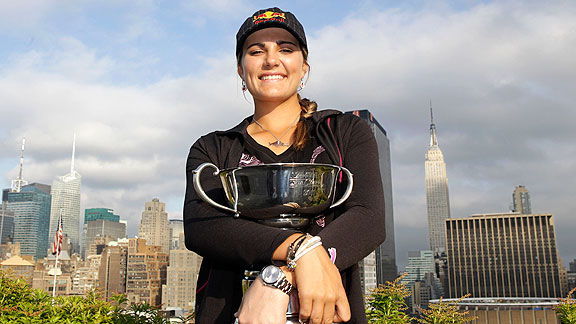 AP Photo/Kathy Willens
Thompson hits the LPGA map
Lexi Thompson's "wow" moment of 2011 wasn't one particularly sweet swing or the satisfying sound of a golf ball hitting the bottom of a cup. It was an accumulation of moments that led her, at the precocious and unprecedented age of 16, to play full time on the LPGA Tour in 2012. But, when pressed, Thompson admits that winning the Navistar Classic this past September -- becoming the youngest tour champion and sealing her bid to leapfrog onto the top circuit -- was the key in her coming of age.
"It was a great feeling after all that hard work," she said last week from her hometown Heron Bay golf course in Coral Springs, Fla., where she was watching her older brother Curtis compete in an amateur event.
The 6-foot Thompson has made a convincing case she belongs. Through her first couple of seasons as a professional, she's demonstrated composure to match her talent. Thompson has been walking courses with grown women since she was a 12-year-old qualifier at the U.S. Women's Open. She turned pro at 15 and, amid mixed results, flirted with leads at tournaments. She requested a waiver of the LPGA's minimum age (18) to join the tour as a full member, blew the competition away in the first stage of qualifying school and then backed up the paperwork with a five-shot win over a deep field at the Navistar in Alabama. Earlier this month, she also notched her third professional win at the Dubai Ladies Masters.
Thompson will open next season Down Under in early February in the ANZ Ladies Masters, an Australian Ladies Professional Golf event. Her first official LPGA appearance as a full-fledged member will come the following week at the ISPS Handa Women's Australian Open in Melbourne the same week she turns 17 (Feb. 10).
Her agent, Bobby Kreusler, said Thompson will probably enter about 20 events in 2012, but added that he and her family -- including father Scott, who caddies for her -- will encourage Thompson to stay flexible and carve out free time as she adjusts to a more rigorous travel schedule and what is sure to be increased fan and media attention.
The teenager plans to pass another milestone by completing the requirements for her high school diploma this coming spring after being home-schooled for the past few years. She's looking forward to a new learning curve, especially "my short game -- I've been working on it really hard, and getting more consistent with my whole game." -- Ford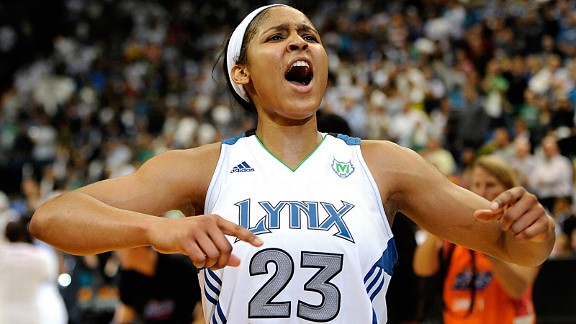 Hannah Foslien/Getty Images
Moore, Lynx win WNBA crown
The Minnesota Lynx started the 2011 WNBA season by drafting Maya Moore, the biggest star to come out of college (and Connecticut) since Diana Taurasi. And then, not coincidentally, they started winning games, and kept winning games.
The hard-luck franchise hadn't been to the WNBA playoffs since 2004 and never won a postseason game, but won more games than any team in 2011 with a 27-7 record. The Lynx did it with a balanced offense, with Moore as a contributing player to other substantial talents as Seimone Augustus, Rebekkah Brunson and hometown girl Lindsay Whalen. And they did it with a stifling, team-oriented defense. They also had the extraordinary backing of local fans, who filled the arena all summer and embraced the team.
Led by coach Cheryl Reeve (the franchise's third coach in four seasons), Minnesota followed up one of the best regular-season efforts in league history with a clean sweep in the postseason, including an impressive three-game Finals series against the Atlanta Dream.
"It's like a weight lifted up off my shoulders," said Augustus after winning the championship and being named Finals MVP. "After going through everything in college and the struggles here, we got the big prize. We finally got the big prize." -- Smith