Five on Five
One-on-one: Jordan vs. LeBron, Kobe
Michael Jordan says he could've taken LeBron James in a game of one-on-one -- but not Kobe Bryant. For real? We ask our crew of hoops heads.
1. MJ in his prime versus LeBron: Who wins a game of one-on-one?
Jovan Buha, ESPN Los Angeles: LeBron. It's difficult to imagine even the G.O.A.T. defeating a player who's as equally talented, athletically gifted and at least 2 inches taller and 40 pounds heavier. At this point, the differences in their ability, effectiveness and statistical output are minor, so I'll pick the physically superior player.
Bo Churney, Hawks Hoop: LeBron ... in a rout. This would have been interesting back in LeBron's Cleveland days when his jump shooting and post game were still in progress. But LBJ is now a 40 percent 3-point shooter (without a shortened arc to benefit from) and a terror in the post. MJ just wouldn't be able to match LeBron's combination of size, skill and athleticism.
Amin Elhassan, ESPN Insider: Jordan. Both players have remarkably complete skill sets (and there are probably only a handful of players in the history of the game who can legitimately claim to be great at everything). But while James has a decided size advantage, he has had very apparent moments of weakness in competition, the kind an ultracompetitor like Jordan would exploit.
Brett Koremenos, HoopSpeak: MJ. This is no knock against LeBron as a competitor, but one-on-one play comes down just as much to creativity and willpower as it does to pure skill. Jordan's fierce drive to succeed might have taken on a life of its own, but it's impossible not to overlook it. It'd be a close game, but in the end I think Jordan would pull it out.
Darius Soriano, Forum Blue and Gold: MJ. Despite LeBron's advantages in height and weight, Jordan had a more varied offensive skill set and was just as much of a defensive monster as James. The game would be close, but if Jordan had to cheat to win, he'd do it.
---
2. MJ in his prime versus Kobe in his prime: Who wins a game of one-on-one?
Buha: MJ. It would be a close game, with both players taking and making nearly impossible shots to the pleasure of "Count the Ringzzz" enthusiasts everywhere, but I'm picking the better one-on-one defender. Jordan was slightly more athletic than Bryant, and I think his inherent strength advantage would overcome Bryant's exceptional footwork. I'd more interested to see how the loser reacts.
Churney: Jordan, but this one is much closer than the first matchup. There's no size advantage here and in their primes, neither has a decisive athletic advantage. However, Jordan's post game was more developed than Kobe's in their primes, giving him what I believe to be the decisive edge.
Elhassan: Jordan, and in an easier fashion than Jordan over James. Bryant simply lacks the edge in any department: Jordan is similarly sized, much stronger, and perhaps most important, less prone to taking the type of high-difficulty field goal attempts that Bryant is infatuated with.
Koremenos: MJ. This would probably be as intense a battle as you'd find on a basketball court. Two of the most legendary competitors in the history of the game -- maybe even all of sports -- facing off would be epic.
Soriano: Kobe. No offense to Jordan, but Kobe is probably the best single-minded scorer in league history. Giving him an opportunity where he literally can't pass to anyone else fits his game so well. He would use every trick and move in his bag, too. Even against Jordan.
---
3. Kobe in his prime versus LeBron: Who wins a game of one-on-one?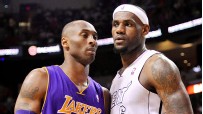 Buha: LeBron. He'd have the same advantages over Kobe as he did over Jordan, and then some. While there's a legitimate debate over LeBron versus Jordan in their primes, it's clear that, at the peak of their powers, LeBron is a better and more complete player than Kobe ever was. I don't see any way Kobe could stop him defensively.
Churney: LeBron, and it's for the same reason as my first answer: LeBron's skill and athleticism at that size would just be too much for the smaller Bryant to handle.
Elhassan: James. While Bryant was an elite defensive player in his heyday, he still struggled against opponents with size. James' height, strength and weight advantages, combined with his ability to manufacture easy buckets, would make him a difficult matchup for Bryant.
Koremenos: Kobe. Kobe versus MJ is basically a draw, so by picking MJ versus LeBron in the first question, it's only logical to go with MJ 2.0 in this matchup. Kobe's game, more so than LeBron's, is built for one-on-one play. Kobe is an isolation specialist while LeBron's true strength is his ability and willingness to make his teammates better. That small edge would give Kobe the win.
Soriano: Kobe. Much like the MJ-LeBron matchup, Kobe has the better offensive skill set and was also a tenacious defender. LeBron's greatness is predicated as much on his team play as his individual prowess. So for these matchups, give me the lone wolf.
---
4. Who would be the best one-on-one player of all time?
Buha: LeBron. Now, are Jordan's and Kobe's offensive skill sets better suited for one-on-one games than LeBron's? Perhaps. They have a bevy of moves and are undoubtedly premier shot-makers. But LeBron's size and length advantages would negate that, and neither player could prevent him from getting to the rim.
Churney: Give me Lakers Shaq over everyone. LeBron, Jordan and Kobe? All of those guys would just get butt-pushed out of the way. Wilt Chamberlain and Hakeem Olajuwon might be able to give a good challenge, but I really can't see either being able to match up with the strength and agility that Shaq had in his L.A. days.
Elhassan: Depends on the rules! If we're talking "make it, take it," then probably Kareem Abdul-Jabbar: Once he gets the ball, the opponent is never getting it back. Even with alternating possession, the edge still goes to a big (Shaq, Hakeem, Duncan, KG, etc.). By the way, it's important to note that being the best one-on-one player is NOT the same as being the best player. Basketball is a team endeavor.
Koremenos: Tie between MJ and Kobe. I considered Allen Iverson, but it would be tough to stop opponents at A.I.'s size. In the end, Kobe and Jordan were built to dominate players in a one-on-one matchup.
Soriano: Give me an in-his-prime Kobe. This is the guy who scored 81 points in a game, holds the record for most 3-pointers made in a game, and has one of the most varied offensive repertoires in history. Not to mention Kobe was also a fantastic one-on-one defender. Add it all up and you've got a nearly unbeatable player.
---
5. Could a 50-year-old Jordan play in the NBA today?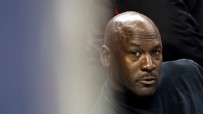 Buha: Yes. Anyone can "play" in the NBA; it's just a matter of if he'd be any good. Since there's no precedent for a 50-year-old in the league, all we can do is hypothesize. If he truly beat certain Bobcats players one-on-one as recently as this year, then he could probably play 10-15 minutes a night as a decent bench player.
Churney: No. There's not a cure for age. At 50, he's not going to be regaining any athleticism and he simply wouldn't be able to keep up with today's young, quick guards.
Elhassan: Sure, for one game. But he'd need to be on a strict minutes restriction. And he'd need about three weeks to recover before he'd be ready for the next one. And he wouldn't be able to really guard anyone. So, I guess what I'm saying is really: No, he can't. As the saying goes, Father Time is undefeated.
Koremenos: No. Jordan could probably be a rotation player for stretches, maybe 10-20 games, but at 50, with all the travel, his body would fail him. That said, it'd be fun to watch him try to do it.
Soriano: No. Jordan is 50 years old and would be coming into a league that is full of wing players who were spawned as a reaction to the type of game that Jordan mastered. As great as he was, His Airness would have a rude awakening facing off against all the athletic two-way players he'd see every game.